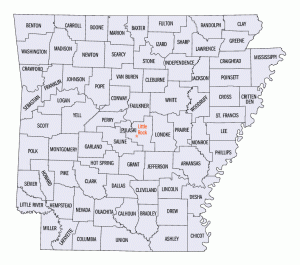 We welcome new quilt trails across Arkansas and hope you will join Arkansas Quilt Trails! Read further to find out how.
Arkansas Quilt Trails was begun as a way of preserving local history while beautifying our communities for residents and visitors alike.
All quilt blocks should be painted on a wood or metal surface with good quality exterior paints. Patterns should be sent to the county coordinator who will get approval from the state committee.  Once a county has twelve approved blocks installed, a signed owner agreement for each block, and a story submitted for each block, we will add the new trail to the Arkansas Quilt Trails website. We ask that block designs are sent to us for approval in advance of painting them as this helps prevent duplication of patterns. Of course, we will also review existing blocks and in most cases, will approve them for inclusion on the trail.
Stone, Searcy, Van Buren, Perry, Baxter, Washington, Logan, Pike, Izard, Independence, Jefferson, Franklin, Benton, Newton, Sharp, Crawford, Saline, Montgomery, Carroll, Pope, Little River counties now have official trails, while trails are being developed in another 20+ counties. See list below.
If you are interested in starting a quilt trail in a county that is not listed below, contact Arkansas Quilt Trails coordinator Renee Carr at 870-615-2195.
Following are the names and phone numbers of volunteer County Quilt Trail Coordinators across the state of Arkansas. If you have a question about a particular quilt block location in their county or would like to add a quilt block to that county's trail, please contact the appropriate county coordinator.
Arkansas County – Jay McEntire (northern half of county) 501-519-5442; Beth Goodwin (southern half of county) 870-344-1723
Baxter County – Virginia Cornett, 870-421-5299
Benton County – Mechel Wall, 479-531-5950
Boone County – Connie Rogers (479-236-9912) & Cindy Lou Henley (870-688-2379)
Carroll County – Star Lee, 870-654-9615
Clay County – Shannon Williams, 870-598-7257
Cleburne County – Deborah Curry, 870-833-2377
Conway County – Amy Marlar, 501-276-8185
Crawford County – Cathy Mason, 479-276-6183
Crittenden County – Sherry Lovelady, 901-359-4571
Faulkner County – Lynita Langley-Ware, 501-581-1492
Franklin County – Lynda Evans, 479-209-2488
Hempstead County – Letitia King & Terrie James, 501-912-3291
Hot Spring County – April Turpin, 501-350-7399
Howard County – Jean Ince, 870-845-7517
Independence County – Jessica Hogue, 870-307-4440
Izard County – Pat Kilpatrick, 678-570-8314
Jefferson County – Sharon Price, 870-540-9572
Johnson County – Diann Lyons, 479-979-8382
Lincoln County – Cathy Edmonds, 870-818-5775
Little River County – Roger & Debi Quilty, 903-824-0212
Logan County – Dottie Neumeier, 479-438-2267
Madison County – Joy Noir Phillips, 479-957-4604
Marion County – Sue Studnar, 870-424-6168
Mississippi County – Pam Pruett, 870-740-0986
Montgomery  County – Amy Monk, 870-867-2311
Newton County – Quinelle Land, 870-688-1389
Perry County – Trinity Neeley, 501-889-2554
Pike County – Marla Stewart, 870-223-3963
Polk County – Bridgett Martin, 479-216-3286
Pope County – Deanna Bohanan, 479-223-9411
Pulaski County – Anita Grisham, 501-628-7088
Saline County – Debbie Susky, 501-860-1155
Searcy County – Darryl Treat, 501-941-4828
Sevier County – Gayla Irvan, 870-279-5219
Sharp County – Jessie Stauffer, 870-283-9470 or 870-219-0450
Stone County – Renee Carr, 870-615-2195
Union County – Ruth Matocha, 870-862-8088
Van Buren County – Shelley Moix, 501-514-4424
Washington County – Rita Zelei, 479-422-6030
White County – Jo Ellis, 972-838-3088
Yell County – Stacey Daughtrey, 479-229-3328