Searcy County Quilt Trail
Searcy County is located in north central Arkansas in the Ozark Mountains. The county seat is Marshall. Take a drive around beautiful Searcy County and you'll find that it's "Always in Season!" Come see each quilt block in person! Searcy County is the "Elk Hunting Capital of Arkansas," and the "Chocolate Roll Capital of the World!" The county hosts about 48 miles of America's First National River, the Buffalo National River, in addition to a renowned bakery, great restaurants, the only year-round drive-in movie theater in Arkansas, an incredible furniture store, fabulous backcountry horseback riding, stunning night skies, awesome waterfalls, photogenic barns, amazing lodging options, fun motorcycle roads, world-class hiking, epic bicycling, farm tours, and fabulous old towns and buildings! Quilts and quilting have been a part of the culture here since the first settlers arrived. Every quilt has a story, bits of people's lives, pieced and stitched into it. Likewise, each of our quilt blocks tell a story about the people and places that make Searcy County special. Enjoy the stories shared here about each block. We welcome your comments at the bottom of the page!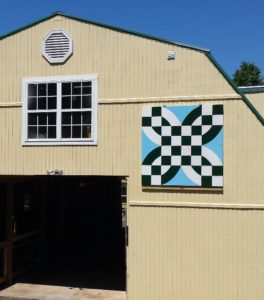 #2-01 Dogwood Blossom is located at 544 Cozahome Road, Harriet, Arkansas. Painted by Jack Benefiel, the six foot by six foot quilt block is on the barn at Dogwood Hills Guest Farm of Harriet, not far off of Arkansas State Highway 14. Dogwoods are one of the prettiest small trees in the Ozarks with beautiful white blossoms during spring and very nice foliage in autumn as well. Dogwood Hills Guest Farm has a three-bedroom private farmhouse with a deck and a hot tub and beautiful views. A working farm with 72 acres of hiking trails just minutes from the Buffalo National River. They also offer family farm tours and monthly farm-to-table dinners. More info at https://www.facebook.com/DogwoodHillsBB/
---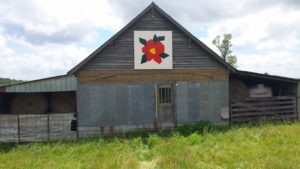 #2-02 Apple Blossom is located at 4533 Highway 66, Leslie, Arkansas…between Oxley and Leslie. Painted by Jack Benefiel with pattern supplied by the Searcy County Quilt Guild. The six foot by six foot quilt block is on a barn owned by Mike and Janie Crow. Mike is the 4th generation of his family to farm there. The location is on a working cattle farm but near the old Elberta Fruit Farm that no longer exists. In the early 1900s there were thousands of peach, pear, and apple trees in the area.
---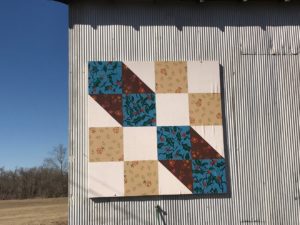 #2-03 Crossroads quilt block hangs at 103 Oak Street, Leslie, Arkansas. Painted by Jack Benefiel with pattern supplied by the Searcy County Quilt Guild. The six foot by six foot quilt block is located in historic Leslie at "Antiques And" near the intersection of Arkansas State Highway 66 and US Highway 65. The Leslie downtown is a Commercial Historic District. This crossroads town of less than 500 residents harkens back to a bygone era of Americana. A railroad spur, the Dinky Line, once hauled mighty white oak timber from the hills to the world's largest barrel making factory in Leslie in the early 1900's. Today Leslie is home to antique stores, shops, multiple parks, restaurants, and a wood-fired brick oven that produces Old World Sourdough Bread. A motorcycle route, the Leslie Lasso, and a gravel grinder bicycle route called Ozark Grinder Trail transit Leslie.
---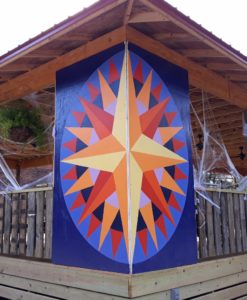 #2-04 Mariner's Compass adorns the corner lot of the Gilbert General Store at 100 Frost Street, Gilbert, Arkansas. Painted by Jack Benefiel and Kathy Bergeron. The historic Gilbert General Store is a short walk from the Buffalo National River where thousands of "mariners" in canoes, kayaks, and rafts journey along America's first national river. The Gilbert General Store, built in 1901, is listed on the National Register of Historic Places under the name Mays Store. The community was founded in 1902 and today is a resort town known as the "Coolest Town in Arkansas," in part due to its cold winter temperatures. The proprietors sell provisions and supplies; rent cabins, canoes and kayaks; and provide shuttling for river excursions. GilbertStore.com
---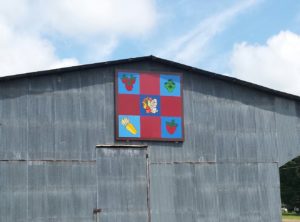 #2-05 The Berry Shed quilt block is at 200 West Fair Street in Marshall, Arkansas. It was designed by Darryl Treat and Kathy Bergeron and painted by Kathy Bergeron. The six foot by six foot quilt block is on the end of the old berry shed in Marshall just off of US Highway 65 and captures the rich agricultural history of Searcy County that was once known as the "Strawberry Capital of the World." The Flintrock Berry Growers Association produced some of America's cleanest strawberries during its heyday from the 1950s till the 1970s! Peak production of strawberries in Searcy County was 1958. That year there were 643 members with 2,240 acres of berries being grown. The berry shed standing today was built in 1949. A second shed was constructed in 1956 to the west of the current building. That building was destroyed by fire several years ago. The berry shed also was home to a vibrant green tomato industry and today lives on as a venue for the Searcy County Farmer's Markets. Find info at Facebook.com/SearcyCountyFarmersMarket
---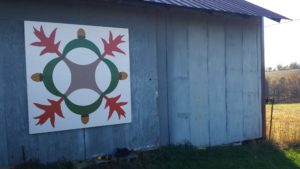 #2-06 Oak & Reel quilt block is found at 6861 Highway 27 North, Marshall, Arkansas. It was designed by Darryl Treat and Kathy Bergeron and painted by Kathy Bergeron. The six foot by six foot quilt block is located on a barn between Morning Star and Harriet along Arkansas State Highway 27. The quilt block depicts the leaves of the Southern Red Oak. Hardwoods, and oaks in particular, make up much of the Ozarks forest. The timber logging industry has been vital to the Searcy County economy for more than 100 years and local sawmills are still in operation near this quilt block.
---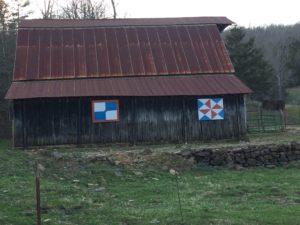 #2-07 and #2-08 Bowtie and Pinwheel quilt blocks at 2146 Old 66 Road, Leslie, AR 72645. Located two miles from the Highway 66 Country Mart in Oxley on the Ozark Grinder Trail bicycle trail. The barn was built in 1950 by Odie Paxton, current owner Luther Branscum's grandfather. Oak trees were logged and milled on site to build the barn. Janice Branscum, Luther's wife, made the frames and painted the quilt blocks. Each are four by four feet. Luther's family has owned the farm, Tick Creek Farm, since the 1800s. Tick Creek Farm is still in operation as a working cattle farm. Tick Creek runs across the road from the barn. Hay is still stored in the barn.
---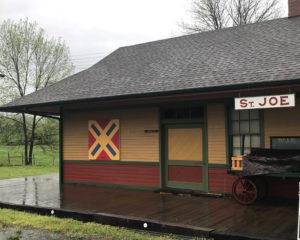 #2-09, A modified "At the Depot" quilt block was chosen by the St. Joe Depot Railroad Museum at 110 US Highway 65 in St. Joe. The block is five feet by five feet and was painted by Cynthia Garmoe. The Missouri & North Arkansas (M&NA) Railroad began about 1895 from Missouri to Eureka Springs, Arkansas. With that success, the railroad was built to the town of Harrison. At that time the owners of the railroad saw a need to extend on farther southeast and eventually to the Mississippi River at Helena, Arkansas. The railroad came through Searcy County in early 1900 and St. Joe in 1902, the year this depot was built. This was a very big event for each town to get a railroad stop and a depot, bringing increased economic prosperity and population growth. After World War II there was less need for the ore Searcy County was producing. There were also better roads with larger trucks. Another railroad strike was also a factor in the closing of the railroad, which came in 1946. After which, the rails were taken up and the steam engines were scrapped. However, the depot buildings were spared. The almost 120-year old St. Joe Depot is still standing today. In about 2009 the Mayor of St. Joe, the late John B Henley, was successful in purchasing and repairing the rundown old depot building. The depot was restored more than 96% to original condition, down to the colors. Today the Historic Railroad Depot Museum is operated by volunteers and is open every Saturday 10 am to 4 pm, except during winter. The St. Joe Depot Railroad Museum is an incorporated 501(c)(3) charity. All donations are tax deductible to the extent allowed by law.
---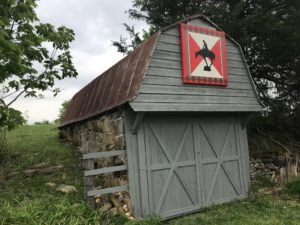 #2-10, The Bob Russell quilt pattern was designed by Bob King and painted by Cynthia Garmoe in honor of Bob's grandfather, Bob Russell. The block is four feet by four feet and the silhouette is taken from a photo of Bob Russell and his trick horse Danny at the Leslie Homecoming Rodeo in the early 1970's. He was a true cowboy who would ride his horse to check on his cows almost every day regardless of the weather. Bob learned his cowboy skills from his father in-law John Robert Steen. John Steen was the first (and maybe only) person to do cattle drives from this part of the state to the stock yards in Missouri in the early 1900's. Bob had a natural ability with horses and soon become a master horseman. In 1950 Bob, his family and several other horse-loving families came together and formed the Searcy County Saddle Club. (The name was later changed to Flintrock Saddle Club as a sign of support for the local strawberry growers.) They soon built an arena in Marshall and on July 4, 1952 the saddle club had its first rodeo with Bob Russell serving as the club's president. For over three decades Bob Russell trained horses, served in the local saddle club, and worked rodeos throughout Arkansas and Missouri. However, he was most well-known for his trained horse act. Over the years he thrilled rodeo audiences with his first horse, Old Bob and then later with Danny. He always concluded the act by having the horse get up on a small box in the middle of the arena showing his version of James Earl Frasier's End of the Trail statue found at the National Cowboy & Western Heritage Museum in Oklahoma City. The silhouette on this quilt block represents that image. The stone structure on which the block hangs was built by Bob Russell in the 1940's. He got a job as a rural mail carrier and needed a place to park his truck. He used the attic of the building to store hay for his horses.
NOTE: DO NOT LET YOUR GPS SEND YOU TO "OLD" HIGHWAY 27 WHICH IS AN UNPAVED ROAD. THIS IS ON HIGHWAY 27 WHICH IS A PAVED ROAD.
---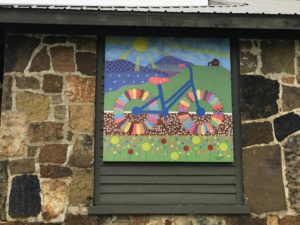 The Dresden Plate quilt block pattern was chosen to represent and promote the Pedestal Rock 40 and Lick Fork 62 Gravel Grind Bicycle Ride held the third Saturday of October each year. It is a 6 foot by 6 foot quilt block and was designed and painted by Cynthia Garmoe of Witts Springs. This quilt block pattern was one of the most popular quilt patterns made in the 1920's and 1930's, the same time period that the Witts Springs School was constructed. The Pedestal Rock 40 and Lick Fork 62 bicycle ride is held the third weekend in October each year. Bicyclists from all over the state and surrounding states come for a day of enjoyment, good food and enjoy a beautiful ride through the Boston Mountains. The Pedestal Rock 40 has a 10, 20, 40 and a 62 mile ride all on a paved road. The Lick Fork Gravel Grind has an 18, 30, 45, and a 62 mile ride, with at least 80% being gravel road. It also is very challenging with the Lick Fork 62 having 6,700 feet of elevation change on the ride. The quilt block is along the Ozark Grinder Trail, a fabulous gravel grinder bicycle trail covering multiple counties. It is also just off the Bear Creek Growl motorcycle route. Witts Springs is a mountain hub for outdoor fun, sitting at approximately 1,900 feet in elevation and is a launching point for hiking the nearby Ozark Highlands Trail, rock climbing at Stack Rock, horseback riding in the Ozark National Forest, waterfall photography at Falling Water Falls and Six Finger Falls, and camping at the Richland Creek Recreation Area & Campground. The Witts Springs community was known to have had Subscription School before the Civil War. The district has had 4 or 5 school houses. After one of them burned, the school used an old church for some time. The present Witts Springs School Building was started in 1934 and finished in 1935. The building is a rock structure built out of native stone, all collected in the surrounding area. It is a double rock wall structure of sandstone and rough sawed pine lumber. When the building was constructed there was no electricity in Witts Springs so the building was built with high ceilings and high windows to let in natural light. The building served as the Witts Springs High School until it closed in 2005. Through the impressive work of community volunteers, the building is about 70% restored and serves as a community building for the Witts Springs community. When restoration is completed the building will serve multiple purposes; family gatherings, weddings, parties, receptions, bed and breakfast, and for the community's signature bicycle rides.

---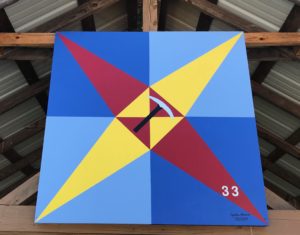 The Crossed Canoes quilt block pattern, four feet by four feet, was painted by Cynthia Garmoe and is located at 9826 Highway 65, Saint Joe, Arkansas 72675. From local historian James Johnston, "Silver Hill got its name because in the 1880s and later a man known in Searcy County as "Indian Woodard" came in and told people that he had discovered a rich silver mine. He blindfolded men from time to time and led them individually into a mine where he took off their blindfold and showed them stacks of silver, either as ore or as blocks. Then he blindfolded them and took them out. None of the men was ever able to locate the place where they had been taken. Based on what some of the men said, it was believed that the mine was somewhere on Silver Hill. Many people dug around the mountain looking for the mine, but never found anything that looked like a mine. Unlike other Indian mine scams in 1880s Arkansas, Indian Woodard never tried to raise money from the locals to investigate the mine. He has relatives in Madison County, Arkansas and in Oklahoma. He was a Sioux Indian from Nebraska, if I remember correctly, who was a Union Civil War veteran."
Today gold, not silver, is mined in Silver Hill in the form of tourism dollars as thousands of floaters canoe, raft, and kayak down America's 1st National River, The Buffalo National River! Silver Hill is home to both Buffalo River Outfitters and Silver Hill Float Service. A National Park Service report shows that 1.5 million visitors to Buffalo National River in 2017 spent $62.6 million in communities near the park. That spending supported 911 jobs in the local area and had a cumulative benefit to the local economy of $71.1 million. Silver Hill is the gateway to the Buffalo National River Tyler Bend Visitor Center! The quilt block also bears the #33 for the long ago departed Silver Hill School District #33.
---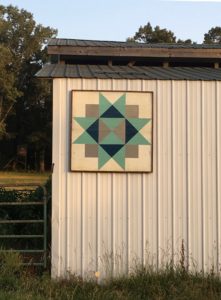 The 4 foot by 4 foot Ohio Star pattern was painted by owners Jay and Suzanne Jackson at 14466 N Hwy 65 Saint Joe, AR 72675, across the highway from Ozark Timber. Suzanne said, "The older I get the more interest I have in old quilts and old barns. I wish they were able to tell all the stories they know. I can remember being a little girl and watching my Great-Great Aunts sit around sewing quilts with other family members. The Ohio Star, to me, is simple yet meaningful, like the times that I spent as a little girl watching that generation in my family quilt. This barn quilt dedicated in memory of Helen Bryan and Iness Bryan."
---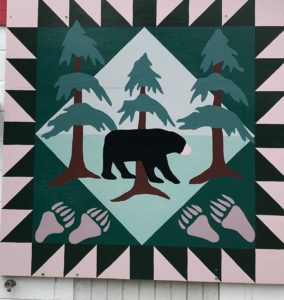 Bear Tracking pattern was chosen by Tom Wimberly and painted by Kathy Bergeron. The 6 foot by 6 foot quilt block is located in Oxley along both a bicycle trail and a motorcycle route. Address is 6899 Highway 66, Leslie, AR 72645. Currently, there are about 5,000 black bears in Arkansas. There is a well-regulated hunting season and the bear population is rising slowly. Bears have often been seen in the Oxley community. Oxley is a good staging site for some local attractions including Stem Rock Natural Area that features fabulous geological outcroppings including a free-standing pedestal rock. accessed by a 1.5 mile round-trip hike or bike from the paved side road just 1.1 miles from the Oxley Store. It's also a good place to set off and enjoy the Ozark Grinder Trail on bicycle. The Oxley store, now known as the Highway 66 Country Mart, was built around 1968 by Aretha Passmore. It was operated by Loretta Smith, Aretha's daughter for many years. Loretta built an addition to the store in the early 1970's to make it the size it is today. Owned by several different people, Russell Treat and Carl Mayes among others, it was bought by Jim and Frieda Wilson in 2002. The present owners are April Boyd, Jim and Freda's daughter, and her husband Victor Boyd who have operated the store since 2007.
---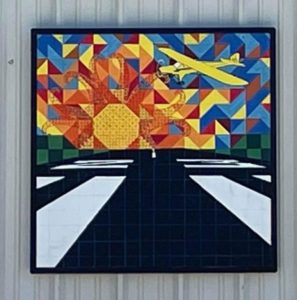 #2-15, 4A5 Airport, is found at the 4A5 Searcy County Airport, Airport Road, 894 Airport Rd., Marshall, AR. Cindy Garmoe of Troll Mountain Studio & Gallery of Witts Springs painted it. It looks great on the corner of the hangar at the end of Airport Road. Stop by to check it out. The Searcy County Airport features hangar space, a pilot's lounge, 100LL self-serve fuel (credit cards accepted) and more. Great for pilots looking to fly in to experience the scenic Buffalo National River area. #searcycounty
---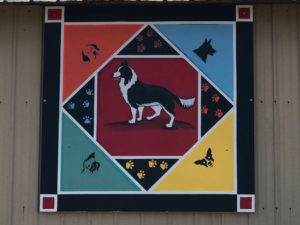 The 6 foot by 6 foot Canine quilt block at the Searcy County Fairgrounds at 105 Armory Street Marshall, AR was hand-painted by local artist Patricia Estes with materials donated by Betty and Tommy Wimberley. The Border Collie prominently displayed on the block is a livestock herding dog, particularly fitting for Searcy County since it is livestock country. The most recent farm census data showed $12 million in market value of livestock sold annually in Searcy County. Average farm size is 285 acres and 168,795 acres are farmed in the county. The quilt block is mounted to the Searcy County Youth Show Arena. 2018 was the 93rd Searcy County Fair.
---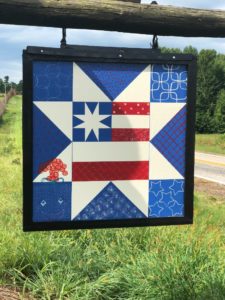 TEMPORARILY UNAVAILABLE FOR VIEWING. #2-17, Stars and Stripes, a three feet by three feet quilt pattern was chosen by Vickie Garner because she had made this pattern into a quilt. Painted by Cynthia Garmoe, it is located at Highway 16 West at 123 Lily Pad Trail, Witts Springs, Arkansas. The Witts Springs community formed Witts Springs Community Voices several years ago to revitalize their community. Plenty has happened since, including restoration of buildings on the former Witts Springs school campus which is now available for groups to rent and enjoy the beautiful mountain setting with plenty of nature to explore by hiking or cycling, both mountain bike and motorcycle.
---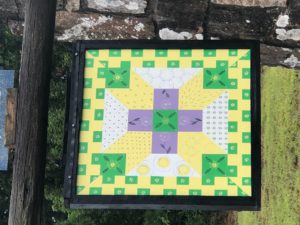 TEMPORARILY UNAVAILABLE FOR VIEWING. #2-18, Farmer's Daughter, a three feet by three feet quilt pattern was chosen by Vickie Garner because she had made this pattern into a quilt. Painted by Cynthia Garmoe, it's located at Highway 16 West at 123 Lily Pad Trail, Witts Springs, Arkansas. The traditional pattern is believed to be from the Civil War era and is certainly a nice tribute to the farmers and their daughters (and sons) who have farmed the hilly and rocky farmland around Witts Springs for generations.
---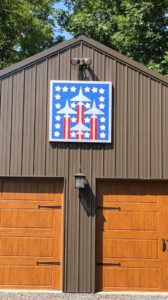 The four feet by four feet U.S. Air Force quilt block was painted by local artist Cindy Garmoe. It is located on the back (north) side of Brigadier General Joe Wilson's barn at 8057 Lick Fork Road near Witts Springs, approximately five miles from Hwy 16. The Quilt Block represents Gen Wilson's 30+ years of worldwide service in the US Air Force as a Jet Engine Technician, Crew Chief, and Maintenance Officer/Commander on T-37, T-38, F-105, F-4, F-16, A-10, RC-26, KC-135 & C-130 aircraft. Gen. Wilson deployed and supported combat operations in Bosnia, Iraq and Afghanistan. Occasionally today, Air Force C-130s can be seen training in the skies above Searcy County near the Wilson's home.
---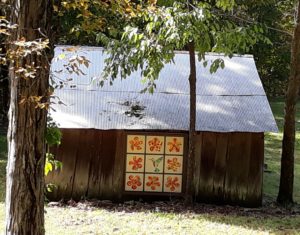 #2-20 The four feet by four feet Hippie quilt block was painted by local artist Cindy Garmoe for resident Kay Moore. The quilt block is located at 2451 Browntown Road, Witts Springs, Arkansas. When Kay asked Cindy to make a barn quilt, she specified flowers like she stuck on the bumper of her yellow Volkswagen bus in her early years. Cindy said, "you want a Hippie Quilt!" So the beautiful Hippie quilt block hangs on Ms. Moore's 100-year old barn. Come see it and please turn around in her driveway as the road past her house is basically a jeep trail. Browntown Road is just off the scenic Lick Fork Road where every October the very challenging Lick Fork Gravel Grind is held for gravel grinding cyclists.
---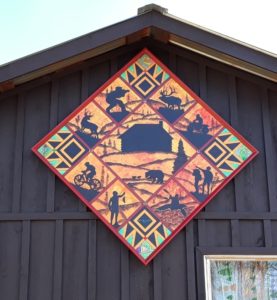 #2-21 Bear's Paw on Bear Creek quilt block is located 4 miles north of Marshall, AR or 7.5 miles south of St. Joe, AR at 6403 US Highway 65, St. Joe, Arkansas. The block is five feet by five feet and set as a diamond to give a nod to our state flag. It was painted by Cynthia Garmoe and placed on the barn/office at Bear Creek Log Cabins Vacation Rental. Pat and Libby Conner own the ranch. Libby Ferguson Conner's great grandfather and family came to Searcy County in 1867. Bear Creek runs through the family's 1200 acre working ranch as it makes its way to the Buffalo National River. The quilt block depicts the many aspects of what to expect here on the ranch in Searcy County and the Ozarks in general. The natural resources of Arkansas are plentiful, and vacationers and locals alike enjoy site-seeing, fishing, swimming, kayaking, and canoeing in our many clean water streams in the area including the one right on the property. The many hills and valleys are perfect for hiking, mountain biking, and ATV or Side by Side travel. You can expect to see an array of wildlife and possibly photograph white tail deer, elk, American Bald Eagles, and an occasional Black Bear, fox, otters, ground hogs, raccoons, Great Blue Herron and many other species. The Buttresses here along the creek are a unique geological land formation unique to the state and are a sight to behold. Bear Creek Log Cabins offers several cabins for family gatherings, reunions, weddings, retreats, and a couples get away. We are just minutes from Tyler Bend Visitor Center on the Buffalo National River. We are glad to be able to share the hospitality of our heritage here in the Arkansas Ozarks.
---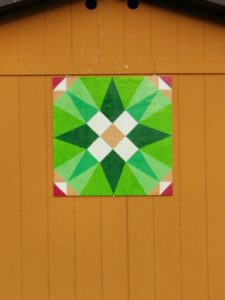 #2-22, Dogwood Blossom quilt block is located at 2885 North Tomahawk Road, St. Joe, AR 72675. Painted by Tara Carey, the 3 foot by 3 foot quilt block is on the side of Joe Reed's home shop about 5 miles off of 65 south right at the edge of Searcy County near Tomahawk Baptist Church. The shop used to be a water house for the spring-filled holding tank built by Joe's dad Jerry Reed. A few year's ago Joe and his son Jerry Joe tore out the holding tank and converted the building into a shop for Joe. Joe and Billie Reed are natives of Searcy County and have lived here for over 30 years. Billie is dedicating the quilt block to her mom Shirley Jean "Mills" Tate who was born in a log cabin in Pindall, AR on April 10, 1948 and passed December 16, 2017. Her Mom loved to draw and carve dogwoods. She also loved to tell the story of the dogwood tree. The location is near Tomahawk Creek which feeds into the Buffalo National River. Joe builds Adirondacks, pet urns for a veterinary clinic in Harrison, AR and other projects. For more of his work seehttps://www.facebook.com/TomahawkCreations2016/.
---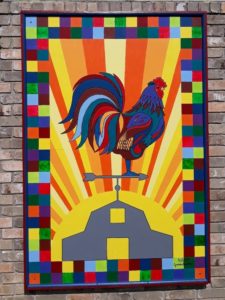 #2-23, The colorful 6'x4′ quilt block entitled "Sunrise in the Ozarks" painted by Cindy Garmoe and displayed on the front of the Goodman Realty Office located at 501 Highway 65 in Marshall pays tribute to the rooster. Sue Goodman shares "I love the folk art images so many of our quilt blocks display on the tour through the Ozark Mountains, but Sunrise in the Ozarks is my favorite." Not only is it beautiful and very well done, but this particular one pledges honor to roosters and hens. Chickens played a vital part in survival and developing this mountainous region we call home, and they deserve recognition. Long ago, settlers here in Searcy County depended on chickens for money and food. The old-timers that are still here will tell you that eggs were the same as money. You took them to the store, the proprietor would exchange money for your eggs. When my mother was a child, one egg equaled one penny. She said they used the money to buy coffee, sugar, flour, baking powder, and other items they did not raise themselves. At that time, eggs were so important that it was rare in her household to eat them. She said in fact, when her mother made cornbread she did not use an egg. Today, we wouldn't think of making cornbread without an egg. Chickens go to bed early and wake up early. If you have chickens, the first thing you will hear in the morning is the rooster crow. The old-timers believed you should go to bed with the chickens and get up with the chickens. They really believed that one should live by the old saying, "Early to bed, early to rise, makes a man healthy, wealthy, and wise." Roosters and hens were extremely important here in these mountains long ago. Listening to the old-timers talk about the importance of chickens makes me wonder what they would have done without them. Cindy Garmoe's quilt block pays well deserving tribute to the chickens of the Ozark Mountains."
s
---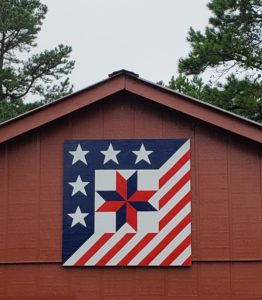 #2-24, Patriotic Tribute, is at 5834 Trace Ridge Road, Leslie AR. Be looking on the right side of the road and don't let your GPS take you past it. Amy and Jim McCarthy painted it patriotic to honor service members. Their son, Dylan, served in the Army. The nearby town of Leslie has additional quilt blocks to see and has a Commercial Historic District hosting a wood-fired brick oven bakery and some of Arkansas' best old-world sourdough bread! Great restaurants and antiques await in Leslie. Don't forget to pick up a chocolate roll from a convenience store along US Highway 65. After all, Searcy County is the Chocolate Roll Capital of the World. In addition to a disc golf course, rodeo, and the quilt trail, Leslie is home to the Growl-Lasso motorcycle route and the Ozark Grinder Trail for bicycles. Search searcycountyarkansas.com/lodging for places to stay during your visit. You'll find other patriotic sites around the county including Veteran's Memorial Hall at 108 Noah Horton Memorial Drive. The beautiful building and pictorial tributes to the county's veterans make it worth a visit.
---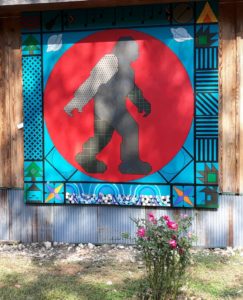 #2-25, Bigfoot, is at 3931 Zack Road, Marshall AR. Rod Corley, former owner of Aux Arc Wilderness Cabins commissioned this quilt block to be created by David and Cindy Garmoe. The quilt block features the legendary Bigfoot representing the legendary visit to Aux Arc Wilderness Cabins! The quilt block shows the canoes that came with the cabins, and the yurt, the only one in the Buffalo River Valley! Also featured are the ATV tracks representing the many trails, the teepees, the large cave, the suspension bridge, and so much more! The cabins, yurt, and teepees are available for lodging. Enjoy all of Searcy County's attractions including the Buffalo River from your home base at Aux Arc Wilderness Cabins.
---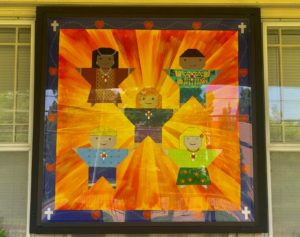 #2-26, The Children of Promise quilt block is a composition of smiling children, sunshine, love, hope and faith. Painted by Cindy Garmoe, the 4×4 block can be viewed at Hattie House Youth Center and Park, located at 200 East Main Street, Marshall, in Searcy County, Arkansas. Sitting on an extra large lot fronted with a wrought iron fence, the architecturally beautiful 1913 yellow brick house that once held the local mental health office was obscured by an overgrowth of shrubbery and trees. The Jim G. Ferguson Library Foundation asked board member and library director Pat Halsted if she had a use for the property. She said that she knew exactly what they were to do with it, because the Lord had placed it, including its name, upon her heart. It would be Hattie Park, named for library founder Jim G. Ferguson's wife Hattie Maude Mays Ferguson. The Foundation signed over the revamping, clearing, design, management and care of the property to the Jim G. Ferguson Searcy County Library. Using Foundation funds, the immense job of removing and disposing of overgrowth and of leveling the soil began. The beautiful yellow brick house was quickly revealed, but it was as badly in need of repair as its grounds had been. The deathly gray-mauve color on its inside walls would never do for Hattie House, whose trademark "happy colors" would be yellow and orange. The walls were painted a cheerful yellow and the mismatched linoleum was replaced with bright yellow commercial tile. Repairs and upgrades, from floor to ceiling, were completed on time and within budget. Halsted said more than once that with the blessing of God, everything seemed to be falling into place. Once the direction was clear, donations from the Ferguson family poured in, for all of the playground equipment. The community and library friends–both near and far– also responded with donations of money, games, equipment and professional services.
Hattie House Youth Center and Park was born April 4th, 2017. On the grounds, mulberry, pecan, apple, pear and nectarine trees can be found, as well as a community garden. The playground boasts multi-age areas of play, from baby swings to paved basketball courts, and there are ample park benches and picnic tables. To address the mental, physical and spiritual needs of all of our children, each of the seven rooms of Hattie House accommodates a specific child-oriented teaching, craft or activity. There is a room for free literacy tutoring, an arts and crafts room, a Wii game room, a cards and board game room, a reading room, a music room and a ping-pong and air hockey room. Every child who comes to Hattie House is offered a nutritious snack and drink from the completely remodeled kitchen. There is also a health and hygiene pantry which contains items for any child with a need. The Children of Promise quilt block therefore represents a culmination of the vision for Hattie House Youth Center and Park. While our initial mission has been completed, we continue to strive to find new ways to improve the lives of our smallest citizens. As Jesus said (Mark 10:14), "Let the little children come to me, and do not hinder them, for the kingdom of God belongs to such as these."
---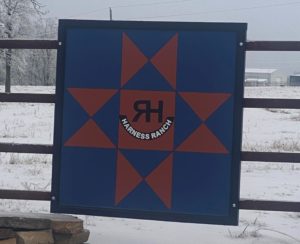 #2-27, Harness Ranch, is at 3130 East Highway 16, Tilly, Arkansas. Bear Creek Ranch was purchased in 2018 by Bear Mountain Investments, owned by the Patty and Roger Harness family. In 2006, the first property was bought with the lodge. Today the contiguous property consists of 5500 acres. Most of the property is made of hardwood and about 1000 acres is open pasture and food plots. The most unique thing about the property is that some of the land was Roger's ancestor's land. A great-great grandmother has a hollow named after her and his great-grandfather's homestead is located on this property. Some of these properties have been out of our family for over a hundred years. The Ranch is a working cattle ranch operation. Many recreational opportunities are enjoyed here by family and friends. The outstanding artwork of the painted quilt was done by our neighbor, Cindy Garmoe.
---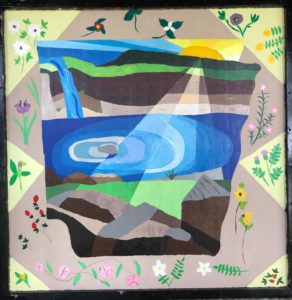 #2-28 "Rocky Topography of Arkansas" by Marilyn Lawhon. Four foot by four foot quilt block painted by Toni Newby at 196 Highway 16 West, Witts Springs, AR 72686. Original art from the Collection of Historic Arkansas Museum. 1986 Arkansas Quilt Contest Entry – 3rd Purchase. Pieced, appliqued, and embroidered. Mountainburg (Crawford County) 72 ½ x 57 ½ in. The Statehood Sesquicentennial Quilt Contest sponsored by First Federal Bank of Arkansas. Collection of Historic Arkansas Museum Accession No. 86.26.4. The replica painted quilt block adorns the exterior of the Richland Waterfalls Welcome Center in Witts Springs. The welcome center is a private collaboration between Witts Springs Community Voices and the Greater Searcy County Chamber of Commerce. Open 8am till 7pm seven days a week. Free! Waterfalls are best viewed after ample rainfall. Great information about the waterfall-abundant Richland watershed. The Richland Waterfalls Welcome Center is a one-of-a-kind welcome center with a primary focus on the waterfalls of the Richland Creek Watershed. More than 30 waterfalls are featured by the welcome center. Richland Creek and tributaries, such as Falling Water Creek, traverse some of the most stunningly beautiful, rugged, and remote landscape in all of middle America. Most of the watershed is within the boundaries of the Ozark National Forest and drains to a northbound rendezvous with the Buffalo National River. The Richland Creek Wilderness contains 11,801 acres in the Ozark's Boston Mountains. Wildlife such as Black Bear and Rocky Mountain Elk inhabit portions of the watershed. There are no official trails to any of the waterfalls, however the US Forest Service advises that you hike on existing unofficial trails. There is poor to nonexistent cell phone coverage in most areas. Please practice "Leave No Trace." Witts Springs is the gateway to the Richland Creek Wilderness of the Ozark National Forest. At approximately 1,900 feet in elevation, Witts Springs is a launching point for hiking the nearby Ozark Highlands Trail, experiencing the Richland Waterfalls Welcome Center, visiting a Civil War Historic Marker, horseback riding in the Ozark National Forest, following the Arkansas Quilt Trail, rock climbing at Stack Rock, area ATV rides, whitewater kayaking and waterfall photography along the Falling Water Creek and Richland Creek watersheds, hunting, camping at the Richland Creek Recreation Area & Campground, riding the Growl and Lasso and Lost Mine Run motorcycle routes, viewing the amazing naturally dark night skies, and cycling the Ozark Grinder Trail gravel grinder bicycle route. The annual Pedestal Rock road bike ride and Lick Fork gravel grind takes place here each October, as well as the 1,000+ mile Arkansas High Country Race, an epic bikepacking adventure race that transits the area each June! For more information visit https://searcycountyarkansas.com/attractions or call the chamber of commerce at 8704482557. The welcome center is a collaborative project of the Greater Searcy County Chamber of Commerce and Witts Springs Community Voices. Special thanks is owed to Mr. Roger Harness, The Nature Conservancy of Arkansas, Flintrock Video Productions, Ozark Mountain Region, Mr. Rick Henry, Mr. Andrew Hendrix, Dana Treat Photography, and the US Forest Service." Information and photos also found at https://www.arkansas.com/witts-springs/services/richland-waterfalls-welcome-center
---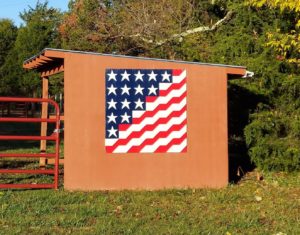 #2-29, Waving Flag, is near quilt block #2-24. This 4'x4′ is a Waving Flag on the cow shelter right by the driveway at 5834 Trace Ridge Road, Leslie AR. Created by Angelica Nunez and Amy McCarthy. Please be wary of the bull. Amy and Jim McCarthy's son, Dylan, served in the Army and they are very proud of him and all other service members. They are a very patriotic family with several other American flags. The nearby town of Leslie has additional quilt blocks to see and has a Commercial Historic District hosting a wood-fired brick oven bakery and some of Arkansas' best old-world sourdough bread! Great restaurants and antiques await in Leslie. Don't forget to pick up a chocolate roll from a convenience store along US Highway 65. After all, Searcy County is the Chocolate Roll Capital of the World. In addition to a disc golf course, rodeo, horseback riding, and the quilt trail, Leslie is home to the Growl-Lasso motorcycle route and the Ozark Grinder Trail for bicycles. Search searcycountyarkansas.com/lodging for places to stay during your visit.
---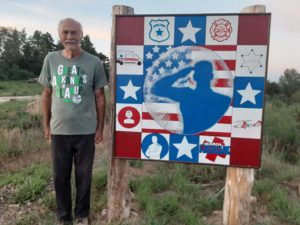 #2-30, "A Salute to First Responders" quilt block is located between Snowball and Witts Springs at 6620 Hwy 377 Marshall AR, 72650. It was designed and painted by Cynthia Garmoe for her husband David Garmoe. Painted during these difficult times of the Covid19 Pandemic. This barn quilt is a tribute to all frontline workers who put their lives on the line daily to protect and serve humanity worldwide. David Garmoe's loyalty to his family, community, and country inspired this barn quilt. David is a 21-year Army Retired SSG. David is also a volunteer firefighter with the Witts Springs Volunteer Fire Department where he has served for ten years.
---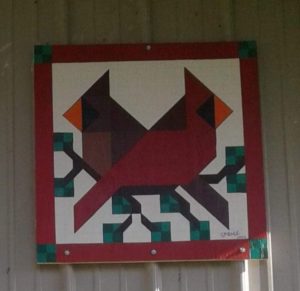 #2-31, Cardinals, is located at 100 Short Street, Marshall, AR near the Veterans Hall. The 2×2 block was chosen in memory of Vickie Phillips Pruetzel. Vickie loved Indian Folklore and especially the redbirds. Cardinals were considered by the Indians to be good omens or visitors from Heaven. Vickie lived her life to help others. She was very active in her church work as well as the work she did for the community at her job at the Searcy County Library. She was very interested in the children's programs. She loved to take part in them. She was most interested that the Library meet the needs of the youngsters of the community! Vickie would be pleased to know that the Searcy County Library and the Hattie House are helping the young folks of Searcy County! The artist was Miss Embee Eversoll, the granddaughter of David and Cynthia Garmoe. The block is her first work and she did an excellent job! This summer there were six children's programs at the Searcy County Library. Mr. Randy Vincent was the presenter. Each program had about 50 youngsters attending. Checkouts for the summer were running about 307 a week. Vickie was also interested in the history of our area and the family histories of the people here. She did extensive work on her family history and supported the Searcy County Historical Society. There are several books on the Phillips and Parks families that Vickie put together along with photos in the library genealogy department.
---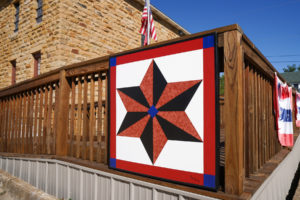 #2-32, Badges of the Buffalo River Frontier is a quilt block at 300 S. AR-27, Marshall, AR. It honors those county and federal lawmen that served this area during the wild frontier days of our past. The artist is Jessica Eversoll of Troll Mountain Studio & Gallery of Witts Springs. Both Sheriffs and US Deputy Marshals served and sacrificed to bring law and order to this part of the state and this quilt block is to honor their service. The pattern is a six-point star which represents a historical badge style often used by many different law enforcement agencies. The reddish and sandstone earth tones represent the colors of the 1902 Searcy County Jail while the blue squares are a tribute to the modern-day law officers. This quilt block can be found on the parking lot side of the fabulous Buffalo River Historic Jail & Museum located one block south of the town square on S Hwy 27 in Marshall. The Museum is free and open to the public Wednesdays – Saturdays 10am – 3pm. Marshall is the largest town in the Buffalo River Watershed.
---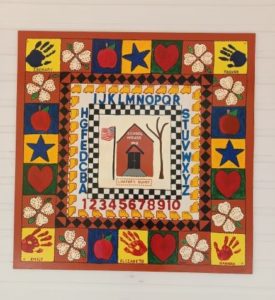 #2-33, Loafer's Glory School, was painted by Nancy Jones and is located at 348 S. Maumee Rd. Marshall, AR 72650. Back in the early 1900s a small one-room schoolhouse was built for the children in the community of Morning Star to provide for them an education. Not sure how it got its original name "Loafers Glory." Some believe the name came from a game reserve that is still in the area called "Loafers Glory." Later the name was changed to Morning Star. Some of the local's didn't like the name "Loafer's Glory" because of the implication it made toward the people in the community as being lazy. I do know that most of the men during that time worked hard in the log woods and sawmills and did nothing akin to loafing on the job. They liked to whittle and play dominos at the local grocery/gas station. They also did a lot of hunting and had a racoon club where they would gather with their dogs for the hunt and would sale the furs to fur traders. The one room school held grades 1-6. Later two other rooms were built and a cafeteria. One room held grades 1-2, 3-4, 5-6. The school was consolidated 1959 to Marshall. After the school was consolidated, the building was used as a Church by the Morning Star Baptist Church as a mission under the 1st Baptist Church of Marshall till 1963 when the Morning Star Baptist was built. The dogwood blooms on the quilt block are a reminder of the legend behind the dogwood tree. The dogwood tree provided the wood used to build the cross which Jesus was crucified. Because of its role in the crucifixion, it is said that God both cursed and blessed the tree. In the springtime the yard is adorned in beautiful dogwood blooms. The tree of knowledge of good and evil from which Eve eats the forbidden fruit, is often depicted as an apple tree. The apple, therefore, is the fruit of knowledge, making it a fitting gift for a teacher. (Genesis 2:17) The story of the star of Bethlehem appears only in the book of Matthew. The gospel tells us that a bright star appeared in the eastern sky when Jesus was born, seen by a group of wise men. (Matthew 2:9) The star is a mark of excellence. All students want to see a star on their schoolwork and to be the star pupil of the week. The heart is an emblem for the love of learning. Also waiting for a love letter from your favorite someone! The heart is mentioned 826 times in the Bible. The children's handprints are to remind us that we are to train up a child in the way he should go, and when he is old, he will not depart from it. (Proverbs 22:6) In passing if you have a minute, stop and sit on the porch for a moment or two. If you listen carefully, you will be able to hear the laughter of the children swinging, climbing trees, and playing in the school yard. By wisdom a house is built, and by understanding it is established; and by knowledge its rooms are filled with precious and beautiful treasures. (Proverbs 24:3-4)
---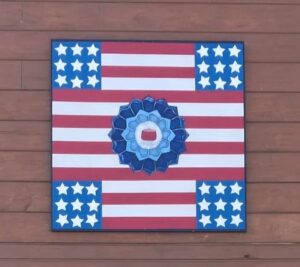 #2-34, Arkansas Secession History. This six foot by six foot patriotic quilt block located at 108 Noah Horton Memorial Drive, Marshall, AR, 72650, puts two largely-unknown pieces of the State's history on display. The Arkansas Secession Cockade, designed by a young lady in Searcy County in 1861, and the Arkansas Secession Quilt, designed in White County in 1861. On this quilt block, these two beautiful creations are combined to form one striking historic exhibit. Both pieces are rooted in the War Between The States, with each expressing patriotic sentiments from citizens of the State of Arkansas during a very difficult period of history.
Arkansas Secession Cockade – From the Arkansas True Democrat, May 9, 1861: Neat and Appropriate. We have received, from a young lady in Burrowsville, Searcy County, a tasteful presentation in the shape of a rosette. It is so simple and pretty that we will endeavor to describe it. A grain of corn is fastened, by means of a hole drilled through it, to a floss of cotton, spread so as to form a circle; this is also attached to a light blue circle, and the whole to a deep blue, of the usual size of a rosette. By using a grain of red corn, we have the colors of the Confederacy flag; red, white and blue, while the corn and cotton are emblematical of the Confederacy. The design and execution are both excellent. The present was sent with a patriotic note from the true hearted donor. "In the revolution of '61 as in '76, the women are on the side of truth and liberty and, if need be, will show themselves to be heroines as did their foremothers. God bless them and the Southern Confederacy."
Secession Quilt of Arkansas
Mary Green McPherson of West Point, Arkansas, made her quilt to raise funds at a local raffle for Confederate soldiers in need. But far from a humble bed covering, the piece she created was also a political statement, as her nine trapunto stars symbolize Arkansas as the ninth state to secede from the Union. The quilt received inspiration from one stitched by Cherie Ralston, from the book "Quilts From the Civil War." It was changed from a pattern with seven stars. McPherson's quilt had nine stars to represent Arkansas as the ninth state to secede. The quilt is a tale of two families. It is attributed to Ms. McPherson in 1861. At the beginning of the War Between The States, she was a widow with at least two children. They lived in West Point, Arkansas, when it was 5 miles southeast of Searcy in White County. West Point, on the banks of the Little Red River, was a bustling river port before the War, later overtaken by the town of Searcy in the railroad era. Neighbor Joshua B. Crow from West Point purchased the quilt when it was auctioned to raise funds to equip Confederate soldiers. Crow was described in a family biography as a "well-to-do farmer living about six miles east of Searcy." The quilt descended in the Crow family.
Trapunto is an ornamental technique used separately or in combination with all-white, pieced and appliquéd quilting. McPherson's stuffed stars give her quilt a wonderful three-dimensional quality. To make them, she cut tiny slits in the quilt's backing, stuffed in bits of cotton batting, and then carefully stitched closed the openings. Applying the trapunto would have been the final intricate step of completing her quilt.
An example of the Arkansas Secession Cockade can be viewed inside the Searcy County Veterans Memorial Hall in Marshall. The Arkansas Secession Quilt is in the permanent collection of Historic Arkansas Museum in downtown Little Rock. This Arkansas Quilt Trail Block concept was created by Randall Freeman, while the beautifully detailed paintwork of the block was done by Cynthia Garmoe. The block was designed, funded, and placed by the General Robert C Newton Camp #197, Sons of Confederate Veterans, Little Rock, to place an important part of Arkansas history on display.
---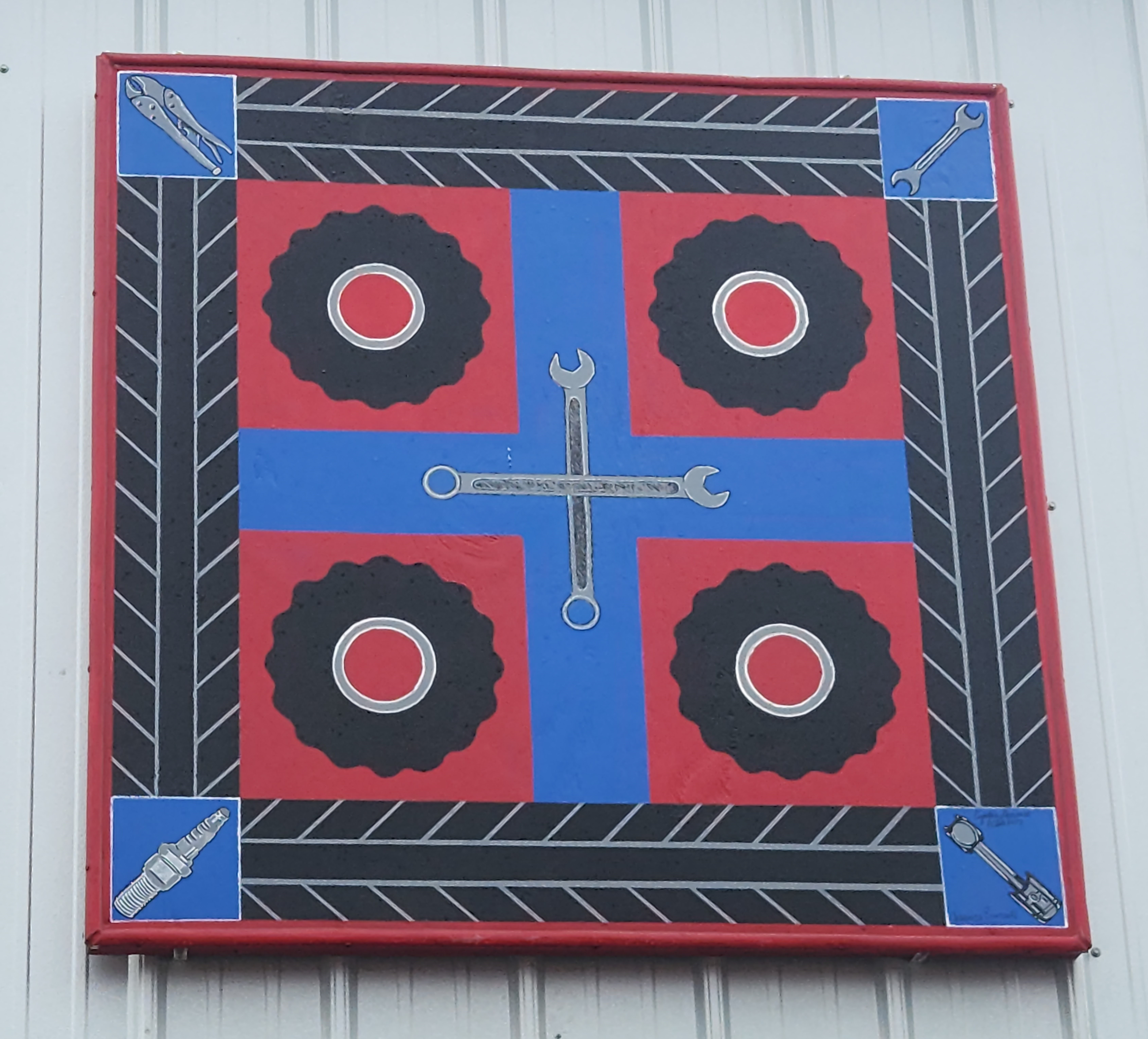 #2-35, Riley's, is a wonderful 4×4 foot quilt block with an auto mechanic theme at Riley's Tire and Lube at 2003 North Highway 333 Marshall, AR 72650. Painted by Cindy Garmoe. Veteran-owned shop specializing in front-end-alignments, tires, brakes, balancing, batteries, and oil changes! Located at the corner of Highways 27 South and 333. #marshallarkansas #searcycounty
---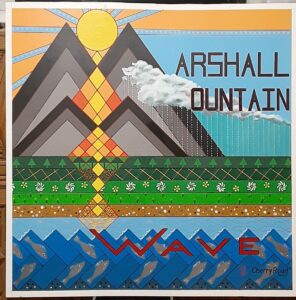 #2-36, Mountain Scene quilt block is located at 215 Highway 27 South in Marshall at the Marshall Mountain Wave newspaper office on the Courthouse Square. It's a 4×4 quilt block designed and painted by Cindy Garmoe of Witts Springs. Since 1891, the Marshall Mountain Wave has kept its readers connected with events going on around Searcy County. A weekly-based paper dedicated to preserving the historical factors and teachings of years past but still modernizing for ease of access for their readers. It's currently owned by Jeremy Gulban of CherryRoad Media Inc. of New Jersey. The inspiration for this quilt block was that Searcy County has some of the most beautiful sunrises and sunsets. The sunsets and sunrises always go through the mountains all the way down through the valleys and trees then connect down into the water. Everything is done in a printed material/calico style because that was the style in year's past. There are two mountains that are the M's of the Marshall Mountain that represent the mountains of Searcy County. Wave is in the water portion of the quilt. There are cross patterns on the quilt block that represent the various trails that intersect around Searcy County. There are wildflowers and trees. Then there is the sand that is connected to the water with some fish that represents the Buffalo River. Upon the mountain area there is a rainstorm painted to represent that it's often raining here.
---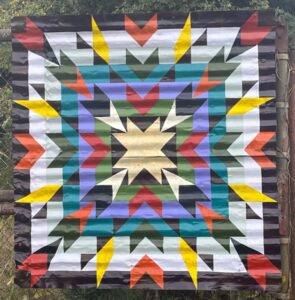 #2-37, Imploding or Exploding, is at 2562 Nubbin Hill Rd., Leslie, AR. Matt Walston is the owner and artist of this 50"x50" oil on corrugated metal roofing barn quilt. Matt sells smaller pieces at Brick House Artisans in beautiful, historic Leslie. Most of his barn quilt work is created to hang indoors, that's why they're done on the metal roofing, to give it barn atmosphere without needing a barn. The Brick House Artisans is a wonderful store to shop in with original pieces from local artisans and handcrafted wood pieces made onsite. The beautifully restored building is a must see in historic downtown Leslie. There are also plenty of outstanding choices for cuisine in this interesting little town!
---