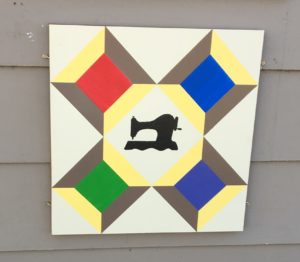 #7-01, "Spools & Sewing Machine" is found at 205 North Vine St. in Paris, Arkansas is two foot by two foot. The owners of the block are Dottie & Raymond Neumeier and it's located on the Quilt Academy that Dottie runs. The block was painted by her husband. The academy is where the Logan County Piece Makers Quilt Guild meets each month. Dottie has four sewing machines set up for anyone wanting to learn to sew to use any time they need. Dottie comes from fifty plus years of sewing and making quilts. She learned to sew as a child from her mother and mother-in-law. Dottie also teaches quilting at Crooked Creek Quilting located in Greenwood, Arkansas. She and her husband both own and have done long arm quilting since 2004. She is very excited to be the Logan County Coordinator for the Arkansas Quilt Trails. Her enthusiasm was evident in the expeditious and organized manner in which she developed a trail for Logan County.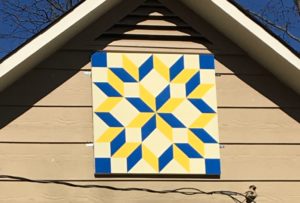 #7-02, is called the Carpenter's Wheel and is found at 115 W. Short Mtn. Street in Paris. This block is mounted on the front gable of the 100 year old home of Dottie and Raymond Neumeier. This block was chosen to recognize Raymond who is a retired carpenter of fifty plus years. Raymond made, painted, and mounted the block with the help of their son. Raymond is the son of a lifetime carpenter and he retired from Rainwater Lumber Company after thirty years of building trusses and prefab door and window units. He loves and is a collector of antique wood working tools many of which were made in the late 1800's. Raymond designed and painted several of the blocks on the Logan County Quilt Trail. He helps Dottie quilting quilts on their long arm quilting machine which they have had since 2004.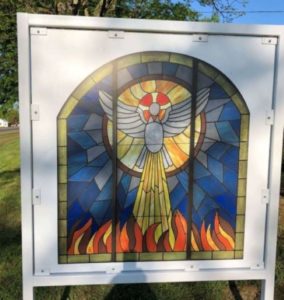 #7-03, "Holy Spirit (Dove)" Showering Humanity with his seven gifts which creates a passion (Fire) to know and be with God. The stained-glass window was given to the First Christian Church in Paris by Harvey Johns in memory of his parents, Arch and Lillie Johns in February 2013. First Christian Church was founded November 29, 1885. The whole congregation pitched in to build the wooden frame church. On June 2, 1929 a tornado twisted the church from its foundation. Services were moved to the courthouse. Construction on the current rock Romanesque Revival Style church began in 1930 and was completed in 1935. Construction progressed slowly due to the depression era and the necessity of the congregation to do much of the work. Brother Mason, pastor of the church, was a stonemason so he supervised the construction. On dedication day a big party and picnic was planned then a hail filled storm came up but the church stood strong. It seemed God had his hand on the building and the congregation. For 30 years the ladies of the Church served lunch to the Rotary Club. For the past 12 years the church established a weekly Free Meals Program for anyone in the community in need. It has become a true Ecumenical Program at the First Christian Church at 120 E. Hwy. 22 in Paris. This block was designed by Lee Lane.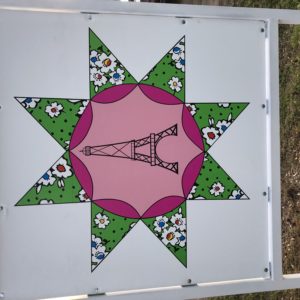 #7-04, French Star with Eiffel Tower, is in recognition of Paris, Arkansas. It was designed by Lee Lane. Paris added a fountain to make sure our Eiffel Tower Park was extra special. R.D. Waddill in 1868 moved into a house in the middle of nowhere in the Arkansas River Valley. Yet in 1871 Logan County was established a county seat, but it needed a name. Local citizens selected "Maryville" in honor of Waddill's blind daughter. The name was not available, so Waddill selected "Paris", his favorite city. From 1880's to 1920's Paris came into its own. Waddill donated for many of the local churches. The fertile valley with plenty of water and timber guaranteed growth. The Logan County Court House became the center of the square surrounded by retail businesses. Cotton quickly became king. Professionals moved to town. Dr. Mac Smith in 1899, and a brother Dr. Jim Smith, in 1901, moved to Paris and built a hospital in 1913 and expanded it in 1923. Their widespread rural practice was the stuff of legend. Their legacy continued thru three generations of Smith doctors. Today Dr. John C Smith continues to practice in Paris. The Smith Doctors not only provided medical help they also provided much needed financial support to the Coal Mining Industry, which was essential for the growth of Paris and our contributions to WWI and WWII. Today Paris is a wonderful place to raise children with excellent schools, the Career Center operated by Arkansas Tech University-Ozark, churches, banks, hospital, clinics, restaurants, Paris Boys & Girls Club, volunteer organizations, beautiful parks and trails including our entrance to Mt. Magazine State Park as well as the original fertile valley with plenty of water and timber in the Great State of Arkansas. Eiffel Tower Park is at the corner of Express & Walnut Streets in Paris.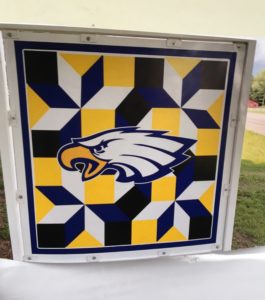 #7-05, Union Star with Paris Eagle was designed by Lee Lane. The forerunner of Paris High School was the Paris Academy created in 1885. The two story brick structure cost $12,000, which was accredited by the University of Arkansas. It held four months of free school and 5 months of student payment of $8/month for room and board. In May 1909 patrons organized the Paris special district and the Academy became the grammar school and a new Paris High School was built and became a member of the Southern Association of Secondary Schools in 1920. In 1925 Arkansas became part of the North Central Association and Paris earned an accreditation of "A" rating. A program of consolidation was begun in 1928 and 1929. The Agriculture Department was added in 1928. The Paris Eagle mascot was established sometime around 1915 for the football team with the royal blue and white colors. A new emphasis on physical education resulted in the construction of a gymnasium in 1938 and the W.S.Morgran football and track & field and stadium was completed in 1947 along with a Cafeteria. In 1949 a Band and Music Building was erected. Today Paris has an Elementary School, Paris Junior High School, and Paris High School. The Tyson Logan County Career Center was established in 2018 to provide an opportunity for students & adults of Logan County to learn trades and skills and to become an integral part of the medical profession. It is located at Paris High School, 2000 E. Wood St. in Paris.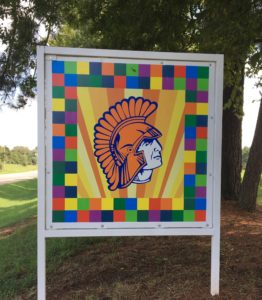 #7-06, Sunrise with Subiaco Trojan was designed by Lee Lane. Subiaco Academy is a private, college preparatory, Roman Catholic boarding and day school for boys, which is an apostolate to the Subiaco Abbey, Benedict Order, in Subiaco, Arkansas. The Little Rock-Fort Smith Railroad Company donated the land to the Swiss Benedictine Monks in Indiana in 1878. The monks opened the school in 1887 at St. Benedict's College. In 1892 the College became a seminary until the school was destroyed by fire in 1901. In 1902 the new stone Subiaco College opened as a six-year program modeled on European lines. In December 1927 the institution was again destroyed by fire. In February 1928 the Subiaco Academy re-opened and has continued to this day with a college prep curriculum and accreditation by the North Central Association in 1968. Subiaco Academy is unique as the only Catholic boarding school in Arkansas. In 1924 Fr. Louis Deuster recruited 20 students to become the first blue and orange Orangemen football team. Fr. Louis also wrote the first fight songs and cheers, all in a single year. In the early 1930's Coach Reynold Maus adopted the "Trojans" as the mascot and continued to be the Subiaco Academy Trojans' very successful coach for 30 years. Subiaco Academy is located at 405 N. Subiaco Ave., Subiaco, AR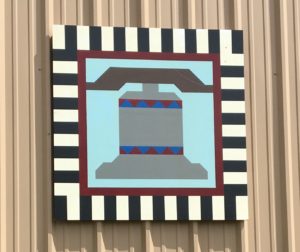 #7-07, Chiming Bell applique block was chosen for the Logan County Quilt Trail because of Robert Cowie's love and collection of church bells. This is one of three quilt blocks at Cowie's Wine Cellars & Vineyards. Cowie's expanding church bell collection is another physical testament to his appreciation of history. There are more than 200 bells on Cowie property. His oldest bell, cast in Germany in 1679, can be found at the entry of St. Anne's Chapel of the Bells at 101 North Carbon City Rd. Paris AR where Mass is still held occasionally. Another bell, cast in 1691, once hung above a Spanish mission. Other much larger bells can be found hanging at Cowie's Wine Cellars and Vineyards or on the grounds at 75 North Carbon City Rd., Paris AR. See block #7-08 for more information. One large bell's story is that it was saved in Germany by a church before Adolf Hitler's men could melt it down to use in armaments. The piano key sashing border is added because of Mr. Cowie's love of playing piano and especially organ. This quilt block hangs at the end of the winery warehouse facing Highway 22. Cowie Wine Cellars has pre-owned bells available for purchase. The Bell block was painted by Raymond Neumeier.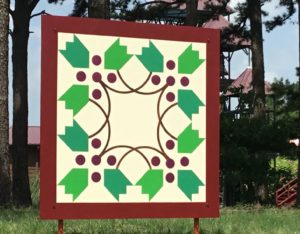 #7-08, Vintage Grapes, was chosen for Cowie's Wine Cellars and Vineyards which is a small family winery with a down-home atmosphere located in the scenic Arkansas River Valley between the Ozark and Ouachita Mountains. This quilt block is one of three located on the Cowie property. Cowie's offers tours and you are welcome to taste some of their award winning wines. Tour the only wine museum in the United States dedicated to preserving the wine history of a complete state. Come and relax at the winery's B&B suites. Also visit the beautiful Cowie's Chapel located next to the winery. See http://www.cowiewinecellars.com/ for more information. The Cowie Amateur Wine Competition is held the 2nd Saturday in September as part of the Tri-Fest (Arkansas' Wine Heritage Day, Arkansas Championship Grape Stomp, and Amateur Wine Competition). This block was painted by Raymond Neumeier.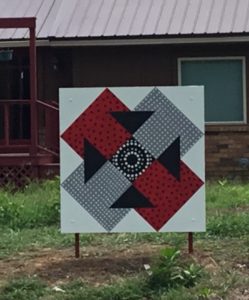 #7-09, Galleri is one of three quilt blocks in the Cowie Wine Cellars & Vineyard collection. It was chosen for the massive collection of authenticated autographs and letters from every American president, many signers of the Declaration of Independence, all twelve men who walked on the moon and other historical figures like Fort Smith's Judge Isaac C. Parker, Napoleon Bonaparte, Queen Victoria, seven popes and Mother Teresa to name a few. A former house across from the winery remodeled to house Cowie's autograph collection in which he has a small fortune invested. . Other notable autographs and letters in Cowie's collection include those from England's King George III during the American Revolution and one from 1660 of King James II, the last Catholic king of England, Scotland and Ireland. "I just love history. Good or bad, history is history," Cowie said. "You can't just sweep this stuff under the rug." The Galleri block was painted by Raymond Neumeier. Mr. Cowie invites visitors to tour the winery, vineyards, and museum and to stay overnight, choosing a suite at the onsite B&B. http://www.cowiewinecellars.com/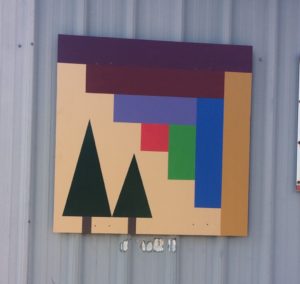 #7-10, Log Cabin in the Pines, is located at Rainwater Lumber Company, 2508 W. Walnut, Paris, AR. This particular modified log cabin block was chosen to represent the "Pine Trees" logo used by Rainwater. Rainwater Lumber was founded in 1955 by Amos Leo Rainwater, a World War II veteran from Delaware, Arkansas. The family owned business was operated by Mr. Rainwater and his wife, Mozelle, for many years and then passed on to their two sons Gary B. Rainwater and Jimmy L. Rainwater. Mr. & Mrs. Rainwater and their two sons are deceased. Rainwater Lumber is now operated by the third generation, Bruce Rainwater and Eric Rainwater. Stop in for a visit at the Rainwater Lumber and Hardware store. Operating hours are 7:30am-5pm. This block was painted by Raymond Neumeier who spent a 30-year career at Rainwater Lumber Company. According to American Quilter's Society, Log Cabin quilts first made a wide-spread appearance in the United States in the 1860s during the time of the Civil War. The block name may very well have had a connection to the presidency of Abraham Lincoln. The Log Cabin quilt became wildly popular and was identified with the pioneer spirit and values of America.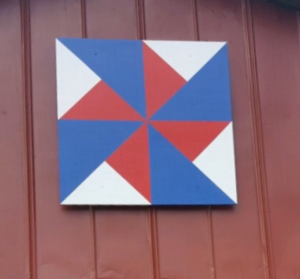 #7-11, Fox Family Windmill, is at 17 Rodeo Arena Rd., Scranton AR. Owner Diane Fox shares, "I fell in love with my first barn quilt while traveling in Northwest Arkansas. I knew then I wanted to make one to go on our red barn. While working full time I didn't find time to start on one. After retirement that was the first thing on my bucket list. My mother and I loved to make quilts and I know she would have loved to see this painted quilt block in red, white and blue on the old barn." According to Encyclopedia of Arkansas, James Murphey was the first owner of the land on which the town of Scranton would be built. His deed to the land was registered in 1838. It remained farmland until 1907, when Harmon Remmel led a group of investors to purchase land in Logan County for a city that would be a center of mining operations. They named their city for Scranton, Pennsylvania, which is known for its coal industry. The company Remmel and his partners founded was variously named the Arkansas Anthracite Coal Company and the Scranton Coal Company. The bed of coal they hoped to mine was buried between 700 feet and 1,200 feet underground. Coal-mining shafts in Arkansas were usually no more than 480 feet deep. The company surveyed the land for the city in January 1909, creating 105 blocks and 1,140 lots. The first building completed was a wood structure that served as a combination restaurant, bakery, shoe cobbler shop, and rooming house. Other construction followed, including six general stores, a hotel, a brick factory, a bank, and a jail. A newspaper, the Scranton Independent, was started by J. Higgins. A public school was built in 1912. St. Ignatius Church was established in 1911, and it also operated a school. Many of the residents of the area were Roman Catholic, having come to Arkansas from southern Germany in response to advertisements produced by the railroad industry. The Fort Smith and Subiaco Railroad built a line to Scranton anticipating a boom in coal mining, but the mines did not produce as expected. The coal mines operated at capacity briefly in 1929 but were closed by February 1930. Today the town's center of activity is Scranton School where about 400 students in K-12 are educated.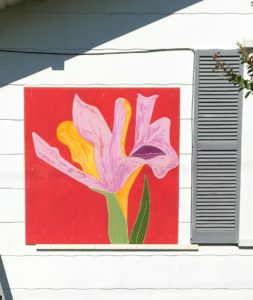 #7-12, Double Dutch Iris is at 2109 W. Walnut St. Paris AR at Kern Lane. If you are looking at the Double Dutch Iris quilt block, you are on Tolbert Hill in Paris. Mr. M. F. Tolbert and his wife, Rose, built this house in 1950 and raised their family there. Rose always canned vegetables because they had a large garden. Mr. Tolbert worked as a typesetter for 33 years in Paris. Their daughter Anna piqued her mom's interest in irises about 20 years ago. Rose's iris garden is beautiful every spring. Due to her age and failing health she moved out of the house in 2018, and Russell and Sandy Brown, both avid quilters, now own this home and painted the colorful Iris block. Sandy is currently serving as president of the Logan County PieceMakers Quilt Guild. She and Russell, who is also a member and quilter, are actively involved volunteers in the community and have made dozens of kids' quilts for the Angel Tree at Christmas. Thank you to the Browns for keeping the quilting tradition alive and for their volunteer work around Paris. They join other talented community members in keeping the quilting tradition alive.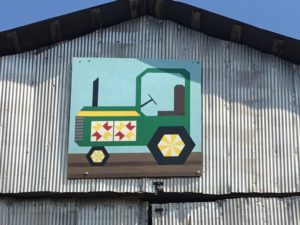 #7-13, Farmer's Toy, is at 4947 Old Military Rd, Paris AR. Tractors are an important part of everyday life at Komp Farms. Komp Farms was established in 1950 by Henry and Mary Ann Komp and passed on to second generation James Albert Komp & his wife, Theresa, who married in 1969. Theresa is an avid quilter who owes her love of quilting to her grandmother Regina Neumeier, and her mother-in-law Mary Ann Komp who named this block "Farmer's Toy". When James went out to work each morning she would jokingly ask what toy was he going to play with today. His answer, "my tractor of course !" Komp Farms is currently being operated by 3rd and 4th generation and Theresa hopes to pass the quilting bug to those generations too. Logan County certainly is blessed with talented quilters who are preserving the tradition.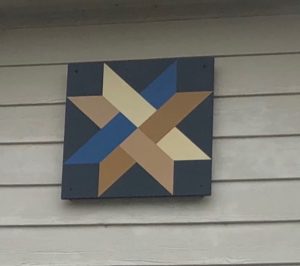 #7-14, Woven Star. The Paris Area Chamber of Commerce is home of the Woven Star quilt
block located at 301 West Walnut Street in beautiful Paris, AR. The woven star was made by Dottie and Raymond Neumeier of Paris. Dottie is
a former chamber director that helped locate and design the current chamber office in the late 1980's. In addition to the chamber office we are home to the TriPeaks Regional Tourism Association and Main Street Paris. The woven star represents how the 3 organizations are woven into the community of Paris, working side by side to make Paris a destination for not only our locals but visitors from around the world. The PACC, Main Street and TriPeaks are a strong network of community leaders working together to help promote and grow the region while focusing on revitalization and tourism. Paris is proud to be home of Mt Magazine, the highest point of the state and home of Mt Magazine State Park. Visit our website at www.ParisArkansas.com for more information. #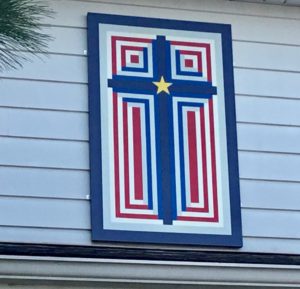 #7-15, Patriotic Log Cabin Cross is at 25 South Spruce St., Paris AR. Logan County coordinator Dottie Neumeier is proud to present this beautiful block that is mounted on the old Benedictine Sisters' house at St. Joseph's Catholic Parish. The sisters' house was built in 1924 and is where the Benedictine Sisters resided while serving the parish in teaching at the school and serving the parish in many other various ministries. As the nuns grew older and fewer, their service was suspended. This house is currently being used by the parish for meeting, some religious classes and the St. Joseph quilters. The St. Joseph Quilters is headed up by Frances Rhineheart since 1990. The ladies of the parish have hand quilted quilts since nearly the beginning of St. Joseph's parish. Needless to say they have quilted hundreds and hundreds of quilts. Quilting was originally done in the basement of the old school, then moved to the parish hall, then to the basement of the new school then finally finding a home in the Sisters house when there were no longer enough Benedictine Sisters to serve the surrounding parishes. St. Joseph's parish started as one of the many German parishes in Logan County, Arkansas in the late 1870's and 1880's. Many came to the area because of cheap land and lavish promises of a good life. While not really a part of the "Benedictine Colony" of St. Benedict's parish in Subiaco and St. Scholastica's parish at Shoal Creek, St. Joseph's came because of this movement. In fact, had it not been for the presence of Benedictine monks and nuns in Logan County at this time, it is doubtful if any German Catholics settlers would ever have settled around Paris, at least not in the numbers in which they did. Currently Father Reginald Udouj is serving as the parish priest. He is the grandson of John and Mary Vorster who were known to be parishioners since the early 1900's. St. Joseph's Church has at least 175 families registered as parishioners. The present St. Joseph Catholic Church cornerstone was laid in May 1926 after having several other structures in the area. The church was ready for use in early June 1927. The first couple to be married in St. Joseph's new church was Regina Klein and Paul Neumeier. Paul also helped build the church. This church and location became a dominating landmark for the town of Paris and surrounding area. Many of parishioners and many from the area served our country during War time from World War I, World War II, Korean War, Vietnam War to the Desert Storm War. To those that served these wars and to many other local citizens when returning to the area, seeing the beautiful bell tower of the church as they came towards Paris, they knew they were home. So what better way to say "Thank You" to all those from Logan County who served our Country, than a Patriotic Cross using red, white and blue. This Log Cabin Patriotic Cross was painted by Raymond Neumeier and hung by him and his son Nick. We invite you to come to see our beautiful quilt block and visit our beautiful church in Logan County and now part of the Arkansas Quilt Trails.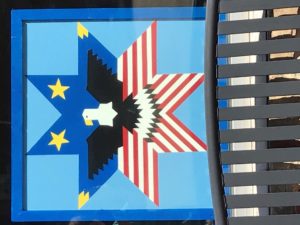 #7-16, The "Patriotic Blazing Star Eagle" 2' x2' quilt board was designed and painted for the Paris Unit of the American Legion Post 121 and DAV Disabled American Veterans, located at 23 West Main Street, Paris, Arkansas. They share a building on the town square in downtown Paris, Arkansas. Several designs were presented and previewed. This design was one they chose. On a background of blue, representing the sky, the Eagle is our national bird. The fierce beauty and proud independence of this great bird aptly symbolizes the strength and freedom of America. The red and white stripes represent our flag where they signify the first colonies. The stars and the tips of the blazing star with the navy background represent the stars on our flag. According to custom and tradition, white signifies purity and innocence; red signifies hardiness and valor; and blue signifies vigilance, perseverance, and justice. The shape of the eight sided Blazing Star was a perfect background on which to portray the Eagle and the stars and stripes. This "Patriotic Blazing Star Eagle" design was painted by Melba Gray and finished by her husband, C. Wayne Gray, who is retired from 34+ years of the Arkansas National Guards. He is currently a member of the Paris American Legion Unit. Melba's father was a disabled WWII Navy Veteran.Melba's and Wayne's interests in quilts go back a long way. When Melba and Wayne married over 50 years ago, she had an over abundant supply of quilts and quilt tops. Both Melba's and Wayne's mothers and grandmothers were quilters. They still have two sets of quilting frames and one set of quilting stands that were passed down from Wayne's mother and grandmother. Melba's grandmother even hand quilted and sold quilt tops while she was in a nursing home before she passed away. Melba learned to sew at a very young age. Her mother could look at a dress or outfit or quilt design and figure out how to make it without a pattern, and then she would make it. Most of Melba's clothes were homemade while growing up and some of Wayne's shirts were handmade, also. Melba grew up around all kinds of expressions of art and design. Happily, their granddaughters are continuing the tradition with interests in sewing and the arts. Currently, Melba is an active member of the Paris Art Center Committee and is an accomplished seamstress and artist specializing in oil painting. Wayne is a talented wood worker and builder of any project that Melba plans including this quilt board. He was on hand to offer constructive criticism throughout the process and then he built the frame and did the finish work after Melba painted it.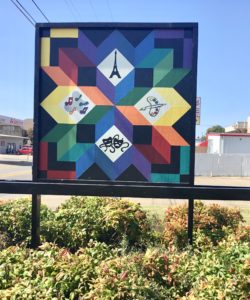 #7-17, "Illusions Star Carpenter's Wheel" is a 4' x 4' Barn Quilt, located at 313 East Walnut Street, Paris, Arkansas. It is a two-sided block with #7-18, Stepping Stones into the Arts on the reverse side. It was painted to represent the different colors and illusions that an artist uses in the many different areas of art expressions. An artist uses their talents to create art that shares visions in individualistic ways, whether it is through the forms of painting, pictures, models, drama, crafts or musical expression. Most of the time this is an "illusion" of reality. This quilt board was created for the Paris Art Center in Paris, Arkansas. Sadly, the center has since had to close because the COVID 19 Pandemic caused all activity to cease and funds were not forthcoming to keep it open. However, the Paris Art Center Committee continues to operate in an effort to keep the arts alive in Paris. The purpose of the Paris Art Center and the committee was and is to encourage all artists, regardless of their field or ability. Through the experiences and exposure of their talents hopeful many will become "stars" in their chosen field of expression. This barn quilt features different forms of artistic expression. However, since we here in Paris, Arkansas, are fortunate enough to have our own replica version of the Eiffel Tower like the one in Paris, France, of course we had to include our Eiffel Tower on both quilt blocks.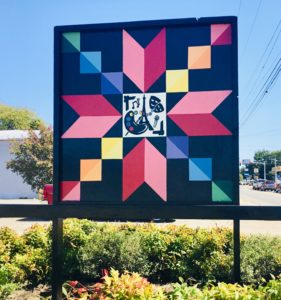 #7-18, The "Stepping Stones into the Arts" 4' x 4' quilt board was planned to create a focus on the arts in Paris, Arkansas. It is a quilt design variation of the 'Stepping Stones" quilt pattern. An artist frequently goes through many steps to achieve the desired outcome in his or her chosen field of expression: study, practice, experimenting, working on parts to complete the whole, and trial and error. Artists use their talents to create art in individualistic ways, whether it is through the forms of paintings, pictures, models, drama, crafts or musical expression. This quilt board was created for the Paris Art Center in Paris, Arkansas. Hence, the idea for a quilt pattern was born that has blocks and arrows leading to the different arts that are featured in the center of the board. Since this quilt board could not be placed at the now closed Paris Art Center, the lady who initiated the art center idea has graciously volunteered to let the quilt board be displayed at her home located at 313 East Walnut St, Paris, Arkansas. This is a perfect location since she has a beautiful and historic house located on a main street. She continues to allow area artists to periodically go to her house and enjoy painting together. She also frequently helps to plan area events that provide opportunities for creative expression through the different avenues of the arts. This double quilt board was created and painted by Melba Gray and her husband, C. Wayne Gray. Melba comes from a family of artists and seamstresses. Her mother and grandmother were both quilters. When she and Wayne were married more than 50 years ago, they had an over abundant supply of quilts and quilt tops. Her grandmother even quilted and sold quilt tops while she was in a nursing home before she passed away. Her mother could look at a dress or outfit or quilt design and figure out how to make it without a pattern, and then she would make it. Most of her clothes were homemade while growing up. Her mother taught her to sew as a very young girl. Melba's father contributed to her interests, also. He was a carpenter and could make anything. So, she grew up around all kinds of expressions of art and design. Happily, her granddaughters are continuing the tradition with interests in sewing and many of the arts. Currently, Melba is an active member of the Paris Art Center Committee and is an accomplished seamstress and artist specializing in oil painting. Wayne, her husband, is a talented wood worker and builder of any project that Melba plans including this quilt board. He built the frame and did the finish work after Melba painted both patterns.

#7-19, Lydia's Ohio Star. Logan County Quilt Trails is happy to have the 19th quilt block, Lydia's Ohio Star, to go up on a barn at 480 N. Wilson in Ratcliff, AR. Lydia Hughey designed and painted this block. She tells how her grandparents had a home and farm on Mt. Magazine about 17 miles south of Paris, Arkansas. Times were hard back then and you had to provide for your family with what you had. She can remember seeing old quilts made from old feed sacks. Most of the feed sacks had a print or design on them. The Quilts seemed to be faded and very worn. They were made for necessity to keep everyone in the family warm on the cold winter nights. Her grandmother and sisters all quilted. They made a lot of their quilts from old clothing that was too worn out to wear. It was always meaningful to look at the scraps in those quilts and remember the clothing those scraps came from, now most all quilts are made from new bought fabric. Each generation of quilts is unique to the times, but Lydia says she loves the old quilts because of the stories that each little piece of fabric could tell and how the small pieces are the ties that bind a family together. Lydia is retired from Wal-Mart after 24 years as an associate. She and her husband Roger have been married for 45 years and lived in Ratcliff most of that time. They have two children, a son and daughter. Roger currently is the Mayor of Ratcliff. They invite you to visit the Arkansas Quilt Trails especially Logan County Quilt Trail and visit the small town of Ratcliff.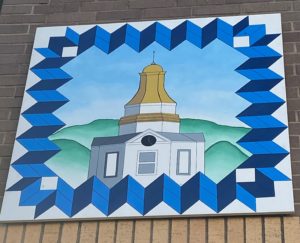 #7-20, Gateway to Mt. Magazine, is at 100 North Expressway, Paris. When Dottie Neumeier, Logan County Coordinator, approached me, Mary Sullivan, about being a part of this Arkansas adventure that would bring one more attraction to not only our downtown but the northside of Logan County, my wheels got to turning. The ideas have been and will be brought to life with the help of Callie Bauer-Smith, Tommy Melton, Valorie Cripps and Jason Cauthron through prepping boards, borrowing projectors and computers, designing patterns, painting, weather sealing, and displaying the quilt squares. The City of Paris employees' first quilt square titled "Gateway to Mt. Magazine" showcases our beautiful courthouse. The red brick courthouse, Georgian style, has many classical features with the most impressive being the white-columned porticos that stand at three of the four sides and the newly renovated clock tower that is one level high, with clock faces on all four sides. The courtroom takes up the north side of the building, the sole side that does not have an entrance or porticos but sets a beautiful scene for our Christmas tree/light display and Santa visits. The impressive size is the pride of Paris and serves as a backdrop for many of our community events . Located downtown in the heart of our city at 25 West Walnut St., its year around beauty has been captured in paintings, pictures, and quilts.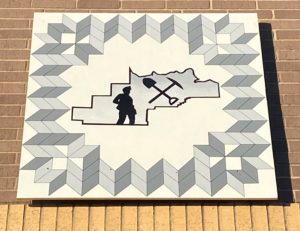 #7-21, Coal Mining Heritage, at 100 N. Express, Paris AR, is the second block contributed by City of Paris employees and showcases the era of the coal industry. Coal in our area was known as the "smokeless coal" with a heat-producing quality that burned clear white ash, free of impurities. The first coal mine opened in 1881, at the height of its era in the 1950's an eight-hour day shift wage of $7.50, at 31 privately owned mines employing about 2,000 miners, made the area an employment opportunity for many families. Business activity flourished in Paris until the demand for coal in northern markets diminished in favor of other fuels. The Paris Miners Museum located at 804 South Elm on scenic Hwy 309/109, captures the booming life and times of the mining era with a life size bronze statue of a miner, with his carbide light, shovel, and lunch bucket at his feet. The surrounding stones hold plaques bearing names of many of those who worked, owned, or operated the mines. The museum was a labor of love that began with Bob Thomas and was completed by local volunteers and the city.
---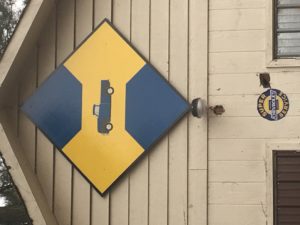 #7-22 Vintage Bow-Tie is located at 1175 Old Airport Rd, Paris AR. Any "gearhead" or "car guy" will get the connection between the "Bow-Tie" block and the old Chevy "Bow-Tie" appliqued in the center. This block is located on the shop building of Nick Neumeier, a local "dyed in the wool" vintage "bow-tie" fan. The yellow and blue colors are similar to the original Chevy emblem colors. Nick has driven, collected, rebuilt, sold, re-stored old Chevy trucks since his teenage years. So you can see why it is fitting to hang this block on his shop building, that houses his own old '54 Chevy truck "In the works" stage. After a career in the military, "you guessed it, in the motor, pool", Nick is currently employed at a local automotive parts store-"can you believe that! In his spare time he hangs out at a local vintage car-hotrod shop where you guessed it –he still works on old Chevys. This block was given to Nick by his parents Dottie and Raymond Neumeier on his 55 birthday (which was also the day he had his first grandchild lil Miss Averi Neumeier. I'm sure she will grow up learning to love old Chevys!) Raymond designed and painted the block. Dottie is the Logan County Quilt Trail Coordinator for the Arkansas Quilt Trails.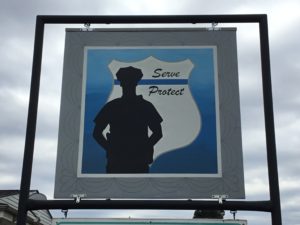 #7-23, Paris Police Department, at 1810 East Walnut, Paris AR. The City of Paris employees have been a valued partner in expanding the Logan County Quilt Trail. Their third quilt square titled "Paris Police Dept" showcases our men and women in blue here to "Serve & Protect". The department, since passing the civil defense ordinance in 1957, has seen many changes from the era of a chief and night watchman, jailer & family living on site, dispatchers, and meter maid to a force that consists of the chief, 8 patrol officers, 1 school resource officer (with 2 more coming in the next 2 years), 1 office manager, and 6 dispatchers. And in 2021 we made history with our first female chief, Robin Ellington. In this time of political and racial turmoil we are proud of our force and the time they take to be a part of our community, and we are also proud of the county officers who are always willing to lend a helping hand when needed. We will end with a quote from Paul Harvey's "The Rest of the Story" A Policeman must be a minister, social worker, a diplomat, a tough guy, a gentleman, and a genius to feed a family on a policeman's salary. The square is painted on both sides so it doubles as new signage in front of the headquarters.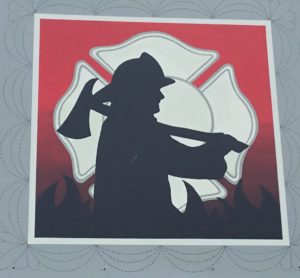 #7-24, Paris Volunteer Fire Dept, 205 East Main St., Paris AR. The City of Paris employees' fourth quilt square titled "Paris Volunteer Fire Department" showcases our firemen that have dedicated days, nights, weekends, and family time to help our citizens in times of crisis. In 2001 they moved to the current fire house which consists of 3 bays, an office, training room, and a de-contamination washroom. Over the years our current and past chiefs, asst. chiefs, captains, members, and city have helped to establish an ISO rating of 4 for our homeowners. Our department has 16 volunteers with 10 doubling as first responders, 3 firetrucks, 1 brush truck, and 1 service van. Their community involvement includes bringing the firetruck(s) and dressed in turnouts for spring & fall town square events, delivering Santa to his hut on the square during the annual Christmas parade, visiting the schools, or lighting up the sky for the Chambers' 4th of July event, always a big hit with young and old. We will end with a quote from Harold "Pee Wee" Schluterman who retired December 31, 2020 after 52 years and 5 months of volunteer service to our city and fire department. "You've got to be and need to be dedicated to be a fireman".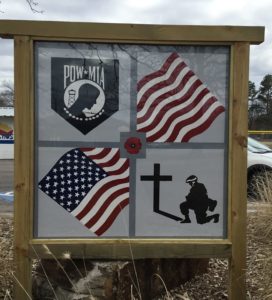 #7-25, Veterans Park, 520 Patterson St., Paris AR. The City of Paris employees' fifth quilt square titled "Veterans Park" showcases our veterans, living and deceased, who have served not only to protect our great country but to give us the freedom we have come to enjoy. The square is painted on both sides to double as the city's new signage at the parks westside entrance. From monuments around our square that honor soldiers from World War 1 & 2, Korean, Vietnam, Desert Storm, Operation Iraqi Freedom 2, to a Veteran's Affairs office in the courthouse, a DAV office on the square and a Boy Scouts sponsored final resting place for our nations retired colors "May her stars & stripes wave forever". A hut that is still referred to as American Legion Hut as well as the American Legion baseball ballfield. A monument east of town recognizing our civil war skirmish, known as the battle of Haguewood Prairie. Our FFA kids and sponsors campaigned for Purple Heart recipients to have designated parking on the square, at businesses and parks. And in 2005 the city council renamed Paris City Park to Veteran's Park. We as a community cannot begin to thank them for all they have and still do for our freedom, so I will leave you with 2018 eight-point Veteran's Creed in their honor:
I am an American Veteran.
I proudly served my country.
I live the values I learned in the military.
I continue to serve my community, my country, and my fellow veterans.
I maintain my physical and mental discipline.
I continue to lead and improve.
I make a difference.
I honor and remember my fallen comrades.
---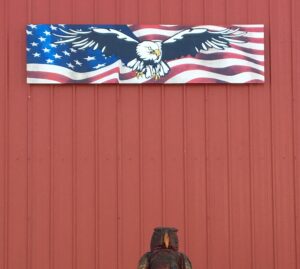 #7-26, The Eagle and Old Glory at 25 North Elm St., Paris AR is the Sullivan's sixth quilt block. It showcases our nations bird and flag. The size 2x8ft is also paying homage to the binding that holds our squares together. The bald eagle is our national bird, but it took years and several committees to get to that point. After the signing of the Declaration of Independence on July 4, 1776 Ben Franklin, Thomas Jefferson, and John Adams were given the job of designing an official seal. However, the three failed to come up with a design that Congress approved, as did two other committees. In June 1782, Charles Thomson, the secretary of Congress, was handed all the work of the 3 committees and chose what he thought were the best parts, then making the eagle more prominent recommended that the small eagle be replaced with an American bald eagle (considered a sign of strength). Congress approved the design on June 20, 1782. (Contrary to legend there is no evidence Ben Franklin protested to Congress about the choice of the bald eagle and lobbied for the turkey, although in a 1784 letter to his daughter he did label the bald eagle "a bird of bad moral character"). As for our hometown we will continue to soar and fly high for our Paris "Eagles". A sea captain, William Driver, was given a 24-star flag, handmade by his mother with help from some Salem female admirers, to celebrate his appointment as a master mariner and commander of his own ship, at the age of 21. Legend says that he raised the flag up the main mast, lifted his hat saying "My ship, my country, and my flag, Old Glory" although there is no real evidence of this. The flag was present for his adventures at sea, then from his Nashville home on holidays "rain or shine" attached to a rope and pulleyed from his attic window across the street to a locust tree and survived a family feud during the Civil War. "Old Glory" a weather beaten 17×10 foot banner is a patriotic symbol second only to Francis Scott Key's Star-Spangled Banner resides at the Smithsonian National Museum of American History. "It represents success, righteousness, sovereignty," says museum director John Gray, but also a conflict that is still "deeply contested in our souls." So, we in Paris see our "Old Glory's" flying from businesses and homes and occasionally a soaring bald eagle on the skyline. And we can appreciate that our forefathers took heart and pride in giving us these binding symbols that represent our country and our freedom. God Bless the USA! The quilt binding square is located on the side of 25 North Elm Street.
---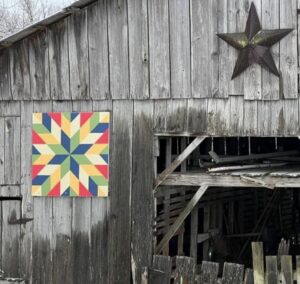 #7-27, Eight Point Star is at 1808 Union Road, Paris AR. Owner Lori Smith shares its story. My first barn quilt is this eight point star. I am appreciative of everyone who shares their work on the quilt trails. Quilts have always been a huge part of my life because of the generations of quilters in my family. I cherish the memories as a kid of tearing the newspaper backing off each block as my grandmother pieced them on her Singer treadle sewing machine. I remember not being able to move in the bed because I was under six quilts in a bedroom where you could see your breath in the frigid air. I remember that toasty warm feeling of love that gave me a sound sleep and a constant smile on my face. Quilts that were made from feed sacks, scraps from my old dresses and my grandmas polyester pants were the best. Quilting was considered a necessary chore along with cooking, working the garden and tending the chickens, the chores that kept your family healthy and happy. The barn is located on Union Road between Subiaco and Paris. It has been in the family since my grandpa purchased the farm in 1955. As a child in the 60's I have so many memories of the barn and farm. From playing in the hay loft, bottle feeding calves in one of the stalls to digging worms in the barn lot to bait the perch and catfish in the pond. So much fun was had by first cousins who were allowed to be kids and learn what it meant to be family. There were huge outdoor meals under the carport because there wasn't room in the house for everyone to sit. We chased lightning bugs just after dark and put them in a Mason jar to use as a night light. In 1995 my husband and I were able to purchase the farm from the family and have been able to build our dream home here. Just like the quilts I have inherited over time, the barn continues to provide warmth, love and cherished memories.
---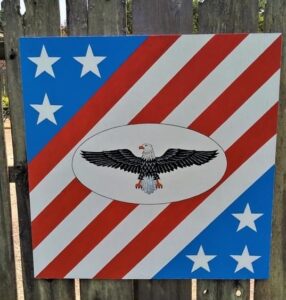 #7-28, American Pride, is at 406 Taylor St., Paris, AR. It's on a fence in the front yard of Mike & Jane Koehler. With an opening in his schedule, Mike designed and built his first quilt square panel deciding on a patriotic theme because he is proud to be an American. He felt that it was important to do something positive to raise spirits a little bit because too many Americans are always griping about problems that we have. He agrees that we are not perfect and counts his blessings, daily, that he is an American with many freedoms that much of the world can only dream about. Mike operates a stained glass studio at this location making panels for churches, businesses, and homes, as well as repairing glass. He welcomes visitors to stop by the studio or visit his website: facebook.com/sunnydaysglassart or sunndydaysglassart.com.
---