The Crawford County Quilt Trail was developed by Cathy Mason who served as Executive Director of Artup Mulberry. Now retired, she continues to volunteer as the Crawford County Quilt Trail coordinator. She enlisted volunteer painters to choose their pattern and write their story, then encouraged them to see it to completion. Support for the Crawford County Quilt Trail was also made possible by the Mountainburg Senior Center and the Arkansas Arts Council through a grant for life-long learners. You'll see brightly painted quilt blocks spread around the county in places like Mountainburg, Alma, Mulberry, Rudy, Van Buren, Chester, and Cedarville. Crawford County, in northwest Arkansas, was established in 1820. The Boston Mountains on the north and the Arkansas River Valley on the south provide beautiful vistas. The Oklahoma-Arkansas state line is the western boundary of the county. Interstate 40 makes it very accessible to travelers. I-49 north from Alma slices through the county for visitors traveling to the northwest corner of the state. The historic preservation of downtown Van Buren provides another destination for visitors. Come and travel the Crawford County Quilt Trail, the 16th county trail in Arkansas. (Photo credit for some blocks to avid quilt trail travelers, Jack and June Schmidt.)
---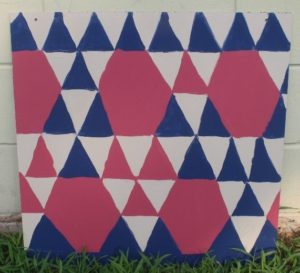 #16-1, Mary Melinda's Triangles block, is at 16621 Old Locke Road, Mountainburg. Brenda Sanders created the 2′ x 2′ block and tells the story: The quilt from which this was patterned was made by my Great Grandma, Mary Melinda Burke Allen. She was quite a woman from what I have heard about her. Her mother, (another Mary Melinda) died shortly after she was born, and her father, not able to care for an infant, left her with her maternal grandmother, (yet another Mary Melinda) who raised her. She married my great grandpa, William Allen, an Englishman who had become a Naturalized Citizen of the United States. They lived in a small settlement on Hurricane Creek in northern Crawford County. It is now part of the Ozark National Forest. Great Grandma was a midwife and used herbs to treat people who called on her for help. She rode all over the mountains on a mule delivering babies and doctoring folks. She did all sorts of needlework and this quilt was most likely made in the latter part of the 19th century. I found this quilt when we moved into my maternal grandparents' (her son Ernest and wife Minnie Self Allen) house in 1999. I was taking a bed apart upstairs, and between the mattress and box spring was what looked to be an old mat. I washed it, thinking I might be able to use it for something. When it came out of the washer, I discovered it was a big sack that this quilt was in. As you can imagine, it was quite a surprise.
---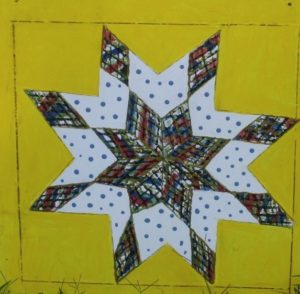 #16-2, 8-Point Star, is at 16621 Old Locke Road, Mountainburg. Brenda Sanders created the 2′ x 2′ block and shares the story. The quilt from which it was patterned was made by my mother, Frances Allen Provence, and her mother-in-law, (my Granny) Melissa Ruse Provence. They pieced and quilted it in the early to mid-1950's. At the time Daddy and Mother were living close to Granny on the Provence home place in Bidville in northern Crawford County. There are two things that make this quilt special to me; one is that the two people that I love very much made it, and second is the story behind the yellow fabric that is used to set the starts together. Mother said that she and Granny could not find the right shade of yellow fabric they wanted to use, so they dyed plain fed sack cloth yellow and got just the shade they wanted. Waste not, want not!
---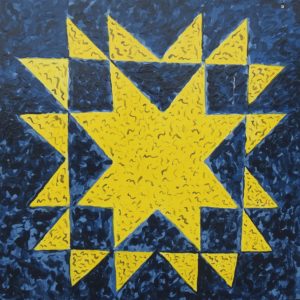 #16-3, Garden Star. Brenda Sanders created the 2′ x 2′ block and tells the story: This block is from a quilt I am making. The quilt is a sampler with 111 different six inch blocks. This is one of them named Gardenstar. I am piecing them all by hand, which is something I have not done since making the nine patch when I was little. This block has 67 pieces in it and it was a challenge to get all the seams to match. I especially like the name, since working in my flower garden is one of my favorite things to do.
---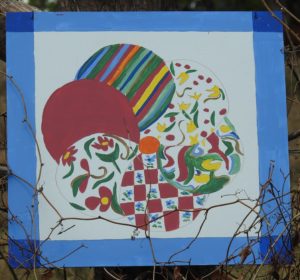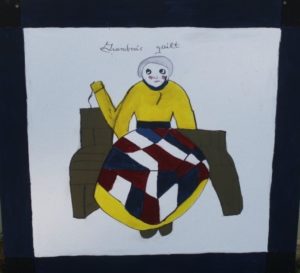 #16-4 and #16-5, Grandma's Quilt, consists of two 2'x2′ blocks (out of a collection of four) found hanging on the roadside fence at 11815 North Hwy 348, Mountainburg. The blocks were chosen by owner Eloise Jackson who shares the story: These blocks were in a quilt that my Grandma made. She embroidered on the quilt to reflect her name. It also had blocks of circles included in the design of the quilt and blocked with blue fabric. There were two of them made, one for Grandma and the other one Mama's quilt.
---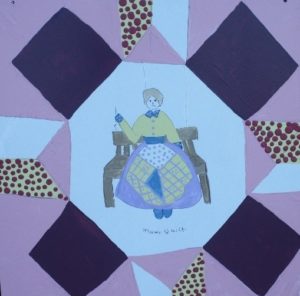 #16-6, Mama's Quilt, is one of four 2'x2′ blocks at 11815 North Highway 348, Mountainburg. Owner Eloise Jackson shares that the original quilt from which it is taken was designed like Grandma's quilt because it was also embroidered. However, this quilt was highlighted with pink instead of blue. It was also surrounded by a star pattern instead of a round flower pattern. They wanted matching quilts but wanted different colors.
---
---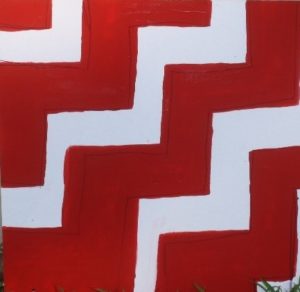 #16-7, Standing Steps. This red and white block is patterned from the Billy Jackson quilt. It's a 2'x2′ block at 11815 N. Highway 348, Mountainburg. Eloise Jackson tells the story: My husband Bill Jackson would have been 89 years old as I'm writing this. Many years ago, Aunt Sarah came to visit his mom and dad. Bill's Grandma had died when his dad was about eight years old. This woman was his grandma's sister. They lived in Brazil, Arkansas. Aunt Sarah and some relatives got together and made quilts and brought them up to show them. Bill was a small boy then, but he picked out this red and white quilt for himself. When his mother died in 1992, his sister, Veta Mae, said, "Billy do you want your quilt? This is the one you picked out when she brought the quilts up?" So, he took the quilt and I cut and rebound it. He said later, "That women hated me and my brother." I said, "Probably because you were rowdy little boys!" The quilt is from the pattern of tobacco sacks. I can just imagine the Bugler tobacco, the kind my aunt and uncle rolled to make their own cigarettes. Bill's parents were Cleveland Jackson and Sarah Taylor Jackson.
---
---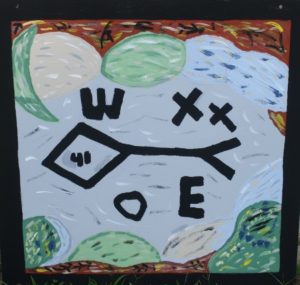 #16-8, Erkswine Rock, is at 521 Hwy 71 SW, Mountainburg. Pattie Provence created the 2'x2′ block and shares the story: This is a quilt block made to copy the carvings on a rock to mark the incident and grave of an Englishman by the name of Erkswine. My family and friends, about every week in the winter, made it a goal of ours to find the grave. We talked to a couple of people who had been there, and we figured out the coordinates, and on our second try, we found it. I also found out about the book and articles that tell the story. On one of our trips, I planted daffodils to remember the incident. No one really knows anything about Erkswine and his family never knew what happened to him. We will remember him and honor him by this quilt block called Erkswine Rock. A few men who went hunting down on Hurricane Creek met up with a group of Native Americans that had set-up camp. They were Cherokee and Choctaw that had been bear hunting. Women were also among the hunters. As the hunt was on, dogs tracked and started fighting with the bear. Several were killed as Erkswine called out, "Save the dogs!" When the dust settled, Erskwine was dead but some of the dogs were still alive. The Native Americans buried Erkswine and the rock was carved to mark the incident and grave. For more information, see The Arkansas Historical Quarterly-The Search for the Erkswine Grave by Earl. L. Matthews, 1951 and the Arkansas Gazette-August 19, 1951, crude carving maybe the key, and along with Panning for Nuggets of Old, Crawford County Gen. Soc. Volume 3 No 1 is where research can be found to tell the complete story.
The artist, Patti Provence, was born in Fayetteville and married a man from nearby Locke over 30 years ago. They have two daughters and a son.  She was a school teacher at Winslow before she quit to take care of her parents and open her business, Piece of Heaven Quilt Shop, established 2010. She has moved her shop to her home at Locke and is open by appointment. Call 479-462-4328. The shop has 500-600 bolts of fabric to choose from. She conducts classes teaching quilt making and the long arm quilting technique. She loves fabric and found a way to work with fabric to fulfill her dream of working with beautiful colors and designs and working with the public. Patti quilts approximately 300 quilts a year for customers. A small café is adjacent to the building and serves home cooked meals and a variety of other ethnic selections. https://www.facebook.com/pieceofheavenquiltshop.
---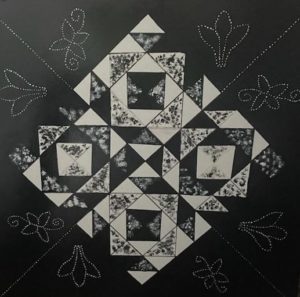 #16-9, Black & White Enpointe, is on display at 101 Hwy 71 North, Mountainburg. Elaine Cale created the 2′ x 2′ block and shares her story: My paternal grandmother was a quilter. My dad would ride with her on one of their horses to other homes for quilting. He was 4 years old and when the quilt group met at his house, he would play under the quilt while the ladies worked. I never got to own or even see any of her quilts and realized after I started quilting that I wanted to leave something made by me to my children and grandchildren. Now, as well as my children's and grands, sisters, brother, nieces and nephew and assorted friends all have quilts made by me with love.
---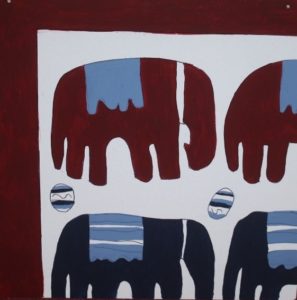 #16-10, Army Vet, is a 2'x2′ block at 101 Highway 71 North, Mountainburg. Owner Margie Sizemore shares the story: A local veteran passed away and when his home was cleaned out, a quilt of this pattern was tossed into the trash dumpster. It was retrieved, cleaned up and is now enjoyed by me. It is sad that so much is thrown away that is part of our history. I believe this is possibly a patriotic quilt with reference to the Republican Party.
---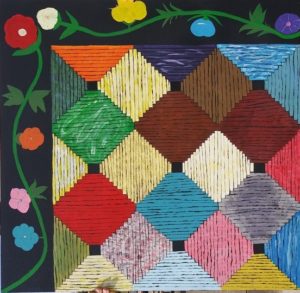 #16-11, The Chinese Lantern, is a 36′ X 36′ block at 101 Hwy 71 North, Mountainburg. Owner Mona Reed shares the story: My husband's aunt, Linda Wenger, pieced this Chinese Lantern quilt top. I hand quilted it. We entered it into the Crawford County Fair. It won a blue ribbon and also the grand champion ribbon. It took me two spools of black quilting thread to complete the work. We will pass this heirloom down to family members for generations to come.
---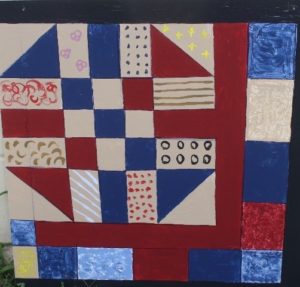 #16-12, Path & Stiles, is a 2'x2′ block at 1408 Pigeon Creek Road, Mountainburg. Katy Black created the block based on a quilt she had made. Path and Stiles is a pattern by Pat Speth. Katy machine pieced a king-sized quilt that was then hand-quilted by the quilting group at Goddard United Methodist Church in Ft. Smith, Arkansas in 2018. The dominant colors are navy blue, cranberry red, old gold and coordinating prints. It hangs on the rail fence behind the propane gas company.
---
---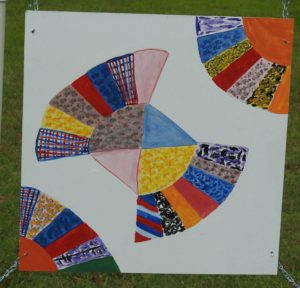 #16-13, Double Bit Axle, is a 2'x2' block at 1146 Pleasant Hill Road, Mulberry. Owner Jerry McKinney tells the story behind it: Bernice Graf McKinney, was born in 1922 in the Pleasant View Community in Franklin County Arkansas and passed away in 2001 in Fort Smith, AR. She was raised on a farm like so many others of that time. She wore dresses made from feed sacks. The feed sacks were made from pretty print material suitable for clothing. She actually was "Rosie The Riveter" during WWII working at a Boeing Plant in Wichita, KS. She drove rivets to attach the metal skin to airplanes while a "bucker" on the other side held a special metal "anvil" to flatten the end of the rivets as she drove them. As long as I can remember she made quilts. She had an old quilting frame she had inherited from her mother. As a child I remember being given a needle with thread and being allowed to quilt also. These quilts were utilitarian and not really made for their beauty. As an adult I once saw an old quilt with a ragged line of big stitches going across it. I knew that either I or one of my siblings had been helping quilt on that quilt. I remember the Dutch Boy and Dutch Girl quilts being made being made for each of her children. After she retired, she began to quilt again in earnest. King size beds had now replaced the old standard size beds and her quilting frames were not big enough to make a king size bed quilt on. So I bought the material and made her a king size quilting frame. It was during this period of her life when she made her most beautiful quilts. No longer just for utilitarian purposes but for beauty also. Some of them containing a hundred thousand stitches or more, I am sure. These quilts are now treasured by her children, grandchildren, and great grandchildren.
---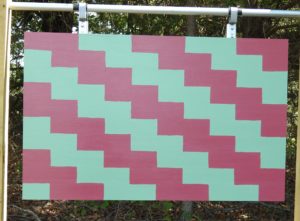 #16-14, Rail Fence, is a 24″x36″ block at 5260 Chastain Road, Mulberry. Owner Rebecca Landes shares the story: My mother-in-law, Ella Aline Green, was born the fourth daughter of O. H. and Bertha Green in the Patmos, Arkansas community. Having courted her for a given time, Wesley Tillman Landes married her in the fall of 1934. Aline was 15 years old with Wesley being 10 years older. Their first move was to live with his family in the Boyd Hill community of Lafayette County, which was a household of about eight mostly men and boys. Schooling for Aline was no long considered to be important, (Why her parents allowed that marriage is something I have never understood.) Wesley, having obtained a teaching certificate was teaching at a small community school. After the school year closed Wesley made the decision to farm cotton on a family-owned acreage deep in the river bottoms of the county, and they moved to a small house located on the property. As it is necessary for farmers to do, he was gone from early morning to late evening leaving Aline (sixteen years old at the time) alone in the very isolated place. She was miles away from family and was scared out of her wits at any little noise she heard. Wesley, as many men did in those days, smoked hand rolled cigarettes. Having little else to occupy her, Aline kept the tobacco sacks. Carefully she ripped out the sewing thread. She washed and dried them. I do not know if the colors were her choice or if they were merely what was on hand. Aline had a treadle sewing machine that she learned to sew on. She pieced the top of the quilt using her salvaged tobacco sacks. While the top was never backed and quilted, it includes 260 tobacco sacks and end up measuring 61 X 82 inches in size. The design which she used is called Rail Fence.
---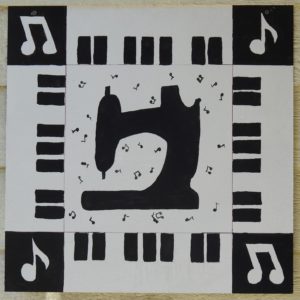 #16-15, Sewing Keys & Notes, is a 2' x 2' block at 10017 Silver Maple Drive, Mulberry. Owner Linda Dewater shares the story: This block came about from a quilt done using the "Row by Row." The theme that year was "Sew Musical." Because I play the piano, what better way to express music on a quilt than to use piano keys and notes and then add a sewing machine. This quilt was made with fabric that had musical notes. I painted the details from the fabric to make this replica block. Linda Dewater established Cozy Quilts & Things in 2003 and begin quilting for other people on the Nolting long arm machine. She quilts approximately 150-200 quilts a year. Later she opened up the fabric store portion, and has approximately 3,000-4,000 bolts of fabric to choose from. She was inspired to open her shop because the local large retailer pulled their fabrics from their stores, and due to the many quilters in the area, she knew they needed to be able to purchase fabric to continue their projects. So, she corralled her husband and their three sons and said, "We are going to build mama a quilt shop. Bring as many of your friends as you can, I can't pay them anything, but I am a mighty fine cook and will fill your bellies!" Cozy Quilts & Things now offers sewing notions, classes on making quilt tops, offers rental of a long arm machine, as well as, Kimberbell machine embroidery. Accuquilt cutters that have dyes to cut fabric patterns both manual and electric are available for sale to customers. Both Linda and her husband, Vernon, are active in the First Freewill Baptist Church in Mulberry, where she plays the piano and sings. Vernon joins in worship service by playing his guitar. Cozy Quilts & Things can be found on FB or by calling 479-997-8366 (landline) or cell 479-997-5689.
---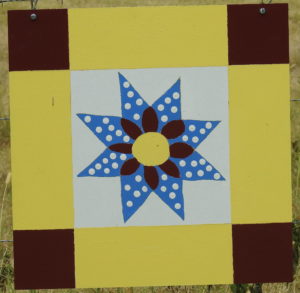 #16-16, Missouri Star, is at 9355 Hill & Dale, Rudy, Arkansas. Note that this block is in the Cedarville community and is near the other Cedarville blocks. It's a 2' x 2' block created by Ramona Smallwood. She relates the story behind it: Addie Matilda Dabbs Baggett was born April 26, 1888 in Flower Mound, Texas. She died on April 5th 1970 in Ranger, Texas. This quilt was made in the early forties of corded cotton. They owned a cotton gin in Gunsight Texas. Her family baled cotton for everyone. Her great-great grandfather donated the land for the Gunsight cemetery which is part of the Texas Historical Marker. Josepha Evandiver Baggette was originally from North Carolina and Georgia. Decatur Josephine McCleskey, her mother-in-law, had 12 children and 65 quilts. All the quilts burned in a fire at the home.
---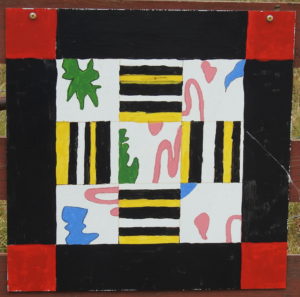 #16-17, Georgia's 9-Patch, at 9300 Hill & Dale, Rudy, Arkansas, (Cedarville community) is a 2' x 2' block created by Ramona Smallwood who shares the story behind it. Georgia (Baggett) Langford was born in Dermott, Texas on August 22, 1925. She lived in Langford Texas in 1958 and this is the wedding gift she gave to me. She died when she was 93 and was teaching at the time. Nobody could go to Cuba from the United States, so she flew there out of Mexico to deliver bibles and worked in vacation bible schools. When she returned to the US she was questioned as to who told her she could go to Cuba. She did philanthropic work all around the world. She sold her paintings and made money as an artist. One of the things she did was to spray paint cow patties with gold and silver paint, turned them into coffee table ornaments and made them look like roses. People from New York bought them up. She sold hat racks and many other things and then invested the funds into her philanthropic work.
---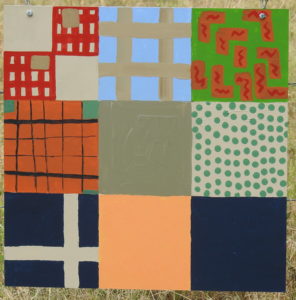 #16-18, Lovejoy block at 9355 Hill and Dale Drive, Rudy, Arkansas (Cedarville community) is a 2' x 2' block. Creator Roman Smallwood shares the story behind it. The quilt from which this was patterned was made by Dicey Rosetta Young Lovejoy who was born on July 28th 1877 in Crawford County. She died on August 12, 1961 in Cedarville Ark. The quilt is made from plaid flannel and corduroy from her husband's clothing scraps and was made in the early 50's. She was a small petite woman who never learned to drive a car but attended church faithfully. Her husband's grandmother raised him as his mother died when he was four.
---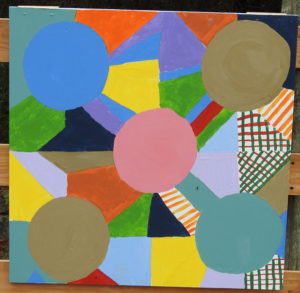 #16-19, Snowball, is at 1866 Hwy 162, Cedarville, Arkansas. The 36″ x 36″ block was created by Roman Smallwood from a quilt made by Lillie Mae Lovejoy Smallwood Hilburn. She was born May 5, 1914, Whitewater Road in Crawford County. She died February 10, 1986 in Van Buren, Arkansas. It was made in the late 40's in Dumas, Arkansas. They lived in the bayou on the edge of a cotton field. The quilt is made from corded cotton.
---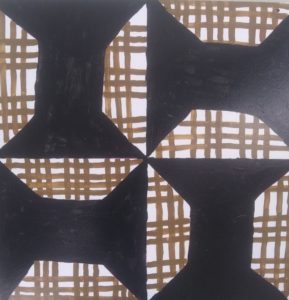 #16-20, Spool. This block is located at 8642 Hwy 59 North, Van Buren, Arkansas. It's a 2' x 2' block created by Ramona Smallwood, patterned after a quilt made by Lillie Mae Young Smallwood. She lived in a little house in a community close to Dumas known as Winchester that was surrounded by cotton fields. The quilt was made in the 1930's-1940's out of corded cotton. She had five children, one boy and four girls.
---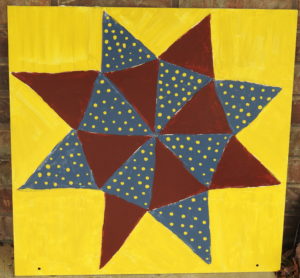 #16-21, Sunshine Texas Star, is located at 303 Hwy 162, Cedarville, Arkansas. It's a 2' x 2' block created by Kathy Bramlett who shares the story. This quilt was made by my husband's great grandmother. I just knew her name as Grandma Cooper. She was married a second time after her first husband died. I think she had six children, four sons by her first husband and two girls by the second. The first husbands' name was Wilkerson. Second husband name was Cooper. One of the Wilkerson's sons started the Bank of the Ozarks which is still in business today. Anyway, Grandma Cooper came to live with their daughter (my husband's grandmother) when she could no longer live by herself. We got the quilt from my husband's mother. Ronnie's mother, Mildred, used the quilt to cover a piece of plywood she put between the mattress. When Mildred took the quilt out from under the mattress, she did not want it anymore. Ronnie and I gladly said we would take it. I think being placed between the mattress is what saved the colors of the quilt from fading. I have owned the quilt for close to 50 years.
---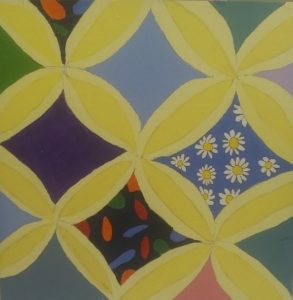 #16-22, Cathedral Window, is located at Old Rock School, 639 Pirates Way, Cedarville, Arkansas. It's on a 36″ x 36″ board created by Wanda Wait who shares the story: The quilt from which this block was patterned was made by my mother, Juanita Garr. It was made with different pieces of material she had. She worked on this for a long time. It was a labor of love. She gave a different kind of quilt to each of her children and grandchildren. Some history on the Old Rock School in the Natural Dam community is as follows: In 1930 one of President Roosevelts programs known as the Civil Conservation Corp (CCC) built the Old Rock School house which consisted of classrooms. Four rooms were on the east side of the building, one on the north and the auditorium which was used for the lunchroom as well. The bathrooms were over the hill with the boys to the north and the girls to the east outside of the building. Imagine hiking through the snow or rain! Classrooms were for 1st through 12th grade. Years later the following schools were consolidated into the Cedarville School district: Union Town, Cove City, Shamrock, Rena and Natural Dam. Natural Dam had about 100 kids. Natural Dam had four rooms shared by 1st and 2nd grade classes, 3 and 4th grade 5 and 6th then high school. The school house sat empty for years until a number of older citizens pulled together to make repairs inside and then were able to get it listed on the National Registry. Going back to the Old Rock School House are five students who graduated from the Cedarville school. Now, they meet to quilt in the Old Rock School House. Their quilts stories are listed on the trail. Mary Lee Freeman graduated in 1954, Roman Smallwood, Patsy Blaine graduated in 1952 and at the time she graduated there were 14 students all together to graduate. Jenny Martin attended school from the 2nd grade to 1962, and Madline Holland. When Mary Lee Freeman's relative, Cecil, graduated, there were about 18 in his class. In 1954, school was still being held in Natural Dam. As the school grew in students more classrooms were needed, so the school district purchased wood from five barracks at Fort Chafee in Fort Smith. These barracks were for 7th and 8th grade classes. One barrack was constructed to include nothing but a room full of typewriters, and another for the home economics students to include a kitchen and a room full of sewing machines. The Old Rock School house still serves the community today as the community center where private parties, fund raisers and the quilters keep on quilting and teaching future generations.
---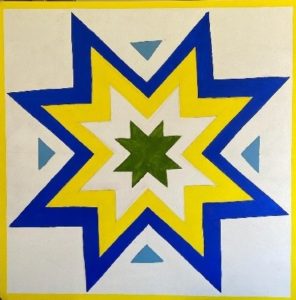 #16-23, Expanding Stars, is at 3949 Mulberry Hwy 64 West, Alma, Arkansas. The 4′ x 4′ block was created by Monica Kirksey Freeland who relates the significance of it. This pattern symbolizes the multi-generational ownership of our farm that started with my grandfather, Dr. Odell J. Kirksey. Dr. Kirksey was a physician in Mulberry who delivered 4,700 babies during his tenure. He enjoyed fishing and raising horses and cattle. He loved living on the farm. It was his relaxation. His son Joe Kirksey left medical school to become a farmer, and he poured his heart into the land. I live here now as does my son. With each star our family becomes brighter, our roots grow stronger. The green in the center represents the land all our family and extended family members enjoy.
---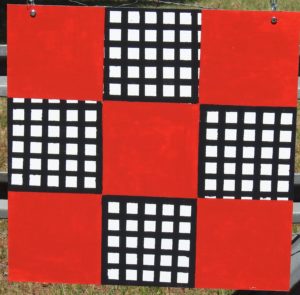 #16-24, Granny Magnolia Olive, is at 7516 Georgia Ridge Road Alma, Arkansas, It's a 2′ x 2′ block created by Cathy Mason who relates the story behind it. In the early 1800's, 30 families moved from the State of Georgia and settled on what is now known as one of the first communities in Crawford County, Georgia Ridge.
Mary Elizabeth Rogers was one that moved here from Georgia and the person who homesteaded the land where I live. Her daughter, Magnolia Olive Rogers, married Raymond Edgar Mason, Sr. They opened a community store on the ridge and Ray Sr. would travel by wagon to deliver groceries to the Kibler, Graphic and Dean Springs stores. He would leave a post card and the store owners would mail their list of groceries back to him that were to be delivered the next trip. Magnolia was a school teacher and raised six boys. The oldest, Raymond, Jr. (my father), John Harold, Curtis, Merle, Bob and Dr. Joe. On Saturday nights, neighbors would ride up on their horses or wagons and Granny Magnolia would play the piano while fiddlers and guitars would play on the porch and singers would join. I am very thankful to have been gifted by my Granny the last quilt she ever made, out of polyester nonetheless! While working as county coordinator for the Crawford County quilt trail, I had the pleasure of working with the many quilters across the county. Granny's quilt had been bound but had no batting. The batting, I purchased from the Cedarville quilters and the Mountainburg quilters quilted and bound the quilt. I intend to join the ladies and hone in my rusty quilting ability and move forward with teaching my grandkids the fiber art of quilt making. This has been a wonderful opportunity for me to give back to the community. I will forever be grateful. The art world is recognizing three kinds of art through this project: (1)The recognition of fiber art when scraps of fabric were sewn together to create beautiful quilts. (2)The blocks painted from a block chosen from the quilt and then replicated onto boards for the visual art, and (3) literary art through the stories that have been told.
---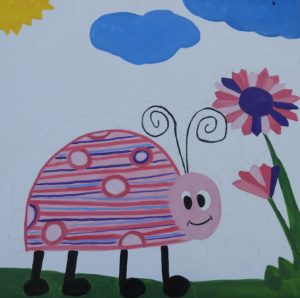 #16-25, Ladybug is at 49 Rudy Road, Alma, Arkansas. The 2' x 2' block was created by Linn Smith who relates the story behind it. This block is a result of a friend that is a foster parent sending me a request to build a quilt to send home with the little girl that was in her home for four years. The family nicknamed her "Lady-Bug". Her favorite color is pink so this is made to honor her and her foster family.
---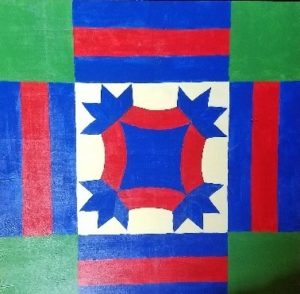 #16-26, Hands All Around, is at 428 US Hwy 64, Alma, Arkansas. It's on a 36″ x 36″ board and was created by Trish Carson who relates the story behind it. Hands All Around is the pattern for this quilt block which can be seen at Alma Farm Supply, 428 US 64, Alma. This pattern was well known in the mid-19th century and possibly referred to a dance jig that was popular during that era. Sometime around or before 1900 this quilt top was pieced by my great-grandmother, Mary Rose Smith, then was placed in a trunk, and was forgotten. I found it years later and my grandmother, quilted it. Mary Rose Smith pieced the quilt and later my grandmother, Zelpha Mae Smith, finished it by quilting the beautiful quilt. My Smith great grandparents, Francis Marion Smith and Mary Rose Smith settled in northern Jackson County at the mouth of the Strawberry River in 1872 to farm. During the 1890s they began running a ferry that would cross the Black River to Lawrence County. Then by shifting a lever the boat would cross the mouth of the Strawberry to Independence County. This became an important route for farmers taking their cotton to gins in the surrounding communities as well as making travel easier between these three counties. Life was hard for farmers during this time period, but through piecing quilt tops my great-grandmother left behind several treasured works of art. The quilt has a variety of similar block with various patterns of red and blue fabric being used. I selected this quilt block to paint because I love the way the vibrant red and blue fabrics complement each other.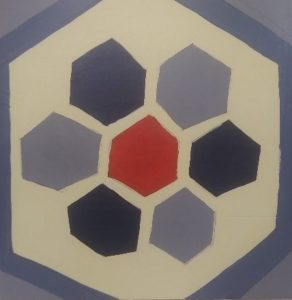 #16-27, Civil War Quilt, is at 14716 Hwy 220, Chester, Arkansas. It's painted on a 36′ x 36′ board. It was created by Mary Lee Freeman who shares its background. These are the facts that I know personally about the Civil War quilt upon which my block is based. The quilt was made by my grandmother, Benna McAvoy Woods. I was her oldest grandchild. Grandma was one of 13 children. Our family was a divided family during the Civil War, so the family had both Union and Rebel uniforms. The facts that I know for sure is that my grandmother when she was 16 and three of her sisters took the old uniforms from both sides, cut them up and divided the pieces between the four of them. Each made a quilt by adding other material and of the four quilts, the only one we know of that has survived is ours. Grandmother never used hers and kept it in a cedar chest until she gave it to my mother, B. Arzula Woods Yeats. My mother kept it in a cedar chest until she gave it to the Prairie Grove Museum a few years before her death. It was to come to me but, but she asked me what I thought about giving it to the museum, and we agreed it should belong to the country and because it was so old they could preserve it better than either of us could. A nonverified version of the quilt follows: Because we were a divided family there were of course many opposing opinions. One of the stories, and I cannot verify the truth and find it hard to believe, it was said that when July 4th came around the Civil War was always a festering sore from the two views. Some would even get out their uniforms to show and cause the family relations to again be inflamed. So, the girls decide to take the uniforms and put them in a quilt with both sides represented in it. I have always wanted this tale to be true but do not really believe it because my grandmother was born in the late 1800's and I would think by that time war memories would have been given up or buried, but I always enjoyed hearing my mother talk about the family oral history.
---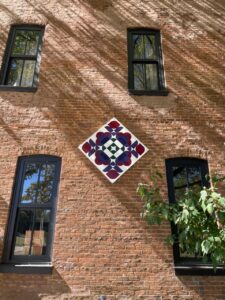 #16-28, Blackberry Jelly, is at 411 East Front Avenue, Chester Arkansas. Staci Ravenkamp created the 2′ x 2′ block and shares the story behind it. The black berry has made these Ozark hills and valleys its home before the small community of Chester found a place to settle and grow. We chose the blackberry as it resonates with the heart of resilience that the people of Chester embody. Even though the berry can be difficult to reach for, its sweet fruit is worth the effort. The Chester Hotel echoes the same song throughout history. Withstanding age and time, storms and fires, it has remained a symbol of the community that we hope will continue to give back in abundance just like the blackberry bush. As a community we will celebrate together the hard work of one another and continue to enjoy the sweet things our home propagates so generously. May the blackberry remind us that the hard work to gather, seek, and find the best fruit is always worth the effort when sharing that sweet jam with those around a table for all to enjoy. The beautiful Chester Inn/Hotel was originally built in 1887 and was established as the Chester Inn. The facility once had 17 rooms upstairs when plumbing and toilets were outside unless they used the chamber pots in the rooms. The remodel began in 2020 and now consists of 11 rooms and five bathrooms upstairs and two bathrooms downstairs. The hotel can now accommodate 22-24 people. There is a beautifully decorated dining hall and the owners are working to finish a restaurant. Originally there was a train depot located across the street where the railroad tracks are still used today for the Van Buren-Springdale based excursion train. The old railroad hotel was located across from the Chester Inn and on the west side of the tracks. A tavern, originally a saloon was connected next door. Inside the Inn was also a post office, restaurant, and a brothel. In the 1920's-1930's there was a fully stocked mercantile and the original shelves are sill being used. The Hollywood movie, Frank and Jessie, was filmed inside the Inn and the Biloxi Blues filmed some scenes on the outside. Each room in the new remodel is different in design and each is themed-based relating to the period. The Beard and Lady apothecary gift shop will be open soon. Located inside is also a stage and space available for conferences and live performances. Base room rates start at $100.00 plus tax and fees. Suites start around $200.00/night. Owner Lacy Hendrix grew up just two miles north of Chester in the community of Schaberg that is tucked away on the train line just up the tracks. The community can be reached by walking the tracks. Lacy has future plans to include outdoor activities to take place in and on the beautiful Ozark National Forest Buckhorn trails. The trails are free and open to the public. Opportunities to go bike riding, 4-wheeling, hiking, swimming in Lee Creek across from the tracks is one of the best swimming holes around, and in springtime when the water is up, canoeing is also a fun adventure. The Chester Country Café is within walking distance, and home-cooked food can be enjoyed, especially on Thursday with their fried chicken special. The Chester Inn's website is found at https://beardandladyinn.com Or call 919-532-9881
---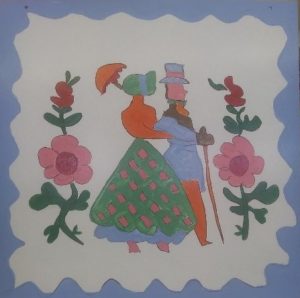 #16-29, Embroidery, is a 2' x 2' block at 1737 Eastgate Estates Road, Van Buren, Arkansas. Wanda Wait created the block, and shared, "I love to embroidery, and this is just a hobby of mine that I started doing in the 80's." Wanda is a foster grandparent at Tate Elementary four days a week. She attends the First Baptist Church in Alma and works with two year-olds on Sunday and helps with dinners on Wednesday nights. She was born in Fayetteville Arkansas but was raised in Crawford County. Her mother taught Wanda and her sister the art of quilting at age 10 and never removed a stitch when they did their work. She took up embroidery at the age of 16 and continues today as it is easier on her hands due to arthritis. She has been married for 15 years and has both a son and daughter as well as a granddaughter who is a school teacher in Fayetteville, a granddaughter who is a nurse in Tennessee and another grand daughter who is a school teacher in West Memphis. She also creates her own original quilts for the baby quilts that she makes.
---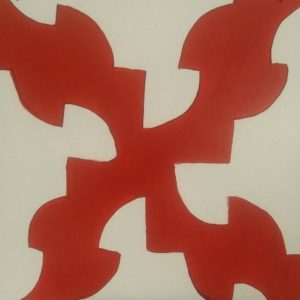 #16-30, Drunkard's Path, is at 18 Lafayette Street, Van Buren, Arkansas. The 2' x 2' block was created by Patsy Blain (Smallwood). She shares the story behind it. Today is my eighty seventh birthday and I am a life-long quilter. People ask me how long I have been quilting and I really don't know. One of my earliest memories is of my grandmother quilting frames hanging from her ceiling and her sitting there quilting. This "drunkard path" quilt was made for my wedding in the early 50's. Both my grandmother and mother were avid quilters, so it is a family tradition.
---
#16-31, Arrow Star, is located at 22733 N. Highway 71, Winslow, AR on the grounds of the Muxen Building. The building houses Ozark Folkways, a non-profit organization dedicated to preserving, developing, instructing and celebrating the arts, crafts, music and cuisine of the Arkansas Ozark Mountains. We have been doing this work since the 1960's. Once a year, in October, we host a Fiber Festival honoring the fiber arts – weaving, spinning, knitting, crochet, lacemaking, quilting, and needlework. Our autumn scenery has been declared among the most beautiful sights in the state of Arkansas. Come visit us on Friday through Sunday afternoons! The historic building is listed on the National Register of Historic Places under Criterion B, with local significance in the areas of Art and Education, for its association with Clara Muxen and her impact on the rural community around the town of Winslow and arts and crafts education in the Ozarks. The Muxen Building is also listed on the National Register of Historic Places under Criterion C, in the area of Architecture, with local significance, as an excellent example of a postwar rural Ozark vernacular public building. The block was painted by local artist, Olivia Trimble.
---