Welcome to the Franklin County Quilt Trail. It was developed by volunteer coordinator Lynda Evans with the help of some ambitious residents who painted and placed 23 blocks in about one month's time….and they continue to add to the collection! Encyclopedia of Arkansas provides interesting geographical and historical context about the county: Franklin County is bisected by the Arkansas River into a forested northern section and a southern section primarily of farmland. It was formed on December 19, 1837 and is rich in minerals and had one of the first oil strikes in Arkansas. Ozark, north of the Arkansas River, was made the county seat in 1838, a year after Franklin County was established and is today the most populated town in the county. Charleston was settled in the 1840s and because crossing the river was difficult, Charleston was designated a second county seat in 1901. Charleston was the first town in the former Confederacy to integrate its public elementary and high schools in 1954. Charleston native Senator Dale Bumpers worked for recognition of the town's place in history for this decision, and the school district is now a National Commemorative Site. Ozark desegregated peacefully in 1957. Poultry production is now the most significant industry in Franklin County. Butterball has a turkey-processing plant (formerly owned by Cargill and ConAgra) in Ozark . The wineries of Franklin County attract tourists and local visitors throughout the year. The Altus Grape Festival takes place every year in Altus. Altus is also the site of the Coal Miners Memorial and of St. Mary's Catholic Church (Our Lady of Perpetual Help) built in 1879 by Father Beatus Maria Ziswyler, which is on the National Register of Historic Places. Mulberry Creek is popular for outdoor sports including canoeing and fishing. Arkansas.com shares this about Altus: The small, rural town of Altus is a distinctive and important aspect of Arkansas's history and culture. Altus preserves the heritage of German-Swiss immigrants and the art of wine making. Its downtown pays tribute to its coal mining history while offering visitors unique shopping and dining experiences in a classic, small downtown square setting. In the Arkansas River Valley rich soil gives life to vineyards. Thousands of visitors stop to savor Arkansas's award-winning wines, tour its wineries and soak up the history of Arkansas Wine Country each year. Six wineries – Post Winery, Wiederkehr Wine Cellars, Mount Bethel Winery, Chateau Aux Arc, Dionysus Wine and Brew, and Neumeier Winery now operate in the Altus area. Each offers free tours and operates tasting rooms. Some offer extra amenities such as a gift shop, a restaurant, an RV park, or a bed and breakfast inn. Because of hardworking volunteers, Altus now has a new attraction to offer visitors with the launch of the Franklin County Quilt Trail and the location of many of the blocks in and around Altus. You'll also find blocks at Ozark and we anticipate the trail will continue to spread across the county. Enjoy your drive!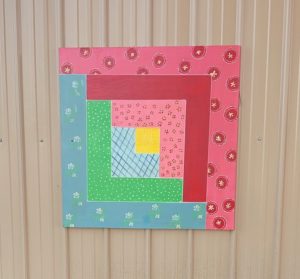 #12-1, Log Cabin, is at 7606 Hwy 186, Altus AR. Jo Eveld shares: The log cabin pattern was chosen in memory of my German grandmother, Wilhelmina Eveld, who was a very talented quilter. The location was selected because it is on what was part of the Eveld farm, which, like so many in the area, included a bonded winery. Wilhelmina and Will Eveld were childless but adopted three girls and two boys, including my father Joe Eveld, when the Orphan Train came through the area at different times. My dad was five years old when he arrived in 1921, and it was only recently through DNA matches and additional research that we traced his roots to New York and Ireland and found living relatives there. At one time after selling the Eveld farm, my grandmother served as housekeeper and cook for the pastor of St. Mary's Catholic Church and I can recall visiting her there and seeing a quilting frame set up in the large upstairs room of the rectory where she and the other ladies of the parish held quiltings. My mother, however, was not among them, never having time to learn to quilt, as she was busy caring for our family, which eventually included nine children.
---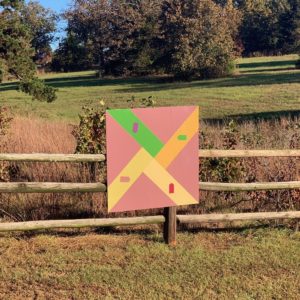 #12-2, Windmill, is at 3412 Swiss Family Drive, Altus AR, specifically where Swiss Family Drive and Highway 186 intersect. The story is shared by Jerry Hiegel about this block that was painted by his mother-in-law, Delores Neumeier. Questions would always pop up about the use of a windmill as a sign and logo of Hiegel Lumber Company in Conway. During 1961, I was flying near Greers Ferry Lake and noticed this windmill turning. I lowered altitude and looked it over. The more I saw of it, the more I thought I would like to own it. I made a drawing as to where it was and that weekend, my family and I drove in the car to the area. The owner, Thurman Rhoades, was willing to sell, but when they found out I was in the building materials business, they wanted some material instead of money. We struck a deal whereby I would furnish $250 worth of material, deliver it to them and pick up the windmill. A customer, Jack Ward, was in the welding business in Conway and had a 40 foot trailer truck. I contracted him to deliver the material, bring back the windmill and set it up. Cuerden Sign Co built the "paint bucket" sign and installed it. The blades became rickety one time and fearing one would fly off and hurt someone we replaced them all. Our plumbing department sold concrete septic tanks and had one displayed by the windmill. One passerby saw that and thought we were pumping water out of the tank, and that was not sanitary. He turned us into the Health department. They came to look at it and we all had a big laugh. The windmill is still in use at Hiegel Supply.
---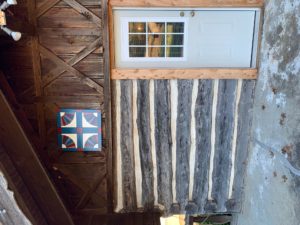 #12-3, Grandmother's Fan, is at 3325 Swiss Family Dr., Altus AR. Delores Neumeier shares: We want to dedicate this Grandmother's Fan quilt to the Franklin Count Grandmothers who have helped us keep the tradition of quilting alive. Just a bit of history on the Grandmother's Fan quilt. This pattern first appeared in print in a Ladies Art Company catalog in 1897. It entailed beautiful hand work that helped warm the hearts of those lovely women. Prior to that, fans were common motifs in late nineteenth century crazy quilts. By the 1930s, fans were standard favorites for quilt patterns. This barn quilt can be seen at Wiederkehr Village on the Historical log cabin built in 1880 above the Weinkeller Restaurant. Discover the Swiss winemaking heritage of Wiederkehr Wine Cellars. The oldest and largest winery in mid-America, Wiederkehr Wine Cellars is located on the southern slopes of the Ozark Mountains. Here atop St. Mary's Mountain is where the Wiederkehr family carries on a tradition begun in 1880. Lovingly tended vineyards surround the winery, designed in the Swiss alpine style overlooking the Arkansas River valley. Enjoy your visit!
---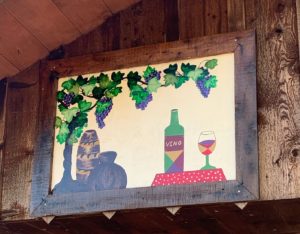 #12-4, Harvest Table, is at 3413 Swiss Family Dr., Altus, AR. Altus, in Franklin County, is the Grape Capital of Arkansas. There are 6 wineries in Altus. They are Wiederkehr, Post, St John, Mt Bethel, Chateaux AuxArc and Dionysus. This is the season of hard work, song and dance. Since the early 1880's fruit harvest in Franklin County has given way for the hand quilters of St Mary's to display beautiful quilts. Thanksgiving is when the quilts are shown in all their glory at the dinner hosted by St Mary's and held in Lawrence Hall. The quilts are auctioned and proceeds go to the Church. According to Altus historians, in the late 1800's whiskey could be bought for 10¢, you could see a movie, although it was a silent film, for 10¢ admission; there was an ice house in about 1910 where you could buy ice by the pound, but you had to go after it, since ice deliveries didn't begin until about 1930. There was an electric plant in operation around 1910, the first in any small town in Arkansas. Altus continues to make history today with its vineyards and wineries. Submitted by Delores Neumeier.
---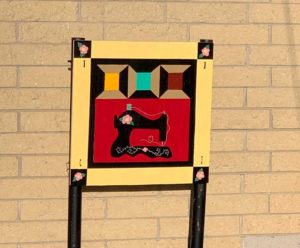 #12-5, Grandma's Sewing Machine, is found at 5118 St. Mary's Lane, Altus AR at St. Mary's Catholic Church. Parishioner and quilter Lynda Kleck painted the block and added the old-style sewing machine to the traditional spools pattern. Lynda shares, "This little sewing machine reminds me of the machine I learned to sew on. The ones my mother and grandmother had when I was growing up. Over the years I made my own clothes and sewed baby gifts. After retiring and moving to Franklin County, I have learned to make quilt tops. I will always have a soft spot in my heart for the first sewing machine." The early settlers who founded St. Mary's were primarily from Germany and Switzerland. Uncertain conditions after the Franco-Prussian War (1870-71) and the Kulterkampf (religious persecution) of Catholics in Europe influenced many Catholics to seek a new home in America. Immigration to Arkansas was fostered by advertising of the state legislature and railroad companies. Coal mining was the primary industry in Altus and the surrounding area, and the railroad brought in immigrants to work in the mines.
---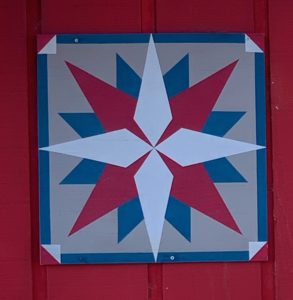 #12-6, Guiding Star, is at 309 W. Park, Altus AR at Owls Roost Cafe. A local donor shares the story behind it. "I lived in Louisville, Kentucky all my life until 2010 when my husband and I moved to Ozark. He has family here. As you can imagine leaving family, friends and home was not easy for me at times. I have made and loved barn quilts for a long time. I am crafty and have several hobbies. I had 5 barn quilts and had my favorite one hung for only 2 weeks when a fire destroyed our home and shop this summer. I was able to save 4 barn quilts one of which hung on the front of our home. It is called Guiding Star and was hung there to guide my traveling husband home. I am donating all five of these (including a newly painted one) to Franklin County Quilt Trail. When our home is rebuilt I will be making more for our home. We want to thank the generous couple (who wish to remain anonymous) for donating five quilt blocks to the Franklin County Quilt Trail. We think they will be enjoyed by lots of people. We look forward to your next creations and wish you the best in rebuilding your home.
---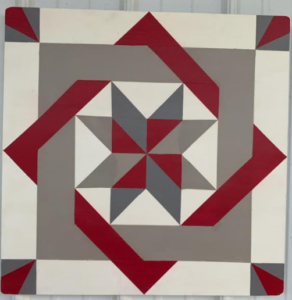 #12-7, Spinner, is at 207 W. Park, Altus AR at the Altus Fitness Center. Today the businesses in Altus are different than those from 100 years ago that included a soft drink factory owned and operated by Mr. Jim Mansfield from about 1910 to around 1920. It was under the name of the College Hill Bottling Company. Although Altus didn't have a brick factory, it's been said that a Mr. Buergler made all the bricks used in his house and made part of the brick in the old German American Bank. Altus had a central telephone office. Back in those days, all could listen in on the party line and find out all the gossip in the neighborhood. Aren't you glad we don't have those anymore? Times have really changed in the last 100 years. We are very proud of all the talented people who made a very important contribution to early Altus. Some of the early businesses were J.M. McGee General Merchandise, Crawford Bros. Grocery, Altus Steam & Gin, F.M. Hammond Livery Stable and Mike Metz Hardware. We invite quilt trail travelers to visit our current businesses in Altus.
---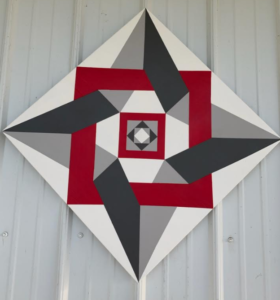 #12-8, Card, is at 207 W. Park, Altus AR. It's one of two blocks at Altus Fitness Center that were donated to the trail. The painter combined a few different patterns for this one. The fitness center is a community attraction, providing free access to the facility that includes weights, exercycles, ellipticals, treadmills, ab lounger, inverter, Total Gym, and education about health in a climate-controlled environment.
Weights, exercycles, ellipticals, treadmills, ab lounger, inverter, Total Gym, stereo. The public is encourage to use the free facility as an opportunity to network with other fit-minded people. Altus was incorporated on August 31, 1888. The population at that time was about 500 while it is about 750 today. As Altus approached its Centennial year in 1988, people thought back to how it began and the early settlers that helped to establish business here. S.D. Price was the first mayor. The first house was built by E.J. Nichols in 1875. It was later occupied by D. Fains Drug Store. The same Nichols built the first mill and gin in 1887.
---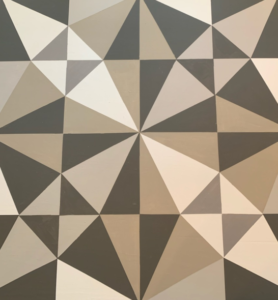 #12-9, Storm at Sea is at 109 W. Park, Altus AR at the Train Depot. The painter notes that the moody colored variation matches the name, Storm at Sea. With its dark colors it looks like churning muddy water. Old Altus was located about a quarter mile east of where it sits today, and was the terminus for the railroad for about a year. Mr. Nichols laid out Altus and offered the railroad and alternate lot, as well as a depot site 300 feet by 300 feet to move the old town up there. The place is laid out in four streets about the Depot as a square. The town's name, Altus, was derived from a Latin word meaning high. Its location was the highest point on the LR & FS (Little Rock & Fort Smith) Railroad, which later became the Missouri Pacific Railroad. The Missouri-Pacific Depot at Altus is a historic railroad station on United States Route 64. It is a long rectangular single-story wood frame structure, finished in stucco, with a gable-on-hip roof with broad eaves. It was built in 1920 and served as both a passenger and freight depot. It is representative of the town's early history as a railroad town.
---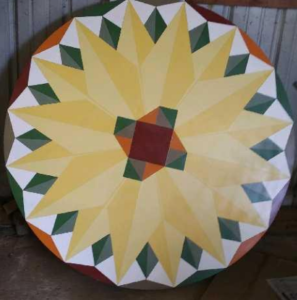 #12-10, Big Top Sunflower, is at 26 W. Main St., Altus, Arkansas. The painter shares, "This round quilt block is actually a 46" tabletop that looked like it needed a sunflower painted on it. When I finished it looked like a circus big top tent. So I call it Big Top Sunflower. I recently painted it since I joined Franklin County Quilt Trail." Some historical background on: the town: On July 10, 1922 a disastrous fire swept the business district of Altus, completely burning four stores and damaging five others. The work of rebuilding was slow, not being completed until 1929. On March 18, 1918 a tornado struck the town, demolishing two stores and three residences. The buildings were replaced in the summer of 1918. In 1927-28 a building boom hit Altus. J.B. Jackson, a Chicago millionaire bought seven farms on Pond Creek Mountain north of Altus for the purpose of building summer cabins for his wealthy Chicago friends. A recreation club was formed of Altus citizens, with Jacobson as leader, for the purpose of building a swimming pool, bridle path and landscaping the mountainside. Before the proposed work was completed, the depression of 1929 financially ruined Jacobson and his friends, so the plan was dropped. The town population was 709 people at that time.
---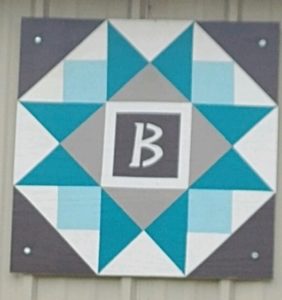 #12-11, B Ohio Star, is at 1617 Kirk Road, Altus AR. This beautiful quilt can be seen on a barn on the farm of Robert and MaryAnn Bramlet, south of Altus. The "B" in the center personalizes it for the couple. It was painted by a friend of the owners as Mary Ann's special gift for her beloved husband, Robert. The couple met, married and found happiness again some years following the extended illnesses and deaths of their respective spouses. The Ohio Star design pays homage to the Ohio Valley roots of both the quilter/painter and the fathers family of the friend by whom it was requested. About the pattern, ourpasttimes.com states that the Ohio Star quilt block pattern, like most traditional patchwork quilt patterns, grew from an undocumented origin and evolved over time to become a standard design today. Ohio Star patterns also have many adaptations, including using a diamond within the center square and infinite color combinations. Some of the earliest Ohio Star quilts created solid stars on light colored backgrounds. We wish the Bramlets many happy years together!
---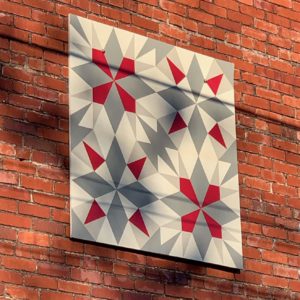 #12-12, Winter Twilight, is at 103 W. Main St. It was painted by Lynda Kleck who shares the story: The Winter Twilight design reminded me of the special times spent with my husband, Mike Kleck. While living in Midland, Texas at the end of the day we would sit outside to reflect on the past, current and future events while watching the stars in the sky. In 2012 we retired to Altus, Arkansas. I remember watching my mother quilt over the years. When I learned St Mary's Catholic Church in Altus had a quilters group, I decided to join and try something new. The St Mary's Quilters welcomed me and taught me how to "hand" quilt. After learning how to quilt I ventured into making quilts for my family. As each of my four grandchildren graduate high school they get a quilt to take to college Two graduated and two to go. The St Mary's Quilters group quilts all year preparing for the quilters annual auction of their quilts at the Church's annual Thanksgiving dinner. All of the quilts are on display during the meal and then auctioned off. All monies go back to the church. This event is open to the public.
---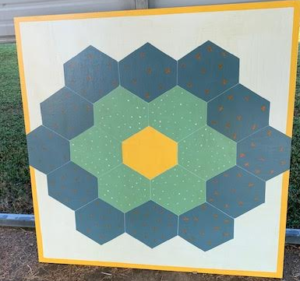 #12-13, Flower Garden, 103 W. Main St., Altus AR. Lynda Evans painted this block and shares the story behind it: This is my all time favorite quilt pattern. It is tedious and labor intensive to make and to quilt. I will probably never make one but I have quilted a couple. The center block is usually yellow representing the sun and often the fourth row is green for a path of grass around the block. I opted to do a different color combination. I am also a Master Gardener so it represents my love of gardening. In 2007 my cousin, Carol Evans, and I took a Master Gardening class in Russellville. The first class was a botany class. The professor lost me within 15 minutes and because some of the other students knew the answers, I thought I am going to flunk out the first day. Luckily as the class went on I realized I did know some of the subject matter and isn't that what a class is for? To teach us what we don't know. Part of the program is that we are to do 40 hours of community hours a year to keep our status current. So that year Carol and I worked to start a Master Gardener course for Franklin County. We worked closely with Janet Carson, state director, and had our first program start in the winter of 2008. It has had many people go through it. I am proud to have started it along with Carol. I am the Franklin County coordinator for the Quilt Trail. I have had a tremendous support team to get over 20 quilt blocks finished, stories completed and hung in a month. Are we over-achievers? You bet and proud of it.
---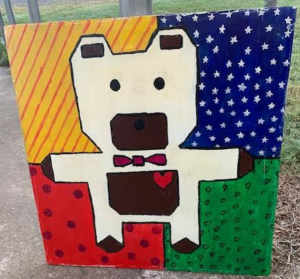 #12-14, Teddy Bear, is at 9414 W. Crumpler St, Altus AR at Granny Jacks Daycare. It's in honor of the children of Franklin County and those who protect them. Keva Morsund painted the block and explains its significance. This is a simple quilt design similar to one who would be made for a newborn's nursery. It color scheme was designed to reflect both boys and girls who would likely receive it as an entry gift to childhood to be treasured always. It reflects the hearts and minds of those that it represents, and to the parents and professionals who keep them safe and secure. The first Teddy Bear was named in honor of President Theodore Roosevelt. The story tells that he refused to shoot a bear during a Mississippi hunting trip in1902. The guides clubbed a bear and tied it to a tree. They implored the president to shoot it. Roosevelt, was an avid outdoors man spending much of his time hunting and enjoying the outdoors, refused to kill the animal maintaining that it would be unsportsmanlike. The incident garnered national attention and was shown in a popular cartoon by Clifford Berryman. A shopkeeper in Brooklyn NY named Morris Michtom and his wife Rose made a stuffed fabric bear in honor of the 32nd President displaying it with a sign, "Teddy's bear." It attracted a lot of attention. They wrote Roosevelt receiving permission to use his name. The Michtoms used this to operate a successful company manufacturing Teddy Bears along with other children's playthings. The Teddy Bear received international recognition in 1903 in a German toy fair. This cub was designed by Margarete Steiff who modeled her bears from sketches she had made from the local zoo. This was a mohair bear with jointed limbs. A buyer for a U.S. toy company placed a large order for the bears in 1906. The Teddy Bear name came official that that year and quickly became a beloved toy that drove forth an international teddy bear craze. Other companies soon followed suit. Almost 120 years later the Teddy Bear endures as a symbol for eternal childhood and is often the first toy received in recognition of a child's birth.
---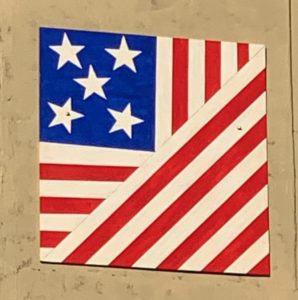 #12-15, Folded Flag, is at 26 W. Main St., Altus AR. It was painted by Jo Eveld. This patriotic quilt block is a tribute to all military veterans, especially those who are listed on the Veterans Memorial in the Altus City Park. Some gave all–all gave some–in service to their country, and their sacrifice will never be forgotten. The National Flag Foundation provides information about the folded flag. If you've ever attended a military funeral, perhaps you noticed that the honor guards pay meticulous attention to folding the U.S. flag that once draped the casket. Guards make crisp, precise folds a total of 13 times to complete the ceremony. Much like every other aspect of our nation's greatest symbol, each of the 13 folds holds a special significance. The first fold of our flag is a symbol of life. The second fold signifies our belief in eternal life. The third fold is made in honor and tribute of the veteran departing our ranks, and who gave a portion of his or her life for the defense of our country to attain peace. The fourth fold exemplifies our weaker nature as citizens trusting in God; it is to Him we turn for His divine guidance. The fifth fold is an acknowledgement to our country, for in the words of Stephen Decatur, "Our country, in dealign with other countries, may she always be right, but it is still our country, right or wrong." The sixth fold is for where our hearts lie. It is with our heart that we pledge allegiance to the flag of the United States of America, and to the republic for which it stands, one nation under God, indivisible, with liberty and justice for all. The seventh fold is a tribute to our armed forces, for it is through the armed forces that we protect our country and our flag against all enemies. The eighth fold is a tribute to the one who entered into the valley of the shadow of death, that we might see the light of day, and to honor our mother, for whom it flies on Mother's Day. The ninth fold is an honor to womanhood, for it has been through their faith, love, loyalty, and devotion that the character of men and women who have made this country great have been molded. The 10th fold is a tribute to father, for he, too, has given his sons and daughters for the defense of our country since he or she was first-born. The 11th fold, in the eyes of Hebrew citizens, represents the lower portion of the seal of King David and King Solomon and glorifies, in their eyes, the God of Abraham, Isaac, and Jacob. The 12th fold, in the eyes of a Christian citizen, represents an emblem of eternity and glorifies, in their eyes, God the Father, the Son, and Holy Ghost. The last fold, when the flag is completely folded, the stars are uppermost, reminding us of our national motto, "In God We Trust."
---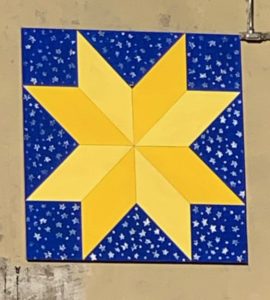 #12-16, The Hunter's Star, is at 26 W. Main St., Altus AR. It was painted by Jo Eveld who shares the story: The quilt block is in memory of my brother Johnny, who was an avid hunter throughout his lifetime, until he was sidelined by an illness which eventually claimed his life. The brilliant colors and design of this block are reminiscent of the bright eyes and beautiful smile for which Johnny is remembered, along with his caring and generous soul. Part of Franklin County is in the White Rock Wildlife Management Area. Arkansas Game and Fish Commission provides this information on hunting opportunities within White Rock WMA. The area provides fair to good public hunting and trapping opportunities during most years for squirrels, deer, wild turkeys, black bear and furbearers. Hunters should expect to observe fairly dramatic increases or decreases in squirrel and wild turkey numbers from year to year as well as changes in habitat preference by deer and black bears. Dependence on fickle mast crops for winter food sources often results in cyclic fluctuations in reproduction and survival for some species and shifts in habitat use by others when mast is scarce.
---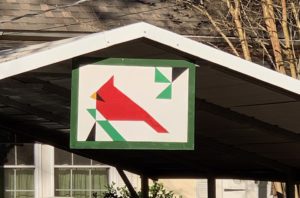 #12-17, Cardinal, is at 803 N. Roseville, Altus AR. Jo Eveld painted it and shares the story: It was an easy choice for me to select a red bird for the barn quilt on my property to represent the St Louis Cardinals baseball team. My parents were avid, lifelong fans of the Cardinals and instilled a love of the team in all nine of their children They even named one if their sons Stanley Frank because of their admiration for Stanley Frank Musial, one of the most famous team members who set many batting records and was such a clean-cut example. Although my Dad died in his 50's, my mother lived to be almost 100 years old and always rooted for the Cards. Their passion for the team was passed down to the younger generation, some of whom were part of a large family group which traveled to St Louis to cheer them on a couple of years ago.
---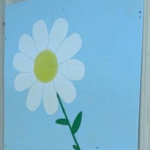 #12-18, Daisy, is at 8643 Cambridge Rd., Altus AR. It was painted by Lynda Evans who shares the story behind it: Daisy's are one of my daughter's favorite flower. She even carried Gerbera daisies in her wedding bouquet. I made this barn quilt for her because she is bright, witty, smart, kind, generous and a 4-year Stage 4 colon cancer survivor. Like cream she always rises to the top. You go girl!! Lynda Evans is the volunteer coordinator of the Franklin County Quilt Trail and put together a terrific team of contributors who developed their trail in record time. Thanks, Lynda, for your leadership and for this pretty, bright, sweet block in honor of your daughter. From Britannica: Did you know that the name "daisy" comes from the term "day's eye?" This name is derived from the fact that the head of the common daisy closes at night, and re-opens in the morning. Most people think of daisies as the classic white flower bearing a yellow center and adorned with long delicate petals.
---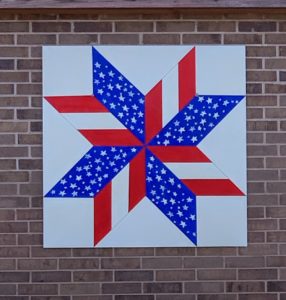 #12-19, Stars 'N Stripes, 316 W. Park, Altus, AR. Painter Lynda Evans shares: I wanted to make a patriotic quilt block for my father, Wallace Runningen, my husband, Ken Evans and my son Jason. All were in the service. My father served in the Navy during WWII. He drove PT boats. He had a very dangerous job. On the flip side he was a very good poker player. He usually won and would send his winnings back home to his parents in Minnesota. He was the only son in his family who served. My husband, Ken, was in the Army. He was stationed in the states. He did volunteer to go to Vietnam, but luckily he didn't have enough time left on his tour. My son, Jason, was also in the Army. Two days after he was in boot camp Kuwait blew up their oil fields, starting the Gulf War. He did go to Germany but did not go to war. This quilt block is for all who have or are serving so we are safe and enjoy freedom. Altus Veterans Memorial at 804 South Elm St., Altus, AR lists the names of Altus area soldiers on a black granite monument.
---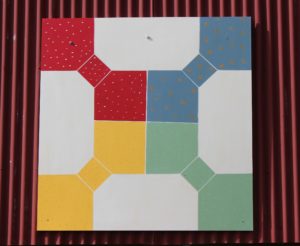 #12-20, Bow Tie, is at 4133 E. Hwy 64, Ozark AR. It was painted by Lynda Evans, Xuyen Dangers, and Lynda Kleck. Barn owner Keith English shares the story behind it: The surname "English" is probably a very old English name. All our known English ancestors were recorded as Quakers. The Quaker faith was abandoned by all soon after the Revolutionary War when most of the young men were dismissed from the Quaker Church for taking part in the war. The first known English ancestors must have come from England, and probably lived in the Philadelphia area. Stephen English was born in Harmon County Virginia in 1726. He had two sons Charles and John. Charles Frederick was the father of George Hopkins English, my great, great, great grandfather, who migrated to Franklin County, Arkansas in 1835. He was born in 1795 and later migrated to Cumberland County, Kentucky. He was a farmer. He married Sebba in 1818. George H. and Sebba were the parents of the Franklin County Englishes. Early in 1835, George H. English sold his Cumberland County lands and told his brother James he was moving to the Arkansas Territory. He settled near Cass, Arkansas on the Mulberry River. He lived there until the 1840's, then settled in the Arkansas River Valley. My great grandfather George English cut wood for the steam boats traveling up and down the river. My grandfather Will English built the barn on which the quilt block is hung. He worked the farm with a few cattle and did whatever it took to make a dollar, from hauling coal with his team of horses to helping construct Highway 64.
---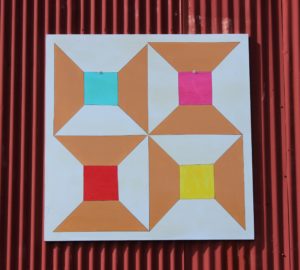 #12-21, Spools, is at 4133 E. Hwy 64, Ozark AR. Painter Lynda Evans shares: My mother in law taught my 2 sisters-in-law and I how to quilt. I have quilted many, many quilts since. I give them away to my children and some family members. They are precious after spending hours on them. Thankfully, my quilting has improved over the years. I have belonged to St Mary's quilters since 2004 when my husband and I retired to Altus. I join groups that do community work. The quilters auction 10 queen size quilts and 10 baby quilts every Thanksgiving. The profits go back to the church. Spools represents my years of sewing clothes and quilts. My daughter requested that I paint this pattern. I enjoyed doing this block. You'll see two blocks on this historic barn and #12-20 provides family history on the barn builder.
---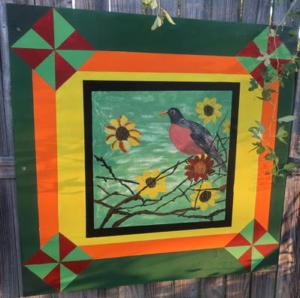 #12-22, Secret Garden, is at 2410 Villa Dr., Ozark AR. It was painted by Xuyen Dangers who shares the story behind it: There were three main reasons for me to join the Arkansas Quilt Trails project: 1. Why the Secret Garden? I fell in love with the book by Frances Hodgson Burnett and with the film a long time ago, and have introduced it to many people, especially children. Over the years I tried to create a Secret Garden at my home and in the schools where I worked. This included three schools in Laos and one school in Vietnam. Now I am retired and am living in Ozark, Arkansas and I have my Secret Garden here at my home. I encourage children to enjoy and appreciate the deep meaning of the story. 2. Why a robin? It was only when I came to Arkansas that I saw a real robin, one key and meaningful character in the Secret Garden story. The robins are in our backyard gardens, including my own Secret Garden. They are especially prevalent in the spring each year. The robin has become my friend, my favorite friend, as a friend to visiting children. 3. Why do I love quilting so much? I came to America only six years ago (2014) as a retired social worker after working with my husband for 40 years. So I am quite new to Arkansas and to Ozark, where my husband grew up. Being far from my Asian home, I was so sad my first year. Later, in 2015, I was introduced to the Quilting Group at St. Mary's Catholic Church in Altus. In this quilting group, I have made many new friends in addition to learning how to quilt. The dedication of these ladies who work each week on their quilts to raise funds for charity has inspired me. They are very caring for each other and are especially kind to newcomers like me. Through quilting I began to feel happier living in Ozark, so far from my homeland. The more I quilt, the more I learn how to appreciate the most traditional handicraft of America. With the encouragement of my quilting friends, I have learned about the Arkansas Quilt Trails project. I entered it to tell my story of the Secret Garden and to preserve and promote the prestige of America's quilting heritage.
---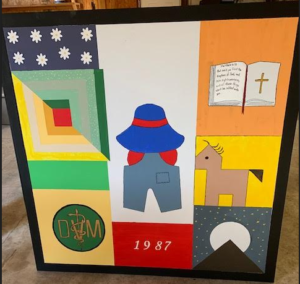 #12-23,The Overall Boy, is designed by Charlotte Holt for her husband Rev. David Holt, D.V.M. and hangs at Ozark Animal Hospital, 2500 North 18th Street, Ozark, AR 72949 which is also known as Highway 23, home of the scenic "Pig Trail". The Overall Boy was chosen in memory of David's father, Rufus A. Holt, Sr. who worked on the farm. He was always wearing Big Smith brand of overalls. Rufus instilled in David a work ethic that was second to none and to be a provider of your family. David married Charlotte Morgan (his high school sweetheart) in 1979. David and Charlotte raised three boys during the college years and finally settled in Ozark, Arkansas. D.J., Daniel, and Denver all graduated from Ozark High School and showed Charolais cattle for a number of years, being involved in the Arkansas Jr. Association and the American International Charolais Association. David graduated high school from Mountainburg, Arkansas in 1978 (which is represented by the "moon over the mountain" due to Mountainburg's geographical location). David graduated from University of Arkansas in Fayetteville in 1983 where he was a member of the Livestock Judging Team (which is represented by the Horse). David furthered his education at Louisiana State University by receiving a "Doctorate in Veterinary Medicine" in 1987 (represented by the Veterinary Medicine symbol and the Horse). David started working at Ozark Animal Hospital immediately after graduation. He became owner of Ozark Animal Hospital in February 1988 and has continued to serve the areas of Franklin, Crawford, Sebastian, Madison, Logan and Johnson Counties. David became a licensed and ordained Minister of the Freewill Baptist denomination in 2001 after being called of God to proclaim the Gospel (represented by the Holy Bible). Matthew 6:33 is David's life verse.
---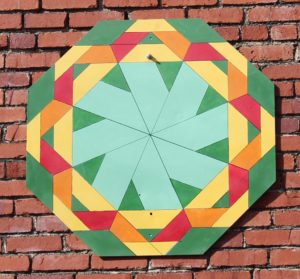 #12-24, Gazebo, 103 W. Main St. Altus City Park features a picturesque corner gazebo which is listed on the National Register of Historic Places. The well shed/gazebo originated as a water supply well for the railroad, and according to local tradition, the well was covered over and the gazebo erected about 1920. The gazebo has been used through the years for musical performances, visits from Santa, a wedding proposal, etc. In addition, the entertainment stage in the park is also a gazebo-style, as is one element of the park playground equipment. All three of those structures sport a green roof, thus that color was chosen for this quilt block. Block painted and story submitted by Jo Eveld.
---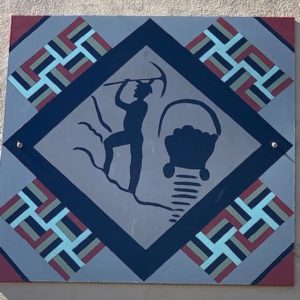 #12-25, Coalminer, Located 126 W. Main Altus on Heritage Museum East Wall. Board painted by Lynda Kleck Story submitted by Lynda Evans as recounted by Agnes Evans Sax per Arkansas Coal Miners book. Some 65 years ago the Liberty Coal Company was a coal mine operated by Matt Evans and Aaron Page. It was a slope entry mine and was located in Denning ,Arkansas coalfield and used by the Pacific Railroad as their carrier. The one and only time I went into the mine was a Sunday afternoon along with 6 or7 out of town relatives. We walked 1/2 mile into tunnel. It was lighted by a lone light build every 50 feet or so. A very scary experience and I never wanted to go back. Growing up I had 3 brothers that worked the mines. My mother did the preparing for the next days work. As soon as the evening meal was over she made 6 pies. A miners bucket was a cylinder type with a pie pan insert,a pan to hold sandwiches and fresh fruit that sat inside a deeper bucket that held the drinking water for the day. Ice was not readily available but the temperature of the mine kept it cool. Four pies to the miners and two for the next days meal. Five o'clock in the morning our house awakened. A hearty breakfast of ham, eggs, and biscuits started the day. At one time the Liberty Coal Mine employed 57 workers. The office was our home. When I was a small child I can remember riding along with my dad to bill out the cars of coal that he had sold. We had to go to Alix Arkansas Railroad yard. There were 20 sets of tracks north of the depot building. There were many coal cars sitting in the yard. It was a busy place. Matt Evans was my husbands grandfather. The three brothers of Agnes (Babe) were Mathew, William, and Leo that worked the mine.
---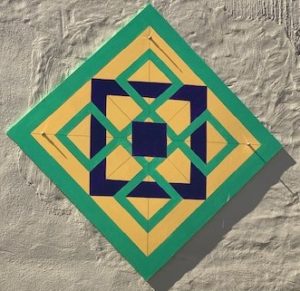 #12-26, Interlocking Diamonds, 26 W. Main St., Altus. A design incorporating diamonds was chosen for the block to represent the official gem of Arkansas – the diamond having been so designated in 1967. Our state has the distinction of being one of the few places in North America where diamonds are present and is the only place where tourists may hunt for them. People have been searching for diamonds at Crater of Diamonds State Park in Murfreesboro since 1906, and more than 70,000 diamonds have been found in the park. They include the Uncle Sam Diamond weighing 40.23 carats which was found in 1924. Submitted by Jo Eveld.
---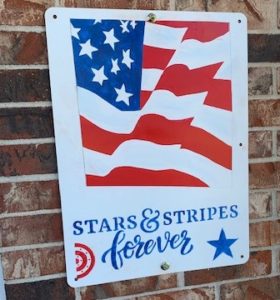 #12-27, Stars and Stripes Forever. 21 E Main St, Altus on the Post office building. Quilt block painted by Jo Eveld. She shares the story of it's selection. The female officer in charge of our local post office approved of the quilt blocks we have done in town and throughout the area and eagerly approved my suggestion for one on the post office building so that it would be included on the quilt trail. I wanted to do a patriotic block and decided a flag postage stamp would be the most appropriate design. After a computer search, I came up with a few postage stamp samples to show her and this is the one she liked best. Because of the irregular size of the metal sign material, I added the stenciled "Star's and Stripes Forever" design below the flag, and chose that as a name of the block.
---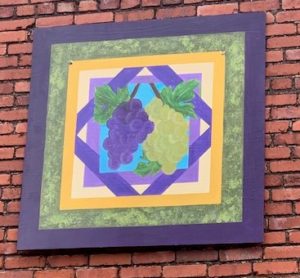 #12-28, Grapes, 103 W. Main St., Altus. Altus is known as the "Wine Capitol of Arkansas" with most wines being produced by locally grown grapes due to the favorable soil and weather conditions. Rolling vineyards producing various types of grapes can be seen along scenic Highway 186 from Interstate 40 into the city of Altus. In addition to those made into wine and juice by the local wineries, delicious table grapes are available for sale, either already picked or by the "pick-your-own" option. Altus held its first grape festival in 1926 and now celebrates the grapes with a festival the last weekend of July, giving attendees the opportunity to stomp grapes and to sample local wines and juices. The block was painted and story submitted by Jo Eveld.


---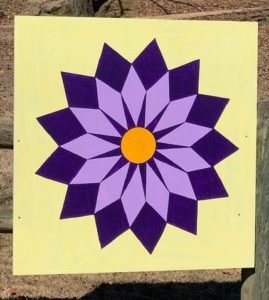 #12-29, Dahlia, 7418 Pritchard Road, Ozark. Owner Vicki Ross shares: I chose the Dahlia pattern in memory of my mother, Lorene Timmerman, who was a quilter with the St. Mary's Catholic Church quilters group. She pieced and quilted quilts for her six children and ten grandchildren. Some of us were lucky enough to get the Dahlia. My quilt which the block was patterned from is burgundy. I chose the purple and gold color scheme to connect it with the younger generation and their school colors at Ozark. The dahlia symbolizes elegance, inner strength, and dignity which were definite characteristics of our mother. I love items that connect us to our past, and the strength and ingenuity of previous generations. Family traditions among the Timmerman Family carry on today. The 4×4 Dahlia barn quilt is mounted — the beginning of a dream come true—the Gordon and Vicki Ross log home. I hope my Dahlia quilt offers a welcome feeling to all who drive Highway 186, located one mile south of I-40.

---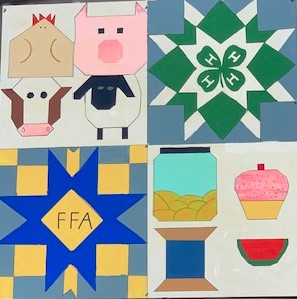 #12-30, 4-H Forever, 724 N. 18th St., Ozark. The block was painted and stories provided by Whitney Wallace, Ava McCartney and Evannah Green. Whitney shares: 4-H and FFA are two very good programs designed to help youth reach their fullest potential. I've been in 4-H for almost 8 years now and have made a lot of good memories and some very good friends. 4H has helped me discover my passion for Agriculture and become more sure of myself. One of my favorite 4H memories was at the fair. I stayed overnight with a few of my friends. We had a really good time and I thought it was neat getting to see the fair at all hours. It is now a yearly practice for us to stay the night. I plan on doing as long as I show. Ava shares: I made this barn quilt for Home Ec because it is super important to our town. I love home economics because it teaches people how to cook, make clothes, can food and so much more. I joined 4-H because of how many options there were to choose from, Home Ec being one of my favorites. It deserves credit for a lot of the skills I have learned over 3 amazing years in 4-H. I truly enjoy cooking, especially with my family. It relieves stress and my hunger. Sewing has also been one of my favorite things to do when I can. I made a dress for drama in my 2nd year. Since then I have grown in skill and made lots of little things like throw pillows for my bed. I learned to make and can jam too. It was really good and a wonderful learning experience. All in all Home Ec truly is amazing and I hope this board is a good rep for it. Evannah made the livestock square and shares: I love the fair because of the animals. My cousin showed his goat once and did really well. My square represents the livestock at the fair. I kind of wish there was a horse but since there's not I had to make-do with a cow. I named the cow Milk because it looks like milk flowing down its face. The sheep is named Brad because Brad reminds me of Baaa which is the sound that sheep make. The pig is Chris P Bacon and you most likely get why. The chicken is Egg and again you get why. Everyone who helped out with this is really proud of it and we are happy you like it.
---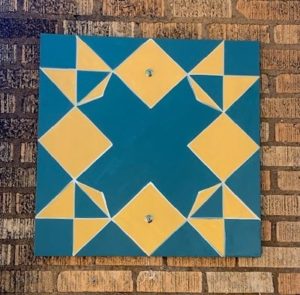 #12-31, Arkansas Crossroads, at 103 East Main Street, Altus. Jo Eveld shares that this quilt pattern was chosen from one of two designs suggested by the owner of the building, who is an avid and accomplished quilter. "The other, Drunkards' Path, was actually her favorite, but just to look at it made me a little "tipsy", so I chose Arkansas Crossroads. This finished block turned out to be one of my favorites." The owner and her husband came to Arkansas from Oregon and formerly operated the downtown business as an ice cream parlor and gift shop.
---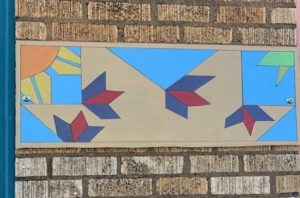 #12-32, Birds in Flight, 105 Main Street, Altus. Painted by Jo Eveld who shares the story. The unusual, unnamed quilt design spoke to me and prompted me to choose the name "Birds in Flight". The location was selected because the owners have a son in the service academy who has recently been approved for his chosen profession of being a Navy pilot. Like the other Main Street buildings in downtown Altus, this one has seen a variety of businesses over the years, the most recent being an antique shop called "Possums Pouch", whose owner sold the contents at auction and closed the business to devote her time primarily to photography. As a side note, she had the inspiration for "Bargains Galore on 64", a 100-mile yard sale, which she continued to coordinate and promote until recent years.
---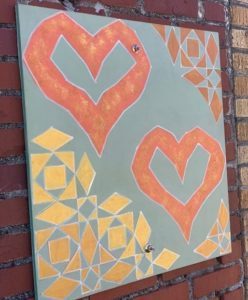 #12-33, Our Hearts Will Go On, 113 East Main Street, Altus. Painted by Joe Eveld. The design and its name are symbolic of the love and companionship shared by the owner of the building and her husband who died unexpectedly several years ago, leaving her with cherished memories of their time together. Although the building had seen various uses over the years, it most recently housed The General Store which the couple operated during the years that all of the Main Street buildings featured a variety of tourist-type businesses.
---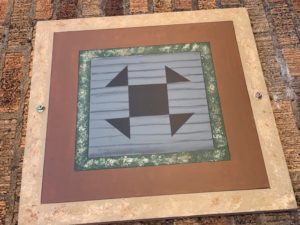 #12-34, Drone, 111 East Main Street, Altus. This unlikely pattern was suggested and approved by the owner to represent the drone which is used in her geometrics business. An Altus native, she lives part-time in North Little Rock and part-time on her old homeplace. She purchased this downtown building in 2020 and is in the process of having it renovated for her own use and partially as a rental property. Like the other downtown Altus buildings, hers has had numerous owners over the years and provided various products and services. It was painted by Jo Eveld.
---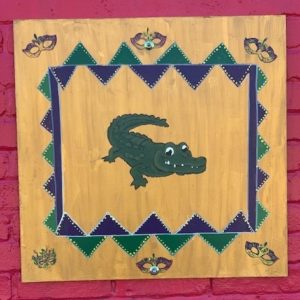 #12-35, Alligator, 107 Main Street, Altus. By way of explanation of my alligator block, I am simply submitting website information from Alligator Ray's Cajun Sports Bar: Back around 1997 while traveling through South Louisiana, about 40 miles south of New Orleans, Steve Woodard pulled over to a roadside rest area to ask for directions. When he got back on the highway, he drove another hour or so and realized he was lost. He came upon a man on the side of the road. When he stopped to ask for directions, he noticed the man was skinning an alligator. The man was about 5 feet 3 inches tall with stringy white hair, 6 teeth in his head, and really dark skin. He spoke mostly French with some broken English. The only thing Steve could understand was that the man's name was Ray. After helping wrestle this gator and dressing it, they put it in the back of Steve's truck and carried it about 2 miles down to the swamp. There sat Ray's cabin. It was a small 10 x 10 shack made of earth and wood with stolen road signs for a roof. Ray began to tell Steve he was born in the swamp. He lived with his mother who told him his father was a traveling fisherman from Hot Springs, Arkansas. When he was 6 his momma was eaten by a gator. Ever since, Ray has been hunting those gators. As they talked, Ray began to cut the gator into tender slices. He had an old rock fireplace and a 55-gallon drum over the top that he used to cook his famous alligator pizzas. Steve was intrigued by those alligator pizzas and decided to give it a try on his own. Steve is now cooking up a storm at a place called appropriately, "Alligator Ray's." Tragically, on March 3, 2000, old Ray was killed in a brawl with an alligator. Painted by Jo Eveld.
---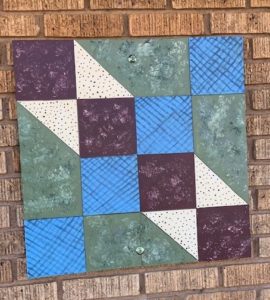 #12-36, Samuel's Star, 109 Main Street, Altus. Painted by Jo Eveld who shares….I was immediately captivated by the name of this quilt design, "Samuel's Star" because it seemed perfect to dedicate to Sam, the overseer of the former "You Never Know" shop building in downtown Altus. "You Never Know" was established by crafts persons and antique lovers Bill and Stefanie Powers and true to its name, "you never knew" what you would find there. The two were active participants in local civic organizations and downtown affairs until his untimely death. His wife continued to operate the shop for a time but eventually gave it up and is also now deceased. In earlier years, the building housed various businesses included Seaman Store where a person could purchase most anything desired from cattle feed to groceries to housewares and clothing.
---