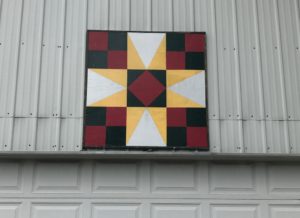 #3-01, Linda's Variable Star is a 4' X 4' barn quilt block located near Eglantine cemetery. Eglantine was a town located on river land known as Wild River Bottom. The 1959 construction of Greer's Ferry dam required Eglantine town to be moved to avoid being submerged. The Eglantine cemetery was moved to its present location. The rock church found at the corner of Highway 330 and Eglantine road was moved to it's present location as well. A beautiful view of Sugar Loaf Mountain can be seen down Eglantine Road. Eglantine is a name for wild pink rose. It is said the hills of Eglantine were covered with wild pink roses, thus earning its name. In the early 1900's Eglantine was a thriving little town with 4 general stores, 2 drug stores, a boarding house, a dentist, blacksmith and a grist mill grinding grain. Linda Gardner, an avid quilter, painted this barn quilt block to try out her quilting skills on her barn. She had her quilt block up even before the Van Buren County Quilt Trail was conceived and developed.
---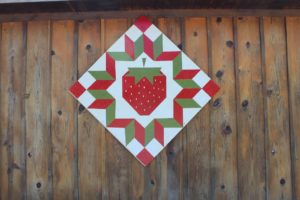 #3-02, The Lucas Strawberry at 8246 Highway 16 East near Shirley uses a broken diamond pattern displaying a center strawberry to represent Wade Lucas Farms' most famous crop. The quilt block is 4' X 4' and painted by Shelley Moix. Wade Lucas Farms is best known for strawberries but also grows sweet corn, peas, cantaloupes, squash, cucumbers, tomatoes, peppers, onions, greens and as of this year lettuce. In 2007 Wade Lucas and his wife Marlene started working the dirt and moving many rocks preparing the land to grow strawberries. Wade grew up in Florida on a farm and has farmed all his life. The Lucas family was the 2017 Van Buren County farm family of the year. Fresh produce can be purchased at the farm's cedar clad store. Lunch of fresh cut salads, sandwiches, baked goods, pies and cakes can be enjoyed on a covered back porch overlooking the farm that is nestled in a valley. Marlene Lucas' baked concoctions are well known and highly sought after.
---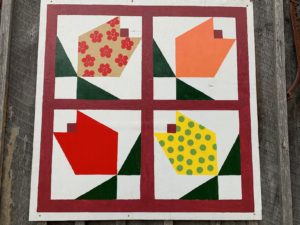 #3-03, Magnolia Bud is at 14085 Hwy 16 E., Fairfield Bay, AR. It's across the highway, near the Fairfield Bay main entrance. This 4ft X 4ft quilt block is the Magnolia Bud pattern.  It was designed and painted by Fairfield Bay artist Bonnie Hookman.  Steve Swenson built this barn for their guided horse tour business that operated between 1998 through 2011.   Steve admires old barns so he designed this barn like historical barns and used rustic materials such as rough sawn oak and a metal roof. Fairfield Bay for many years had guided horse riding tours.  When the previous owners closed their business Fairfield Bay Time Shares approached the Swensons' about opening a guided horse tour business.  During the high point 60 plus people a day participated in the guided horse tours.
---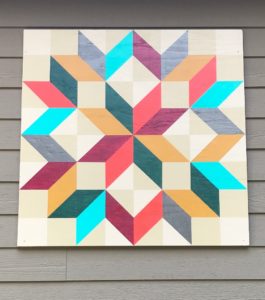 #3-04, THIS BLOCK IS TEMPORARILY DOWN FOR REPAIRS. The Broken Diamond quilt block at 392 Shore Drive, at Shirley was painted by Patti Rye. It's based on the star shape and some call it Broken Star. Made of 32 skewed rectangles in a circle, a star shape emerges. It's named Broken Diamonds because it resembles the facets of a diamond reflected by light. Ozark Mountain foliage colors of gold, orange, deep red, green and brown were chosen with an accent of the Native American color turquoise. The two "electric" colors of orange and turquoise give it movement, making your eyes move around the design. The background is a combination of tan and light gold depicting an aged quilt. The quilt block hangs on the side of The Pig Trail Trading Company studio which is owned and operated by Patti Rye, a native Arkansan who is a graphic designer. Her whimsical hogs depicting the Arkansas Razorback fans are on t-shirts, hand-sewn pillows, aprons and tea towels. She also designs pink pigs in the same way. You can find seasonal home and gift items including handmade soaps and other niceties at PigTrailTrading.com. Patti sells her barn quilts at the Heart of Rogers Craft Fair Exhibit in Rogers, AR during the Fall craft festival and also takes special design orders. You'll love weaving around the big boulders on Boulder Blvd. and will enjoy the stunning view of the lake finding this one!
---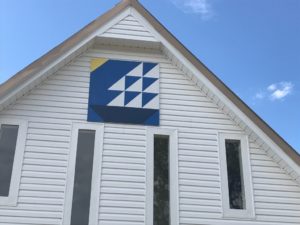 #3-05, The "Sail Boat at the Lake" quilt block is at 100 Greenwood Road, Fairfield Bay, AR. Look for the white, two-story building at left before turning right to go to the Fairfield Bay Marina on Greers Ferry lake. The 4' X 4' quilt block is sponsored by Fairfield Bay City Hall and was painted by Shelley Moix. The quilt block includes a sail boat to reflect the significance of Greers Ferry lake to the community of Fairfield Bay. Fairfield Bay was formed in 1965 as a lake/mountain resort and retirement community. The site was chosen because of Greers Ferry lake. People are attracted by the beauty of the mountains and the pristine waters of Greers Ferry lake and move to Fairfield Bay, while others choose to vacation and weekend at the Bay. Fairfield Bay has a current population of 2,247 and sports two golf courses, tennis courts, hiking trails, a disc golf course, several pools, restaurants and 90 miles of ATV trails. The dedication by John F Kennedy of the Greers Ferry Lake Dam at Heber Springs in October 1963 was one of his last public appearances before the assassination. Greers Ferry lake was formed by a dam of the Little Red River. The dam's primary function is flood control and also serves as a hydroelectric power plant. The recreational lake is 30,000 to 40,000 acres depending on the water level and has 340 miles of shoreline. People enjoy boating, water sports, swimming and fishing on the beautiful lake. Fairfield Bay is a very inviting place on the north shore. visitfairfieldbay.com/marina/
---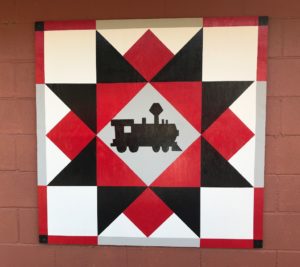 #3-06, The Train quilt block can be found on the Shirley Museum which was founded in 2011 during Shirley's 100th year celebration. An old typewriter that was in the train depot is on display in the museum. The quilt block is 4'X 4' and was designed and painted by Anna Massery.
In 1908 the pride of the Shirley community was built by the Wisconsin Bridge and Iron Company and today is a photo-opportunity not to be missed. The train bridge was built over the Little Red River to carry trains of the Missouri & North Arkansas railroad. In 1909 the Shirley community post office was opened and most likely named for a railroad employee. The incorporation of the town Shirley became official in 1911. The town of Shirley became prosperous due to the timber industry and at one point had 2,000 residents. The Missouri and North Arkansas railroad was essential, carrying timber, cattle, cotton, cream and produce to market. The railroad closed its lines through Shirley in the mid-1940's due to a strike and flood damage. The Shirley depot remained until 1964. Today you can still walk or drive over the historic Shirley train bridge. The Cottrell Wilson trail head in downtown Shirley is situated right near where the depot stood. The hiking trail meanders along the railroad bed and the river until reaching the top where a historic cemetery is found. Best to hike in the colder months to avoid ticks, chiggers, and snakes but the two-mile round trip is worth your time. Note that the upper section is not barricaded from the high boulder-strewn cliff over the river, so be cautious, especially with young children.
---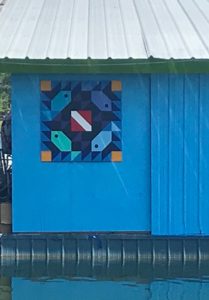 #3-08, "Go Fish" block located at 4350 Highway 330, Fairfield Bay AR, is a fun 4' x 4' quilt block designed and painted by Patti Rye. The quilt block is displayed at Fairfield Bay Marina on Greers Ferry Lake. Fairfield Bay Marina is a 400 slip marina with a wide variety of rental pontoons, ski boats, jet skis, kayaks and paddle boats. They host five major events during the season. The marina also shuttles 4000+ people to Sugar Loaf Island yearly in addition to hosting multiple family and company events on their 60 person barge. Over 100,000+ people visit the marina yearly by both land and water. visitfairfieldbay.com/marina/
---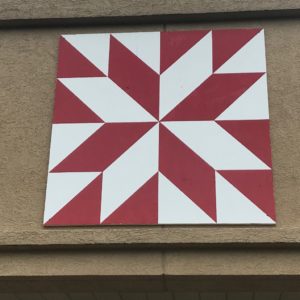 #3-09, Hidden Star is a 4' X 4' quilt block painted by Kay Otis. Located at 369 Dave Creek Parkway at Fairfield Bay, it is proudly displayed on the Fairfield Bay Library building. The Fairfield Bay Library is a 501c3 charity organization not funded by tax dollars. It is operated on fund raisers, membership dues and 35+ volunteers. The library was founded in the early '70's by a group of Fairfield Bay salesman wives. Over the years and efforts of many the library grew and moved into its present location in 2000. The library offers books, audio books, movies, free Wi-fi, public computers, periodicals and nature backpacks. The library services over 1,000 local residents in Fairfield Bay, Shirley and the surrounding areas. The Wyndham time share community enjoys the benefits of the library as well. http://www.fairfieldbaylibrary.com/
---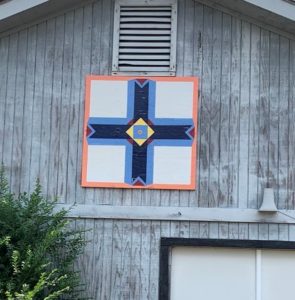 #3-10, Cross for School, is at 11759 Highway 95 W., Scotland, Ark. This quilt block can be found on the Scotland Community Center.  This site was once the Scotland School campus.  The school was closed soon after the Arkansas Legislature passed Act 60 in 2004 which required school districts with fewer than 350 students to administratively consolidate with a larger district. The students now attend school in the town of Clinton, about 12 miles away.  Proudly displayed around all four walls inside the Scotland Community Center are photographs of all past Scotland graduating classes. The Scotland Community Center is the result of community volunteers who have worked to keep and maintain a gathering place for their community. It is a place of activity and hosts many town events.
---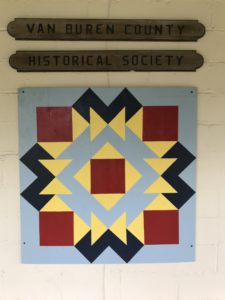 #3-11, Mystic Maze, at 211 3rd St., Clinton is a 4ft x 4ft quilt block painted by Shelley Moix. The pattern, Mystic Maze, was selected by the Van Buren County Historical Society. The Van Buren County Museum was open to the public in early 1991 by the Van Buren County Historical Society. The building was purchased from the Pentecostal Church in 1988. This building has also housed several other organizations and businesses, but it best known as the old Cheese Plant. The society cooperates with officials to ensure the preservation and accessibility of the records and archives of the county, and assists the county and its citizens in the preservation of historical buildings, monuments, and markers. The museum has many items in the museum which were donated by the people of Van Buren County. Among these items are several quilts made by local Van Buren County residents. The latest addition to the museum is a research library to house the growing collection of genealogy research material and family history.
---
---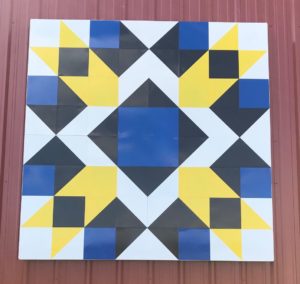 #3-12, Arrow Crown, is at 352 Steel Rd., Bee Branch AR. If coming from the south, do not take the route your GPS may direct you of leaving Hwy 65 at Damascus. This will route you across a gravel road, down a mountain, and over a low water bridge that is impassable during high water. Just continue on Hwy 65 to the Southside Baptist Church and turn left onto Sulphur Road. If coming from the north, go west on Hwy 92 at Bee Branch. This unusual barn quilt was made by owner Evelyn Eades' grandson, Andrew Roberson, who is obviously a talented metal worker. He owns Dark Threat Fabrication in Heber Springs. He told his grandma to give him the pattern she wanted and he would make it. The result is an eight foot square "pieced" quilt with each color a separate piece of metal that is powder coated and assembled together to form a quilt. It turned out to be a family project that is now proudly displayed on the Eades barn. Drive along the gravel drive to get a closer look. If someone is around the farm, they will open the gate to give you a close-up look at the block. Evelyn shared, "When we bought the farm in 1960, it had a very old house and not one foot of fence. We worked hard over the years, growing broiler chickens for 33 years and raising cattle. The chicken houses are collapsed now but my son has taken over the cattle business and takes care of our combined herds. I made all our clothes in those early days and the scraps began piling up. I made a quilt to make use of the scraps. Then I was hooked! Since then I have quilted at every opportunity and every member of the family has quilts that I have made."
---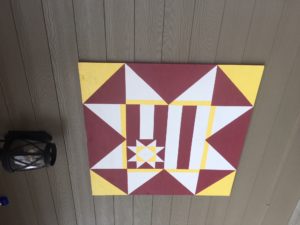 #3-13, The Star, located at 484 Rabbit Ridge Rd., Bee Branch, is a 4' X 4' quilt block painted by Patti Manville. It adorns the Rabbit Ridge Farms venue facility where Alan and Angela Mahan host lunch on Wednesdays, brunch on scheduled Saturdays, frequent dinners, weddings and other events. The farm is located about 10 miles west of Bee Branch via Highway 92. Rabbit Ridge Farm has been in the Mahan family for three generations. They work together to create a sustainable farm that humanely raises animals in the natural environment which creates a delicious and healthy meat. Their goal is to provide healthy food from their farm to families. To track their menus and learn more about scheduled events, follow them on Facebook at Facebook.com/RabbitRidgeFarms or at their website at rabbitridgefarm.com
---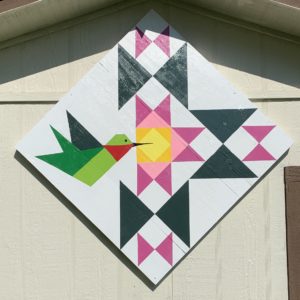 #3-14, Granny's Hummingbird at 175 Huie Street, Clinton AR, is a 4ft X 4ft quilt block painted by Kelli Sowers. It was created as an act of love from a granddaughter to her Granny. The Harper family considers themselves to be some of the luckiest people to have their very own, "Granny," in Danise Harper. She is a life long resident of Van Buren County. She is the chef of holiday dinners, stable anchor in a changing world, and a constant source of love to her family. As her grandchildren have grown to have children of their own, Danise has taken the time to hand-quilt a memory quilt for each of them. Not only has she passed down the traditions of love, family, and Godliness; Danise has provided a tangible item of hard work and dedication that will be passed on for generations to come. "Granny's Hummingbird" symbolizes the many flowers surrounding our family's homestead. View this as the visiting hummingbird. See the Harper home as a symbol of the simple joys, such as memories with family, that though may be brief are in fact, the nectar of life.
---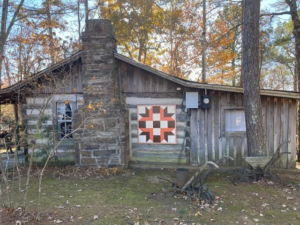 #3-15, Katie's Favorite, at 337 Snead Drive, Fairfield Bay is a 4' X 4' quilt block is located at the Arkansas Heritage and Tourism site, Fairfield Bay Museum. Forty years ago Fairfield Bay artist Alecsandra Long picked out this historical pattern and joined a quilting group. She thought how hard can that be? Women have been piecing and quilting for centuries. Her teacher instructed her to sew by hand sixteen stitches per inch. In 40 years she has completed nine squares and has twelve more to go! Alecs and her son, John, decided to paint one of the quilt squares. Alecs doesn't know who Katie was, but hopes she is watching over Arkansas, happy the square is complete. Fairfield Bay museum was built in 1976 by local residents. An 1850's home was disassembled, moved and rebuilt at the site. The two buildings are now associated with Arkansas Heritage and Tourism. Stop by anytime.
---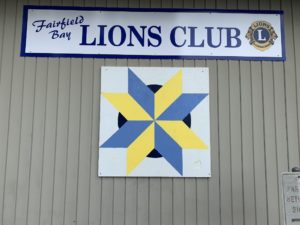 #3-16, Star of Ohio, is a 4ft X 4ft quilt block that was painted by local artists Ellen Kelly and Kathleen Hadley. The block is at 365 Dave Creek Parkway, on the Fairfield Bay Lions Club building where the Fairfield Bay Chamber Commerce operates. The Chamber of Commerce is open 6 days a week 9am to 4pm. Information about all the things Fairfield Bay offers can be obtained here. Nestled in the Ozark Mountains, Fairfield By is surrounded by incredible natural beauty, where broad mountain ranges and one of the most pristine lakes come together. Explore hiking and ATV trails, two golf courses, historical landmarks and the friendliest people in the state. Fairfield Bay has a marina, campgrounds, miniature gold, disc golf, bowling, tennis & pickle ball, three swimming pools and a fitness center. Come visit some popular events such as April – Boati Gras, May – Blooming, Blue and BBQ, June – Surf the Bay Watersport Festival, July – 4th of July parade, August – Tiki Time at the Laker Luau, September – Bayfest Street Festival, October – Oktoberfest and December – Festival of Trees. See vacation planning visitfairfieldbay.com. Find the chamber website at
https://www.ffbchamber.com
---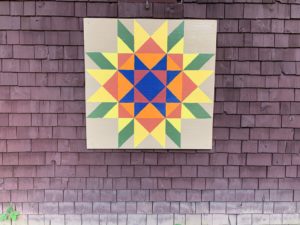 #3-17, "Sunflower" quilt block at 1146 Dave Creek Parkway, Fairfield Bay 72088 was painted by local artist Mark Davis and is in memory of Willa Well's husband, Bud Wells, who passed away September 2018. She shares this message, "I hope many will enjoy it hanging on our house as they drive by. He was an outdoorsy person maybe because he was a civil engineer by trade or maybe because he always wanted to be busy. He chopped and stacked wood "the hard way" to use in the outdoor furnace of this house. He used an old fashioned screwdriver and hammer to do any chore large or small – none of the electric tools for him. He walked his beloved boxer dogs religiously several times a day. He loved trees and flowers. At the first blooming of the flowers each season he would cut one with his pocketknife and bring it to me saying "I brought you a posey". I think Bud would enjoy this sunflower quilt block. Hamilton Cove's nice wooded park, picnic area and swimming pool is nearby, just past Wyndham's Hamilton Cove Timeshares.
---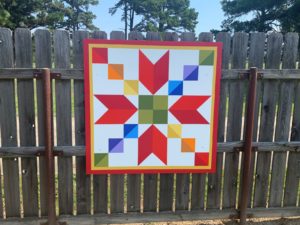 #3-18, Rainbow Bridge, locaated at 486 Mariposa Loop, Bee Branch, is based off the stepping stone quilt block pattern and painted by mother and daughters Cathy Rintoul, JoAnn MacRae and Shela Reese. When traveling down Mariposa Loop you will need to turn around to see the quilt block hanging on the back side of the fence. They were introduced to quilt blocks through a scavenger hunt played with their grandkids from Pennsylvania during Covid-19 quarantine in 2020. The grandkids would send them photos of things to find. Once found, a photo would be sent back to the grandkids. One of the photos the grandkids sent was of a barn quilt. During their quest to find a match they discovered the Van Buren County Quilt Trail. They loved the designs, colors and talents of the quilt blocks and the crafters. They decided to create one of their own. The quilt block is dedicated to their beloved dog of 9 years, Bullit, who unexpectedly recently passed away. With the love for Bullit in their hearts and the inspiration of the quilt blocks in mind they chose to create Rainbow Bridge in his memory.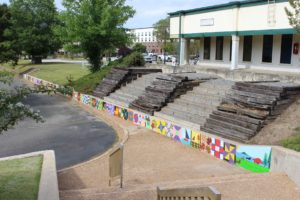 #3-19 to #3-84, titled "65 Quilt Block Wall" at Lost Creek Parkway and Village Lane at Fairfield Bay. This is a unique and amazing contribution to Arkansas Quilt Trails. It's an entire collection of 65 quilt blocks painted directly onto a cement retaining wall at the Fairfield Bay Towne Center. Jackie Sikes, Executive Director of Fairfield Bay Chamber and Chairman of the Board of We Love VBC Inc. proposed the idea of adding murals to the Towne Center retaining walls. Community volunteer Lisa Duggan pitched the idea of a quilt wall for this particular section. Duggan selected patterns, measured and drew most of the patterns, then recruited friends and community members to help her paint them. The quilt block wall is sponsored by We Love VBC, Inc. The group has thrown their support toward beautifying the wall and making it an attraction well worth a visit. Walking trails, golf, UTV trails, a beautiful lake, marina, fitness center, and wonderful volunteers are just a few of the assets of Fairfield Bay. And of course, you'll want to see all the murals, in addition to the quilt wall, as they are added to the Towne Center!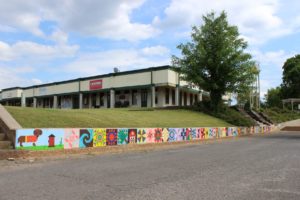 ---