Washington County quilt blocks #6-01 to #6-08 are located at Son's Chapel. The chapel has an intriguing history. Located at 5480 East Mission Boulevard (Route 45), Fayetteville, AR 72701, Son's Chapel is 2 ½ miles east of the intersection of Mission Blvd and North Crossover Road (Route 265). The Son's Chapel display of 8 barn quilts was erected in 2018. They were positioned alongside the road at the edge of the Chapel's parking lot so that they could be easily seen from the road and also would invite passers-by to stop in the parking lot to view them more closely. The display was created from free-standing, two-sided boards. Designed and painted by the Son's Chapel Quilters as an example of more than 40 years of quilt-making, they reflect the history of Son's Chapel Rural Builders. In 1842 the land where Son's Chapel is located was part of a 160-acre parcel issued by the Treaty of Dancing Rabbit Creek to Ah-To-Chubee, a Choctaw man. Upon his death a few years later, the ownership of that land was deposited in the general land office in Fayetteville. Subsequently, in 1848 Michael and Nancy Son, after migrating to the area from Kentucky and Missouri, were issued a patent for 40 acres of that original 160-acre tract. After building their home there in 1851, they saw a need for a community gathering place and conveyed 2 acres and 117 poles of land for the sum of $2.00 on March 9, 1852, to the Methodist Protestant Church for a cemetery and church building. Located at the edge of Son's Cemetery, the original "Son's Chapel" (named in honor of the family who sold the land) was a log structure. By the late 1880s the community had grown to the extent that the log chapel no longer served its needs.
---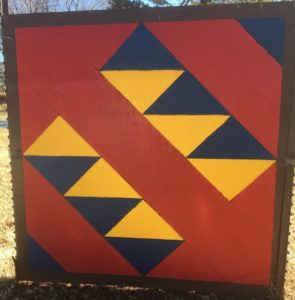 #6-01,My Cabin represents the original "log cabin" that the community named "Son's Chapel" in honor of the family upon whose land the structure was erected. Built on the north edge of the cemetery, this first incarnation of "Son's Chapel" was used as a community school, church, and gathering place. When the community outgrew the log structure, a second "Son's Chapel" was built across the street from the cemetery in 1890. The new frame one-room structure housed a one-room school that also served as a Sunday School and community building. To continue the story of Son's Chapel…In 1890 a second building was constructed across the street from the Cemetery and just east of the present location of Son's Chapel. This second building housed a one-room school for grades 1-8, a Sunday School, and a community building for local activities and meetings. In 1949 the school consolidated with Fayetteville Schools, so this building was sold and moved to become a private home which is still owned by a current member of the Rural Builders.
---
---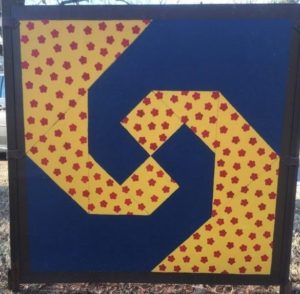 #6-02, Snail's Trail represents the path of the initial twenty women who met in 1922 with the goal of building a newer, larger Son's Chapel. Realizing the one-room school house/community center/chapel was no longer adequate for the community, these women worked diligently for almost 20 years in order to see their vision become reality. Through their fund-raising efforts and the volunteer hours of their husbands, their perseverance resulted in the current "Son's Chapel" which provided more space to gather and share their religious faith and community spirit.
These determined ladies adopted as their motto, "With the Lord's help, and our husbands, we can and will do it!" This motto is engraved on the cornerstone of the current chapel. In order to see their goal come to fruition, they immediately began fund-raising projects. Beginning with selling boxed lunches at the local cattle sales where they earned $200.00, they organized many other projects which increased their funds to $1,500.00.
---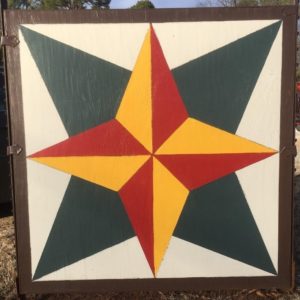 #6-03, Two White Uniforms quilt block honors those buried in the cemetery across the street from Son's Chapel, including all military who served during the Civil War, WWI, WWII and all other wars/conflicts since, as well as the early pioneers who became part of the community surrounding Son's Chapel. The patriotic star is the symbol of the American, the Confederate and the Union flags. The color white is for purity and innocence while the color red represents the valor, blood, and sacrifice of the patriots who have fought and continue to fight to protect our country. Finally, the blue stands for vigilance, perseverance and justice for all.
Nancy Son, the wife of Michael Son who transferred the land for the sum of $2.00 for the building of the chapel and the cemetery, is the only Son ancestor buried in the cemetery. Son's Cemetery, one of the oldest in Washington County, remains an active cemetery.
---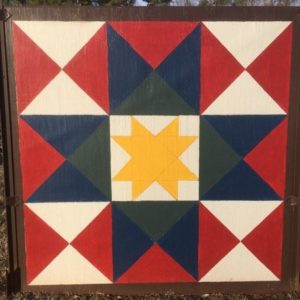 #6-04, The Big Plane represents the vision, ideas, and fund-raising events throughout the years that resulted in the three incarnations of Son's Chapel, as well as the continued perpetuation of piecing quilt squares to create a dimensional plane. For over 40 years funds for the Chapel's expenses have come from making and selling quilts. Based on past minutes and historical data found in the archives, from 1979-2019 the Son's Chapel Quilters have made and sold 1,400 baby quilts and 100 BIG quilts, earning $80,000 for the Chapel. Initially the quilts were made by members at their own homes and donated for sale at yearly bazaars. For twelve years, they also made and donated quilts for the Goshen Fire Department as raffle/fund raisers. In 1994 at the request of the City of Fayetteville, they made a quilt for the 50th anniversary of the end of WWII to be hung in the Fayetteville Air Museum. Currently, most of the quilting is done on Tuesdays in the community gathering room under the sanctuary at Son's Chapel.
---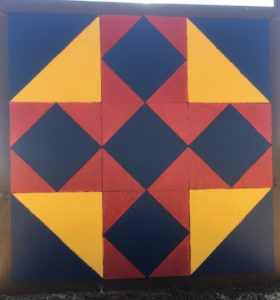 #6-05, All the Way to California represents the change from the original intent of the Son's Chapel community building. As the building was originally erected to serve the members of the local community, members were required to live within a three-mile radius of the Chapel. Mobility became an issue quite early as the second president of Rural Builders moved to California during her first term. Added to that, the community grew in numbers as well as area, partially as a result of the paving of Route 45 between the cemetery and the current Chapel. In June, 1995, the members amended Article 5 of the Son's Chapel Constitution, changing the three-mile residency requirement to open membership.
To continue the story of Son's Chapel….by 1933 they decided the new church would be a 36' x 50' building constructed of native stone. The community men joined the efforts of their wives. Using their horses and mules, they began excavation. With the exception of one stone mason and one carpenter that they hired, the men all volunteered their time and worked diligently, completing the building in 1939. The current location of Son's Chapel was dedicated on May 26, 1940, as a Community Protestant Church with the upstairs designated as the Chapel and sanctuary for religious events and the downstairs area reserved for social and community activities.
---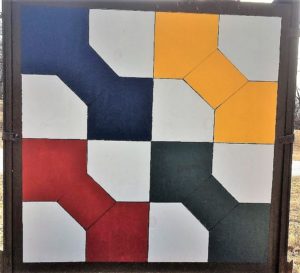 #6-06, Mini Bow Tie echoes the hymn "Blest Be the Tie That Binds," which represents the tie between those original Rural Builders who united for fund raisers and labored to build Son's Chapel and the current members who work diligently to maintain the facility. Today's members, all volunteers who are the daughters of generations of quilters, have the same determination as those original members who accepted the challenge in 1922 of building, protecting, and preserving the community facility. At their weekly gatherings, they relate stories of family quilting, of the many quilts made with love and often given as treasured mementos for special occasions. In creating the quilts to be sold, their intent is to tie their determination to those of future generations to ensure there will always be a Son's Chapel for community gatherings as well as to continue the tradition of giving hand-stitched quilts that become truly priceless family heirlooms.
---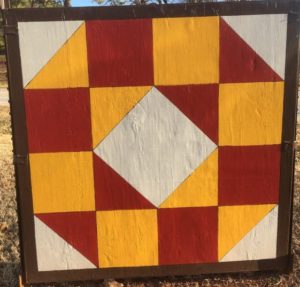 #6-07, Memory Book of Yesterday represents the initial planning, the fund-raising, and the building of Son's Chapel, with each momentous step having been laboriously recorded and initially hand-written in a treasure-trove of books and historical documentation. Not only does the Chapel have these archives, but the original school house bell is currently a viable part of the Chapel bell tower. From the original log cabin by the cemetery to the one-room school/community center to the current building, Son's Chapel has provided the community with a place to gather to worship, celebrate events of life and even bury family members. Both the Chapel and the Cemetery are notable landmarks and a living monument of the community. In 2015 Son's Chapel obtained 501 (c) (3) status. Of the original 20 founders, two family members who attended the Chapel's one-room school are still active in the preservation of the Chapel. The current members of Son's Chapel Rural Builders continue as caretakers to protect and preserve Son's Chapel as a living monument to the courageous and ambitious women and their supportive community whose determination enabled its creation. Through memorial gifts, wedding rental fees, donations given during monthly soup lunches, and their making and selling hand-quilted baby quilts along with other crafts sold during open house events, today's Rural Builders earn the funds for all expenses, repairs, and maintenance of the Chapel and its grounds. The 8 barn quilt blocks tell the story of Son's Chapel from its beginning as a log chapel to its current native stone building
---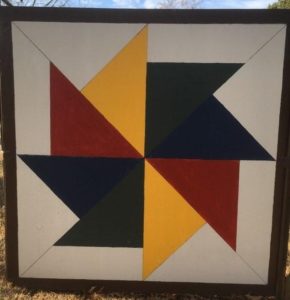 #6-08, Pinwheel, represents the circle of events and projects that keep spinning to support Son's Chapel. From home-made lunches sold at rural livestock auctions as the first fund-raiser to church dinners and box suppers sold to other organizations such as the Home Demonstration State Convention to pies and other baked goods sold, food sales were an important part of fund-raising for the Rural Builders. Along with food sales, the members made craft items and quilts sold at silent auctions and bazaars that included knitted doll clothes, Cabbage Patch doll clothes, embroidered plaques, wall-hangings, birdhouses, Kleenex box covers, ceramics, pressed flowers, stationery, wooden cut-out figures as well as other hand-made items. Their efforts to make certain the Chapel could be maintained included white elephant sales, a recipe book project, yard sales, and performances of plays with freewill offerings that paid for the Chapel benches/pews. Currently, members earn funds through craft-sales at an Annual Open House, donations at the monthly soup lunch open to the public, wedding venue fees, and sales of hand-made BABY QUILTS to carry on the circle of traditions at Son's Chapel. In 2003, Son's Chapel earned recognition by being listed on the National Register of Historic Places with a bronze plaque placed outside the front doors declaring its status.
---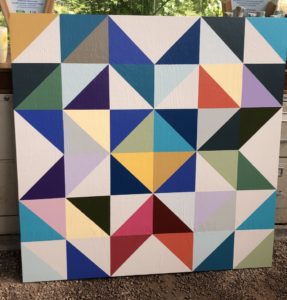 #6-09, Wild Flower, is a quilt block located at 5635 E. Huntsville Rd. Fayetteville, Arkansas. It hangs on a greenhouse at White River Nursery. The quilt block was painted by nursery owner Sarah McCue. White River Nursery is a family owned plant nursery and garden center in east Fayetteville. The nursery carries a huge variety of annuals, perennials, trees, shrubs and specializes in native plants. The nursery offers customers a unique shopping experience, combining a warm, friendly atmosphere with high quality merchandise and expert advice. Stroll through the nursery to view several other quilt blocks during business hours. Sarah is happy to share her knowledge with visitors. She may even conduct a barn quilt workshop if there is enough interest! The nursery phone is (479) 442-2061. Hours are generally 8am-4pm, Monday-Saturday, but can be impacted by weather. Check the Facebook page for updates.
Learn more about White River Nursery at https://www.whiterivernursery.com/
---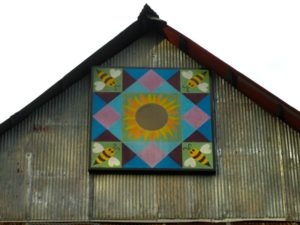 #6-10, Protect Our Pollinators is at 594 McKnight Ave. west Fork AR. The barn is on a lane separate from the house so don't miss it! The quilt block is located on an over 100 year old double crib barn on Baker's Acres in West Fork. Patty Baker shares the following story. Crib barns are found throughout the South and Southeast, and are especially numerous in the Appalachian and Ozark Mountain states of North Carolina, Virginia, Kentucky, Tennessee and Arkansas. Crib barns are composed of one to six cribs that served as storage for fodder or pens for cattle or pigs. The barns may or may not have a hayloft above. Crib barns were typically constructed with un-chinked logs, and sometimes covered with vertical wood siding. I especially love the hand hewn logs in our barn that form the cribs. We have repaired the foundation and the roof of the barn and have replaced all the support timbers in hopes that this beautiful barn will remain standing for many years to come. Preserving our past is well worth the effort. We have been bee keepers and are organic gardeners and are very conscious of the environment and our footprint upon it. We want people to be aware that pesticides do not just kill the "bad" bugs and that our bee population is delicate and in danger. We strive to live gently on the earth and hope that our beautiful barn quilt will remind others to do so as well. Our friend Jeffi O'Kane, a local stained glass artist, helped design and paint the quilt.
---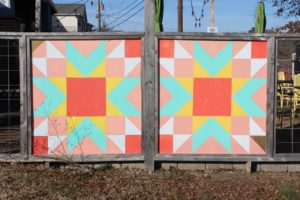 #6-11, Farmer's Table Cafe double quilt block is located at the cafe of the same name at 1079 S. School Avenue in Fayetteville. Owners Rob & Adrienne Shaunfield opened the Farmer's Table Cafe in 2014 with the goal of improving the local food system. They firmly believe that by supporting our local food producers, we can help to increase community food security. The Shaunfields love exploring the tastes of the Ozarks and strive to create meals that make you feel good in an environment that feels like home. They believe small is beautiful and intentionally keep things small…selecting ingredients from small family farms and food artisans in our state. They believe that food just tastes better and is better for you when it's done in small batches. The cafe home is tiny, bringing guests into an intimate space that celebrates food and connects us to one another. The Shaunfields welcome you to join them at The Table!
---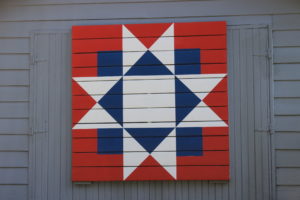 #6-12, Four Corners is located at 847 N. Park Ave. in Fayetteville. It is on the home of Tom and Tammy Smith. Tammy shares the story of how it came to be. "In 1986 I spent my summer vacation, after a first year of veterinary school, in New Mexico – living with my grandparents and working at a primate center. In the evenings my grandmother taught me how to piece quilts. Since then I have made many a fabric quilt for friends and family. A few years ago I was invited to a lecture on barn quilts, and thinking I would learn a new fabric pattern I attended. How fun to learn about these wooden painted quilt tops that adorned buildings throughout America. One weekend our family decided to build one. "Four corners" is a nod to my childhood home in New Mexico, my birth state of Texas, and my mom's birth state of Oklahoma, and our honeymoon in Colorado-many precious parts of my life."
---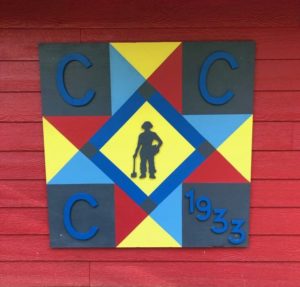 #6-13, Bright Hope Star, has been relocated to Devil's Den State Park. It's currently in the visitor center at 120812 W. Devils Den Rd., Winslow AR., awaiting placement on the grounds. The creator, BelvaLee Jurkovich, shares the story behind her pattern. The Civilian Conservation Corps or CCC was inaugurated in 1933 by President Roosevelt. The president had two purposes in mind for this new program. One was to provide employment for the young men in our nation and the other was to develop the country's natural resources. These young men were from age 17 to 25 and could not be married. From their monthly allotment of $30, $25 was sent back home to support their families and they got to keep the other five. They worked five days a week, eight hours a day and in their free time they could enjoy the resources around them. Company 797, made up of men from North Dakota, made the trip to Arkansas via the rail in 1933. This group constructed a gravel road from West Fork to Devil's Den before constructing a massive Stone dam on Lees Creek and built native stone and log cabins in Devil's Den. This Arkansas State Park consists of over 2500 acres in Winslow Arkansas. Jurkovich shares, "Those exemplary young men brought HOPE to their families every month by their tenacity and faithfulness, so I chose to honor them with my Bright Hope Star block."
---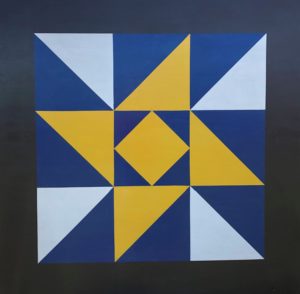 #6-14, Wild, Wonderful West Virginia and #6-15 are located at the farm of Retha Griffith, 16537 S. Hwy 71, 8 miles south of West Fork at Brentwood. We three sisters decided to surprise our mother with a barn quilt (or two!) to celebrate her 91st birthday and to add to the Washington County Quilt Trail. Mom and the three of us are all seamstresses, crafters, and quilters. We thought it most appropriate to honor her with two quilt squares representing our heritage and her favorite hobby. "Wild, Wonderful West Virginia" displays the blue and gold from the West Virginia flag and represents our heritage that began in West Virginia. We have lived in Northwest Arkansas since 1973 but our roots are in West Virginia, where Dad and Mom were both born and raised and where they were married in 1951. Seven of our 8 siblings share West Virginia as our birthplace. Mom has been taking girl trips with us all over the United States, but any trip east of the Mississippi includes stops in West Virginia to visit friends and relatives and the old home place of Mom's which was built in the 1820s and remains in the family. Please enjoy our quilt block and your travels to wherever the road takes you.
---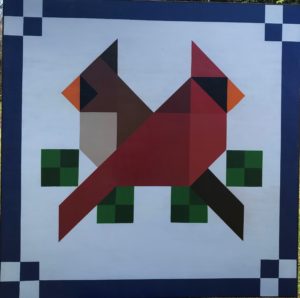 #6-15, View from Our Loveseat is a pair of cardinals, the state bird of West Virginia. Mom is an avid bird watcher and we don't miss a chance to start the morning by sitting with her in the loveseat looking out the picture window drinking coffee and watching birds while enjoying each other's company. We knew we wanted to include birds on our square and after looking at several choices, we chose the pair of cardinals (they often mate for life) which also represents our parents and their 54 year marriage. Although Dad has lived in heaven now since 2005, Mom still lives on her 40+ acre farm and takes remarkable care of it. We are so proud of her and all of our family. We are very happy to add to the Washington County Quilt Trail and we are excited to be able to share these quilt squares and the stories behind them with those who are traveling Highway 71 at Brentwood.
---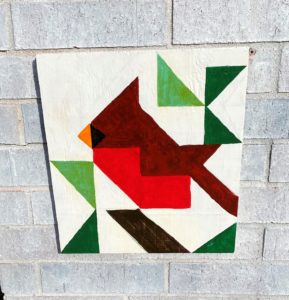 #6-16, Happy Cardinal, at 114 N. Double Springs Rd., is located just inside the Farmington city limits. Happy Cardinal, a 1'x1′ small quilt square, was painted by Karee Dowty to make her children smile. Since becoming Farmington Cardinals the Dowty Boys are always on the hunt for cardinals. Each time they see one, they are so excited. In addition to being our school mascot, our yard is home to many beautiful cardinals we enjoy watching each day. Each time we pull in our driveway and see our Happy Cardinal we smile, and we hope anyone who visits the Washington County Quilt Trail will smile when they see him too.
---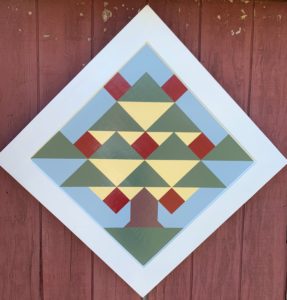 #6-17, Apple Seeds, is located at Apple Seeds Teaching Farm at Gulley Park, 2648 North Old Wire Road, Fayetteville, AR. Enter the gate at left of the brick home that serves as offices and walk to the back side of the event center to find the quilt block. You may also park at Gulley Park to access Apple Seeds Teaching Farm. Apple Seeds is a nonprofit started in 2007 with the mission to inspire healthy living through garden-based education. They work with more than 10,000+ NWA students each year connecting them with where fresh foods come from, sharing healthy kid-pleasing recipes and teaching cooking skills. Measurable results come from these efforts: 71% of students report they were willing to eat vegetables, 64% retained the nutrition education concepts when tested, 47% report making Apple Seeds recipes on their own after participating in a program. Lessons take place at the Teaching Farm, in NWA schools and now virtually through on-line learning opportunities. The Teaching Farm is 2 acres and provides produce for education as well as for donation to students and their families who need it most. Now fresh produce is grown all year thanks to the addition of a high-tunnel in 2018. This gives students the ability to see and harvest fresh food year-round. Tried and tested recipes are available on their website and cooking lessons on their YouTube channel. In addition to student education, Apple Seeds offers unique culinary experiences with some of the best chefs in the area for fundraising dinners and events at the Teaching Farm. New resources and events are added frequently, so the best way to stay up-to-date is to visit the website www.appleseedsnwa.org or follow the organization on social media and YouTube at Apple Seeds Inc.
---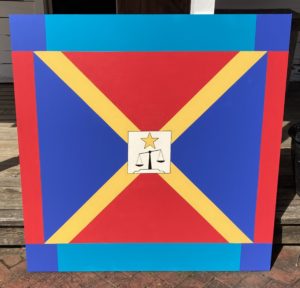 #6-18, Yell Law Office, is at 118 E. Dickson, Fayetteville at the
Headquarters House Museum. One of the oldest law office buildings west of the Mississippi River, built in 1835 on the Waxhaws property, the Archibald Yell Law Office is represented by a patriotic quilt design from the era of the War of 1812. The 4′ x 4′ quilt pattern is from a montage of patriotic symbols found where large fields of red and blue, flanked with aisles of white, lead to a central square, tying the pattern together in the center of each block. Often symbols, such as flags, cannons, or other regimental insignias were placed in the center block. A star in the background, with a scale of justice, possibly cross-stitched, signifies both a soldier and attorney (and frontier politician). Yell was all of these. A figure larger than life, Yell was also a colorful figure in Arkansas history. He was Arkansas's first U.S. congressman, second governor, founder of Arkansas's first Masonic lodge and a Mexican War hero. He was a consummate and magnetic politician. Yell County and Yellville (Marion County) were named for him. Yell did participate in the War of 1812 at the Battle of Pensacola on November 7-9, 1814. He carried the rank of sergeant and fought in the Battle of New Orleans on January 8, 1815, where he received a favorable notice from General Andrew Jackson. He then served as a first lieutenant in the First Seminole War (1817-1818). It is uncertain just when Yell began to read law; uncertain, too, are the people with whom he studied. Yell was known as a violent man, and engaged in several duels and brawls. President Andrew Jackson appointed Yell as the Receiver of Public Monies at Little Rock in 1831. His first Arkansas stay was cut short by malaria, causing him to return to Tennessee to recover in August 1832. In 1835, he returned to Arkansas, having been appointed a territorial circuit judge. Yell soon gained a popular following, and stories of his courage and compassion are legendary. He made his home in Fayetteville (Washington County), where, in 1835, he built a four-room Greek Revival house "Waxhaws," that he had painted white. Waxhaws was torn down in the 1970s, but in 1992, the Washington County Historical Society saved his law office. Yell resigned from Congress at the onset of the Mexican War in 1846, returning to Arkansas to enroll in Captain Solon Borland's company of Arkansas volunteers. He was elected regimental colonel. On February 23, 1847, facing the large Mexican army, commanded by Antonio Lopez de Santa Anna, Yell was killed while leading a charge with sword in his hand. First buried near the battlefield at Saltillo in a tin coffin, Yell's body remained there only five months until it was brought back to Arkansas and buried in the family cemetery at Waxhaws. Finally, all the bodies from this cemetery were removed by the Masonic lodge and reburied in Evergreen Cemetery in Fayetteville in 1874. The Yell Law Office is maintained by the Washington County Historical Society. The Law Office is west of the Headquarters House Museum at 118 East Dickson Street, Fayetteville, AR. Our website can be found at: www.washcohistoricalsociety.org
---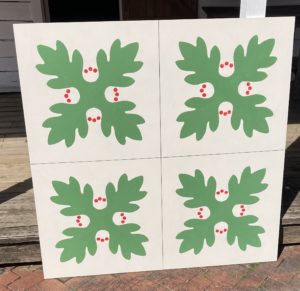 #6-19, Oak Leaves & Cherries, is at the Headquarters House Museum at 118 E. Dickson St., Fayetteville, AR. The Oak Leaves and Cherries pattern was selected to honor the history of the Ridge House and Washington County and is sponsored by the Washington County Historical Society. According to research, the Oak Leaves and Cherries quilt pattern is a very old pattern that can be documented back to the 1840s. The Ridge House was originally a log cabin built in 1836. It is the oldest known standing house in Fayetteville. The log walls are enclosed within the plaster walls of the lower floor of the current house. Portions of the current wall in the front foyer have been cut away so visitors can see the old log structure. The house was acquired by the Washington County Historical Society in 1971 and listed on the National Register of Historic Places in 1972. Sophia Sawyer and Mrs. Sarah "Bird" Northrup Ridge set up a school in 1839 with about twenty students, including the fourteen Cherokee girls, upstairs at the Fayetteville courthouse, then on the second floor of a theater on the town square. Fearing the bad influence on the girls from the actors at the theater, Sawyer asked a prominent local attorney, Judge David Walker, to donate land for a school building in a more sheltered location. Judge Walker provided land on Fayetteville's Block 33, at the corner of today's Mountain and School streets, and the school opened at that location in 1841. Tuition for the basic five-month term was eight dollars. The Fayetteville Female Seminary soon became known as an outstanding school, generally attracting about fifty young ladies of distinguished families from all over the region. They took classes including music, literature, French, and embroidery and either boarded in a dormitory at the school or with neighboring families. The Oak Leaves and Cherries quilt pattern joins the timeliness of the pattern with the founding of Washington County and its growth into the future. The Ridge House is owned by the Washington County Historical Society. It is located at 230 West Center Street, Fayetteville, AR 72701. Tours of only the entry way can be arranged via the Headquarters House Museum by calling 479-521-2970.
---
---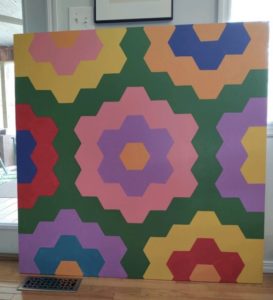 #6-20, Grandmother's Flower Garden, is at the Headquarters House Museum at 118 E. Dickson St., Fayetteville, AR. The Grandmother's Flower Garden quilt square was the most popular quilt pattern in the United States after 1925. It represents the Colonial Revival's ideal of early American quilts. This hexagonal mosaic pattern appeared in England in the late 1700s when it was simply referred to by the names honeycomb or mosaic pattern. Immigrants brought the design to America and the earliest known American-made hexagon quilt is dated 1807. The design sustained its popularity across the decades, changing from chintz to silk to wool to calicoes, first in brown shades, then grays, and finally pastels. Godey's Ladies Book published the hexagon pattern in 1835. It is thought to be the first pieced quilt pattern published in America. All things English were emulated by cultured American women during this period and making hexagon quilts was very popular in England at the time. The Grandmother's Flower Garden quilt pattern was selected in honor of the Washington County Master Gardeners who work weekly at the Headquarters House Museum Historic Garden. The Master Gardeners created demonstration gardens similar to what existed from 1853 to 1863, the period of significance for the house when the Tebbetts family resided on what was a four-acre lot. Two documents provide important information about the Tebbetts' garden. One is The Journal of Marian Tebbetts Banes offering descriptions of life, the gardens and the Tebbetts' House when Marian was a girl living with her parents in the mid-1800s. The other is Jacob Smith's nursery inventory, from 1844 to 1859, listing plants grown and sold a mere two miles from the Tebbetts' property. Marian Tebbetts Banes described the family's double perennial border along the front walk made of brick. Marian, Judge Jonas M. Tebbett's oldest daughter, wrote in her journal around 1940 when she was in her early 90's. She noted in her journal that "roses were everywhere" in the garden. We may not know exactly which roses graced the Tebbetts' garden, but we do know that the fragrant Hermosa rose was planted at the Tebbett's House in the mid-1800s near "Mother's Room." A pink-flowering Heirloom rose exists in this location today. Early settlers have left testimony about the need for beauty even in the most rugged human existence — hence, the popular planting of the rose. The Headquarters House Museum is owned and operated by the Washington County Historical Society. It is located at 118 East Dickson Street, Fayetteville, Arkansas. Our website is found at: www.washcohistoricalsociety.org.
---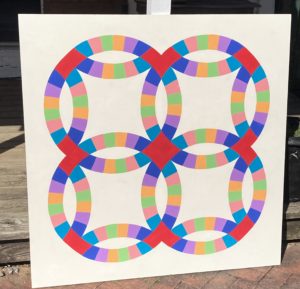 #6-21, Double Wedding Ring, is at Headquarters House Museum at 118 E. Dickson St., Fayetteville, AR. The double wedding ring design is steeped in a rich historical tradition dating back as far as the fifteenth century. It is reminiscent of the gimmal ring, a popular engagement ring in which a betrothed couple each wore a single ring during their engagement. The two single rings were interlocked during the wedding ceremony and worn by the wife. The motif has event been found on fourth-century Roman cups and calls to mind the familiar Celtic knot motif of the Western World. The quilt was traditionally made by mothers and grandmothers and given as wedding day or wedding anniversary gifts to their children and grandchildren. Due to the popularity and romantic history of the quilt, many families treasure them and pass them down from generation to generation. American folklore suggests that a marriage was blessed if the couple spent their first night together under a quilt graced with the Double Wedding Ring pattern, further signifying its importance as a traditional wedding gift. Young attorney Jonas March Tebbetts, born January 5, 1820, in New Hampshire, with a growing practice, fell in love with Miss Matilda Jane Winlock, born February 7, 1830, who was attending Miss Sawyer's School in Fayetteville. Matilda was only seventeen and her family decided that she should attend school for another year and set a wedding date in May 1848. But Jonas did not want to wait to marry his betrothed. Although Matilda said she could not be ready with a proper wedding dress, Miss Winlock did marry on April 19, 1847, in a fashionable gown made of yellow cotton, her favorite color. In 1853, the couple built a "real home" and moved to 118 East Dickson Street with their three small children. Their other three children were born at Headquarters House where they lived on the Arkansas frontier. More of the Tebbetts' personal story and the story of their house serving as headquarters for both the Union and Confederate armies during the Civil War can be discovered inside the Headquarters House Museum. Washington County Historical Society at 118 East Dickson Street, Fayetteville, AR 72701. www.washcohistoricalsociety.org.
---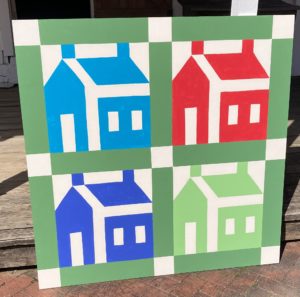 #6-22, Sawyer's Schoolhouse is at the Ridge House, 230 W. Center St., Fayetteville, AR. The popular Schoolhouse pattern was selected to honor the legacy of education by the Fayetteville, Arkansas community and is sponsored by the Washington County Historical Society. The Schoolhouse quilt pattern probably originated in the United States around the time of the Civil War. The design and its variations include House, Schoolhouse, Little Red Schoolhouse, House on the Hill, Old Kentucky Home, Old Folks at Home, Lincoln's Log Cabin, The Old Homestead, and Jack's House. As settlers moved west, they built their log cabin homes. Then, as a community developed, one of the first structures constructed was a schoolhouse. The Ridge House was originally a log cabin built in 1836. It is the oldest known standing house in Fayetteville. The log walls are enclosed within the plaster walls of the lower floor of the current house. Portions of the current wall in the front foyer have been cut away so visitors can view the old log structure. The house was acquired by the Washington County Historical Society in 1971 and listed on the National Register of Historic Places in 1972. Mrs. Sarah "Bird" Northrup Ridge acquired the house when she and her children's tutor, Sophia Sawyer, fled to Fayetteville, after Mrs. Ridge's Cherokee husband, John Ridge, was killed by rival Cherokees in the Indian Territory. Mrs. Ridge and her children lived here beginning in 1839. Miss Sophia Sawyer and Mrs. Ridge began a school in 1839 for the seven Ridge children and other Cherokee girls who came with them from Indian Territory (present-day Oklahoma). This first school, The Fayetteville Female Seminary, had twenty students. It moved locations twice before eventually settling in 1840 on the block of Mountain, between Locust and School streets, one block south of this location on Center Street next to Moore's Chapel Funeral Home. The first public school district in the state was organized when the Fayetteville School District was chartered on March 20, 1871. The first public school in the city was built for black students. Ebeneazor Enskia Henderson organized this school with help from the American Missionary Society and it opened in 1868. It was located near the intersection of Olive Avenue and Sutton Street and is currently maintained as a residence. The University of Arkansas, first known as the Arkansas Industrial University, was chartered on March 27, 1871 by the Legislature. Fayetteville was selected for the university as it was recognized as a center of education. Local residents David Walker, Lafayette Gregg, and William McIlroy were instrumental in securing bonds and land donations to establish the college. The Ridge House is owned by the Washington County Historical Society. It is located at 230 West Center Street, Fayetteville, AR 72701.
---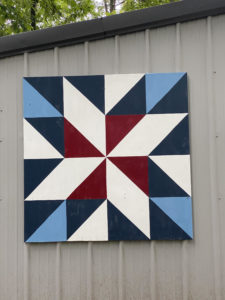 #6-23, A Star for Elsie, is located at the Wayne and Julie Love residence at 19501 Rheas Community Rd., Lincoln, AR. The GPS seems to prefer the address to be 19501 CR-68, Lincoln, and that will get you to the right location. Pull in the driveway or view our barn quilt from the paved road. You will be greeted by our giant, friendly dog. This barn quilt was painted by the owner, Julie Love. As a lifelong resident of Washington County, growing up in the small town of Prairie Grove, I have a bond with this community that has only strengthened over time. The farm I grew up on in Prairie Grove has been in my father's family for more than 150 years. My mother's family is from Dutch Mills, just outside of Lincoln. Both sides of the family are full of great quilters. My mom and I still have many of the quilts that have been passed down over the years, yet I am not a quilter. I am a woodworker. I began to combine my love for a great family heirloom quilt with my passion of woodworking and I started designing. This was my first barn quilt I made in honor of my granddaughter, Elsie. My love for family and community encourage me to share this with the younger generations so they might appreciate the rich history that is so much a part of who we are. I then decided to see if I could get my neighbors, family and friends involved so we could all share stories of the past with others and to strengthen that bond as a community.
---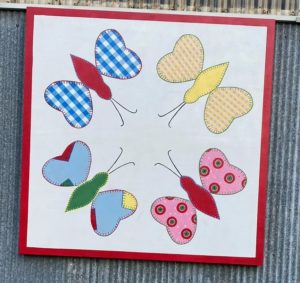 #6-24, Butterfly, is at 13211 Viney Grove Rd., Prairie Grove, AR, but your GPS will flip the address to 13211 CR-37 which will get you there. Owner Sherry McCoy shares, This Butterfly quilt pattern is in memory of my mother, Goldie Frost. My mom made this quilt for me as a wedding gift 47 years ago. She hand embroidered around each butterfly and added our names and our wedding date (October 3, 1975) on the side of the quilt. She has been gone for many years now, but every time I look at this quilt, I think of her and all the effort she put in to making this quilt as a special gift for us. I hope you will enjoy seeing it as much as I do.
---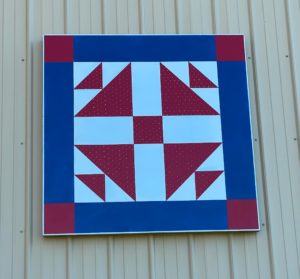 #6-25, Monkey Wrench, is at 13346 Viney Grove Road, Prairie Grove, AR. Please note that your GPS will most likely flip the address to 13346 CR-37 and this will get you to the right location. The history of the Monkey Wrench quilt block is shared by Amy McCoy. When I was a girl, I have fond memories of visiting my maternal great grandmother Ida Hobbs Taylor in the Legacy Lodge nursing home in Russellville, AR in Pope County. My mom would bring her dresses my sister and I had outgrown and other scraps of fabric and she would use the fabric to hand piece beautiful quilt tops. I was always excited to see how the patterns and colors came together. She pieced "the monkey wrench" quilt during the 1980s when I was a girl. In approximately 2000, I hand-quilted the quilt with my grandmother-in-law Barbara McCoy and great grandmother-in-law Irma George at Irma's house in Birta, AR in Yell county. I have always cherished the quilt and in 2016 my long time friend Benita Drew from Pottsville, AR took pictures of the quilt for me with my daughters. On August 3, 2022 Julie Hart Love with Made with Love turned one of the square's of my quilt into a beautiful barn quilt that we have proudly displayed on our metal shop building where we live in Prairie Grove, Arkansas. I love how just looking at a quilt brings back so many family memories and such a rich history.
---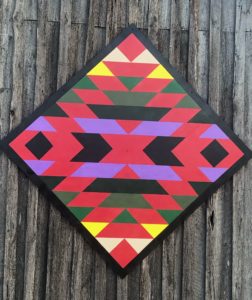 #6-26, Mamo's Blanket, is located at 16511 W. Battlefield Park Rd., Prairie Grove, AR. The block hangs on a 100+ year old barn on Claud and Sandi Rutherford's farm between Viney Grove and Rhea's Mill. The quilt block was painted by a life-long friend, Julie Hart Love. Sandi shares the story: My grandmother was part Osage Indian. She grew up on an Osage Reservation and went to school there. She did not share a lot about her life on the reservation, but she did have a few memories she passed down to us all. I was the lucky one who received her treasured blanket, a gift from Chief Fred Lookout. It is one of my most cherished heirlooms, and it has hung on my quilt rack since she died in 1983. Now it can be enjoyed by anyone driving down Battlefield Park Road.
---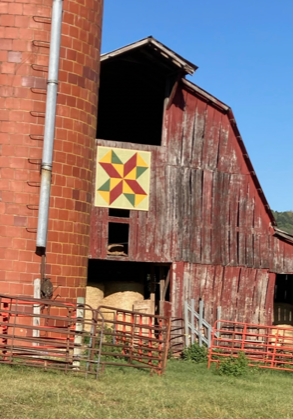 #6-27, Sunshine, is at 17125 W. Munyon Rd. Your GPS may flip the road name to CR-433 and that should also get you there. Owner Carlene Hale shares the story of her block. I am located in SW Washington County, 1 mile south of Hwy 45 on CR 433 between Morrow and Dutch Mills. My husband and I bought this farm in 1966 and have raised Beef and Broilers. We retired in 2000 but still raise cattle on the property. I call this quilt pattern my "Sunshine Block". My quilt was built and painted by my niece Julie Hart Love. The barn red represents the many old barns that are scattered over our area. The yellow is for sunshine and the pale green is for the rain we need for our crops to grow. The darker green represents the waving crops of hay, corn, milo, and wheat. My mother's family, the Seay's, settled in Cane Hill in 1929-1930. My great-great-great Grandfather was born there right after they settled here. He grew up and became a blacksmith and shod horses for neighbors and for many soldiers during the Civil War. He also shod horses for the Jesse James Gang when they were in the area. Barron Fork Creek started here (on Hwy 45) where Fly Creek joined Bush Valley Creek. It was a good camping ground for Indians. Many arrowheads and bowls have been found through the years after farmers plow their fields up. This was also the area of some Civil War fighting. My husband's dad bought this place in the early 1930's. He started a dairy here until about 1960, then closed the dairy and went to beef cows only. He and 2 other friends in the area built barns for each other. Our barn was built over a period of 2 to 3 years (1946–1948), right after WWII. Mr. Hale owned a sawmill and all the lumber for the barns was cut there. The metal roofing was hard to find at the time so it was pieced on as they could get it. The tile Silo was built in 1950 and held Silage for many years. The barn was full of hay every fall, put in by a crew of hay haulers and a hay elevator. The creation of round bailing eliminated all the hard work of hay haulers and also the use of the upper level of the barn. The ice storms of the 1980's and 1990's played a toll on the barn. It still stands and serves its purpose after all these years.
---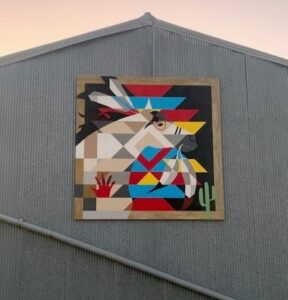 #6-28, Native American Horse, is at 11986 Butler Rd., Prairie Grove, AR. Owner Rachel Hawley shares: It represents the importance horses and mules have played in my family for many generations. I don't remember a time when horses and mules weren't a part of my day-to-day life. I grew up on a farm where we (my Granddad, parents, two older brothers and I) rode every day, and the animals were considered a part of our family. We were involved with many other extracurricular activities, but our horses and mules were always our main focus. Our animals went all over the USA with us over the years for many exciting adventures. My Dad also grew up riding, using horses to aide in daily farm work and as transportation. For a few years he lived in Idaho where at the age of 8-9 years old assisted his Dad in catching wild horses out of the mountains and 'breaking' them to ride. My Great-grandfather was a physician in central Arkansas and made all of his house-calls via horse and buggy. I am sixth generation born and raised in Washington County Arkansas and sixteenth generation born in America. I am proud to be a native Arkansan, proud to be an American, LOVE my horses and all of the wonderful memories they have helped create for my family and me. This barn quilt was painted by Julie Hart-Love.
---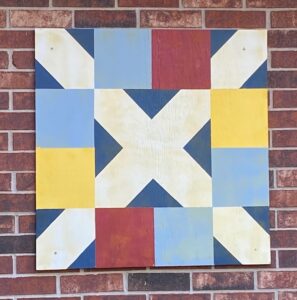 #6-29, Arkansas Byways quilt block hangs on the north side of our home at 1641 Viney Grove Road (State Road 37 on Google) in Prairie Grove according to owner Hilary Johnson. It is best viewed when driving south on Viney Grove Road, which can get busy at times, so please feel free to pull into our driveway to take a picture. Knowing how much I love to quilt, our daughter painted it as a Christmas present several years ago. At the time we were living in Georgia and she thought it would be a great reminder of our Arkansas family along with celebrating my love of quilts. We could never decide where to hang it, but when we moved to Arkansas two years ago, the north side of our garage was the perfect spot for it, as well as helping us to remember which house is ours!
---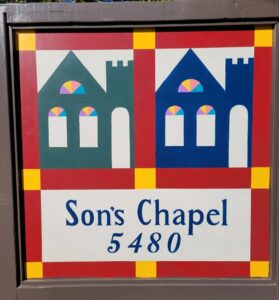 #6-30, Son's Chapel, is a new, bright quilt block and marque for Son's Chapel, a historic, Fayetteville landmark on Route 45. Son's Chapel is a 501(c)3 non-profit, and listed September 25, 2003 on the "U.S. National Registry of Historic Places", with a bronze plaque at the front door! Son's Chapel Rural Builders Association was formed by a group of 20 local women who met on October 16, 1922! Seeing
the need for a larger school, church and gathering place for the community, fund-raising began immediately to build the Chapel. For a century, women, past and present, have accepted the challenge to build, maintain, protect and preserve Son's Chapel. Son's Chapel sign is our 9th Quilt Block, designed and made by artist and president, Laurie Foster, in tribute to the 100th Anniversary; all quilt blocks are double-sided, free-standing and displayed along Route 45! Our other 8 blocks are 1–8, and tell the very rich history and well-documented story of Son's Chapel. The name, Son's Chapel, honors the original landowner, Michael Son. The 100th Anniversary theme was "Here Comes the Bride", inviting all past couples who were married at the Chapel, showcasing our new, Chapel sign, up-dated interior, and honoring three descendants of the original founders, who remain active at the Chapel: Carson, Jim and Shelton/Susan McRae were students at the
Son's Chapel one-room School, and attended Sunday school classes, social events, family weddings, memorials and burials at Son's Chapel Cemetery (one of the oldest and active cemeteries in Washington County)! Susan was the 1st Chapel's bride, June 11, 1948; her father, T.E. Shelton was the Chapel architect; and Gulley/Rebecca McBride is a musician and volunteers for Chapel events. Son's Chapel is a charming, wedding venue with great character, location and parking, and available for anniversary celebrations, musical performances, meetings and memorial services. Our major fund-raising project, making and selling quilts, began in 1979; we quilt Tuesdays (Feb – Nov), 9:00-1:00 at the Chapel. Our baby quilts, hand-embroidered, hand-quilted, are true keepsakes, and great baby and shower gifts. Please stop by, to quilt, or visit and join us! Our goal is to keep Son's Chapel open and functioning as a gathering place for the community, as in the past, for the present and future generations. Learn more at sonschapel.org and Son's Chapel Quilters on Facebook.
---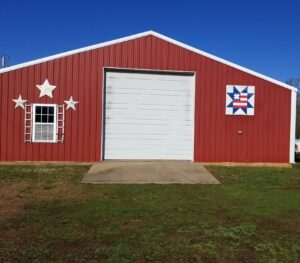 #6-31, Star in a Star, is at 13151 Highway 265, Prairie Grove, AR. Owner Maeleen Cunningham picked out the design then her husband calculated dimensions and painted it on wood. Maeleen notes that the block is located in the community of Hogeye which is south of Fayetteville. Hogeye was once a stagecoach stop and is on the historical Butterfield Trail to Fort Smith. According to the Washington County Records Department, the community of Hogeye was previously known by several names including Billingsley, Glenroy, and Moffitt. The earliest mention of Hogeye in county records was in 1860. The community was officially known as Glenroy, but commonly known as Billingsley. The Billingsley Post Office was established in 1854, a stop along the Butterfield Overland Mail Route and remained there until 1887. The community had at least one grocery story, a liquor store, and a canning factory. Although not one of Arkansas' original state highways, the path that AR 265 follows is one of the state's oldest. Originally a Native American trace named the Great Osage Trail, the route was first used as a Military Road from St. Louis to Ft. Smith, and later as the Trail of Tears. The Butterfield Overland Mail Route was active from 1857 to 1861 on the route. The route carried U.S. mail and also carried telegraph lines west. Portions of the route are named Old Wire Road (also Old Missouri Road in Fayetteville) paying homage to the route's past. Although not all parts of AR 265 are the exact path followed by the stagecoaches, nor are all parts of Old Wire Road separate of AR 265. This comes from the fact that there were many different alignments of the historic routes. Although there is no doubt about the southern segment's accuracy, AR 265 is known as Old Missouri Road (or Crossover Road) paralleled by Old Wire Road in Fayetteville, but it is not clear to the traveler which route is more historically accurate. Enjoy your trip as you visit the quilt block and learn some local history!
---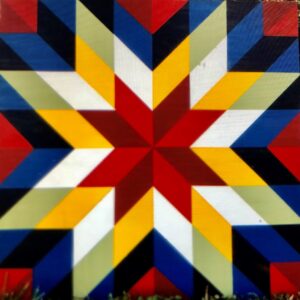 #6-32, 8-Point Star is at 17929 Hale Mountain Road, Cane Hill, AR. Owner Darlene Cheatham shares its story. I picked this pattern because I was drawn to the bold pattern and colors, and knew it would show well on our barn. The eight stars represent our eight grandchildren, 5 Arkansas boys and 3 Texas girls, they are the "stars" of the family! The colors have meaning too. The black represents the black Limflex cattle we are raising on that property, the green represents the green meadows that our cattle graze, the yellow is for the sunshine that helps to grow the pastures and blue for the rain that God supplies. The barn is circa 1930's and is a gambrel style with a loft that our grandkids love to play in. The old barn was used to store hay, and feed and care for cattle and horses. We have lived on our 105 acre farm for 45 years, and named it Valley View Dairy when my husband milked cows from 1978-1988, then changed the name to Valley View Farm and started a beef cattle operation. We bought the 41 acres the barn sits on in July 2022 and it is directly across the blacktop road from our farm to add a place to raise replacement heifers. This farm has a spring fed creek, and lots of woods for our grandkids to explore and hunt on. I loved seeing barn quilts on old barns and knew this barn would be perfect with its access to the road.
---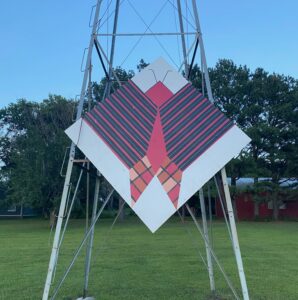 #6-33, Butterfly, is at 6187 W. Dot Tipton Rd., Fayetteville, AR. Owners Bob and Donna Treat share the story behind it. The block is from a quilt in my cedar chest that belongs to our son, Shaun Treat. His grandmother, Winnie Treat, made quilts for her three grandsons: Dr. Shaun Treat (University of North Texas), Brad Roberts (Walmart Executive), and Stace Treat (Head of Interpretation at Crystal Bridges), when the boys were ages 6, 5, and 4 respectively. A prayer was on her heart with each stitch she took. The 40′ windmill upon which our quilt block resides was built in South Dakota in May of 1936 during the Great Depression by the Aermoto Company of Chicago. It was delivered on November 8, 1999 on a 50′ mobile home frame trailer by Harry Rose, the windmill man in Girard, Kansas. He backed it into our empty new 50′ red barn shop which is the backdrop of the windmill. We painted the tips of the blades red and put Christmas lights on it. Harry Rose returned on December 6, 1999 to install it in its upright position where its lights shone a Christmas greeting for all to see. The windmill is visible from Double Springs Road which runs north from Farmington Cemetery to Highway 16 West. Part of the Trail of Tears passed down this road to Farmington and onto Oklahoma. It's a time in our American history not to be forgotten. When windmills gave away to electrical power, the companies had to find something else to make. Incidentally, out of that need, the Daisy BB factory in Rogers was born. The Treat Family Quilt block represents a praying Grandmother's love, the certainty of change with the ability to adapt, the power of a visual in lights shouting a Christmas greeting, and a quilt block telling its story including the sacrifice of the Native Americans who honored and cared for the land where our quilt block greets all who come to see. The block was painted by Julie Hart Love.
---
#6-34, LaTusa, is at 101 W. Emma Ave., Springdale, AR. Created by Azalia Molina, it's a celebration of Honduran folk traditions which inspire creation in today's Ozarks. Azalia invites viewers to experience La Tusa, a playful folk dance from her home country of Honduras. The quilt panels display an aerial view of the dance during which men offer their partner a corn husk, a joke that upsets the women until they place a wheat flower in their hair, enchanting them again. Molina's fine art practice often incorporates Honduran folk craft and traditions into her paintings, ceramic works, and murals created here in Northwest Arkansas. The layout refers to folk dancing, which reflects the life of the people of a particular country to a region, this one from Honduras, but a very traditional practice across Latin America. Growing up, Molina was part of a folk dance group. This unique geometric quilt pattern depicts a dance called "La Tusa. " The dance takes its name from the corn cob wrapper, which the dancers offer to their partner, a joke that upsets their partner until they place an ear of corn or cornflower on her hair. When seen from the street, the viewer is looking at the aerial view of a group dancing La Tusa. The blue/red/yellow concentric shapes are the ladies with their extended dresses, and the white/beige are the men with their traditional peasant hats. The central corn cobs, referencing the dance title, remind viewers of the plant's fundamental role in Mesoamerican culture, diet, world-view, and way
of life for the region's inhabitants before Western European colonial arrival.
---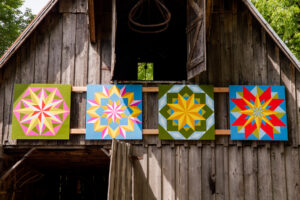 #6-35, Stars over the Ozarks, is at 118 W. Johnson Ave., Springdale, AR at the Shiloh Museum of Ozark History. To the artist, Carol Bruce, barn quilts are more than graphic designs and paint on wood; they are connections to family and community, evoking memories of nurturing and kindness, of quilts passed down through generations. Bruce is no stranger to quilts. Her closets are filled with heirloom treasures, art quilts using inventive techniques and magical figures, and samples from her twenty plus-year-old quilt pattern business. These four blocks are Bruce's original designs derived from traditional blocks, with added inspiration from the colors of the Arkansas Ozarks and family quilters from the region. In the early 1980s the Shiloh Museum acquired property adjoining the museum by purchase and bequest. This addition gave the museum its present boundaries. Currently, the Shiloh Museum of Ozark History occupies a city block of two acres (which includes the historical town square of the community). Four historical buildings (1850s log cabin, 1870s general store, 1870s country doctor's office, and 1930s outhouse) were moved onto the property. The buildings are arranged to take advantage of interesting changes in elevations and complement an 1870s (remodeled in 1938) home already on the property. The entire site is enriched by some of the oldest trees in the city.
---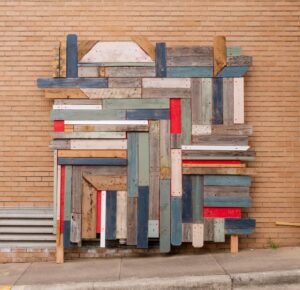 #6-36, Sweet Home, is at 101 W. Johnson Ave., Springdale, AR. Abby Hollis' and Bryce Arroyos' individual craft practices have an emphasis on the history of materials, whether from thrift store bins or the Ozark hillside. Building upon this idea, they have constructed a barn quilt from found materials inspired by crazy quilts of the early twentieth century. The red screws reference the "tie" quilting technique, in which the three layers of the quilt are tied together with a visible yarn knot, instead of being stitched together, allowing for thicker and warmer (although less intricate) quilts. Bryce Arroyos is a fashion designer transforming discarded textiles into unique garments informed by their past wear. Abby Hollis is a spinner and weaver working primarily with Ozark wool and advocating for the revitalization of local fiber systems through Ozark Fibershed. Their individual craft practices have an emphasis on the history of materials, whether from the Goodwill bins or the Ozark hillside. Building upon this idea, Arroyos and Hollis have constructed a barn quilt out of found materials inspired by crazy quilts of the late nineteenth century. Crazy quilts were inspired by the asymmetrical art seen at the Japanese Pavillion at Philadelphia's 1876 Centennial Exposition. Originally, these quilts were made of fine materials and served as a way for wealthy women to show off their luxurious materials and skilled needlework. By the twentieth century, crazy quilts had made their way beyond the homes of the urban upper class and were being made nationwide with scrap materials and in a more utilitarian style. These later quilts tell the stories of their makers. Sweet Home, made of materials from an Ozark home carefully selected, de-nailed, cut, painted and placed by Hollis and Arroyos, tells a story of its makers and their region. The artists assert that understanding the origin of materials builds a deeper connection to our product and place.
---