Painted by Wayne and Julie Perry and located at their home at 2821 West Road, Mountain Home, AR., approx. 2.5 miles from Mountain Home. Julie shared, "My mother taught me to sew when I was 9 years old and I have been sewing off and on ever since, making quilts for family and friends for over 35 years. I also try to make 12 quilts a year for the Quilts of Valor, an organization that awards quilts to veterans who have been touched by war. Many have said that I'm addicted to quilting as I sew every day and have quilts on display throughout my home, even some are for sale if you are interested. In addition to these two blocks on our garden shed, we have another one "Double Pinwheel" next to the road which is used as a landmark for finding places on West Road. When viewing the quilt blocks, it's easiest to drive in the first driveway by the mailbox and drive out the other driveway by the quilt block. See you soon!"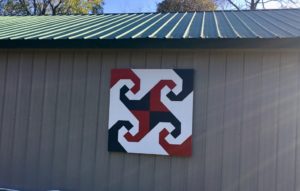 #5-3, "Pig Tails" painted by Glenn and Sandy Priebe and located at their home at 4061 Old Military Road, Mountain Home Arkansas.
Sandy said, "This is my favorite block because it looks like it has curved piecing yet it is straight sewing. Snail Trail was the only name used for this block in 1920-1930 and was later named the Pig Tails in a 2007 McCalls design. I chose this block because we are avid Razorback fans and therefore, call it "Pig Tails". If done in black, it is called a Hounds Tooth pattern attributed to Bear Bryant of Alabama. Arkansas Razorbacks and Alabama Crimson Tide are a true rivalry. This is done in red for "The Priebe's", a true Razorback family and I have added black for "The Wood's" family, true Alabama fans."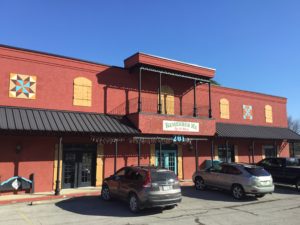 #5-4 and #5-5 on the Baxter County Quilt Trail are located at Remember Me Quilt Shop at 201 College Street in Mountain Home, AR. Owners, Pete and Judy Mahaney retired from their jobs in Northwest Ohio and moved to Arkansas in 2010. Judy said "After a short time, we got bored (at least I did!) and decided we needed to do something rather than sitting around being retired! I had always been a dressmaker, making bridal garments, family clothes etc., but I had never quilted! However, my sister who along with her husband had moved to Arkansas in the early 80's, was a very prolific quilter and I wanted her to teach me as soon as moved here. As I was shopping for fabric for my first quilt at my favorite quilt shop, I overheard the owner say she was going to either close or sell the shop. I asked Pete if he'd like to be a greeter at Walmart or own a fabric shop? To make a long story short, here we are almost seven years later, very happily owning and operating the Remember Me Quilt Shop! We also have an embroidery/apparel decorating business located in the same building, which our daughter and her husband have taken over and have expanded tremendously."
#4 The Mexican Star is one of several quilt blocks commemorating the Mexican War of 1846-1847 in which the United States acquired lands that would eventually become Arizona, California, New Mexico, Nevada, Utah, southwestern Colorado, and southwestern Wyoming.
#5 The Charm Block consists of four half-square triangle blocks in the center with three half-square triangle blocks in each corner. The making of charm quilts, in which no two pieces are cut from the same fabric (our modern day "scrap" quilt), was popular around the turn of the century. A legend associated with the charm quilt says a quilt should contain exactly 1,000 different fabrics! When a maiden had collected exactly 999, the man she was to marry would appear, bearing the 1,000th fabric!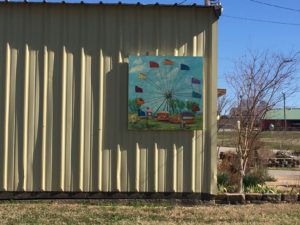 The Baxter County Fairgrounds was purchased in the 1950's and the county fair has been held at this site every fall since that time. This quilt block was painted to honor all the Baxter County residents who attend and volunteer at the fair. It also honors Fair Board members who work year-round to make the Baxter County Fair one of the top county fairs in Arkansas. This quilt pattern features the Ferris wheel from Neverland and all the fun that everyone has at the fair and also includes food booths that are a staple of the fair. The Fair-Is-Swell quilt block was painted by Margaret Stafford with the assistance of her husband Darrell, who has been a Fair Board member for 11 years. If you look closely at the children on the Ferris wheel, you will see Raquel (the Stafford's granddaughter) holding up her arms as she rides while having fun at the Baxter County Fair!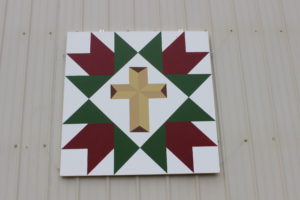 #5-7 "Ole Mighty Cross" is located at the home of Sandra Yates and the family business, the T Lazy T Worm Farm, at 1101 Hwy 126 North, Gassville AR. Sandy shared, "We chose this quilt pattern as the cross means a lot to us. The cross speaks of Jesus Christ who came and saved our souls. The Star around the cross shows the world how bright Jesus makes our life. We here at T Lazy T Worm Farm believe all things are possible through Jesus. We started the Worm Farm when our son Doug's employer closed up shop and he needed a viable source of income, but later when Doug became employed by a local school district and couldn't work full time at the Farm, my husband, Ike, and I took over the majority of the operation with Doug contributing by supplying wood mulch and helping out when he can. Our Worm castings are ideal for anything you grow and is healthier for you and the environment. The worms help break down the compost pile and enrich it with their castings. You can use as much as you want and it will not burn. The brand T Lazy T comes from Ike's dad who owned a ranch in New Mexico. We welcome all and will gladly give tours." (Editor's note: a donkey and beautiful chickens and guineas are a bonus at this quilt site!)
#5-8 "Four Flying Fish" quilt block is located at 2224 County Road 10, Midway AR. Designed and painted in the colors of a rainbow trout by Cindy Johnson, the 4×4 pattern was chosen to honor her quilt-making grandmothers and the two previous residents of this property. Originally a wooded stretch on upper Bruce Creek, it was developed in the 1990's as a catfish farm that supplied area restaurants. In the early 2000's, renowned fly-fishermen Dave and Emily Whitlock stocked the pond with trout and ran a fly-fishing school here. Concrete raceways for fish hatchery are still in the floor of the barn, a wide variety of fish live in the pond, and an avid quilter lives in the house. Come enjoy the quilt that is a tribute to the history of the place. You'll also want to check out block #5-14, also in the Midway area.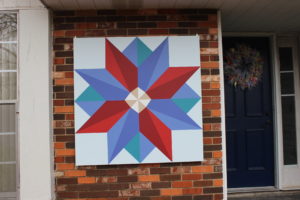 #5-9 "Aunt D's Star" is located at 148 Sunset Drive, Cotter AR, the home of Karen Cornett. This block was designed and painted by Karen and she had this to say about her chosen block: "Quilts have been a presence in my family for years. My Grandma China quilted back in the day when quilts were all hand pieced and quilted. As a child I am not sure I appreciated the time and talent it took to put it all together but I sure enjoyed sleeping under the warmth of a quilt! My Aunt Dolores is the one that turned us all on to quilting. My mom learned and developed her awesome skills under Aunt Dolores' patient tutoring. My cousin, Christy (Dolores' daughter), introduced us to barn quilts and I was hooked immediately…..I don't quilt….yet, but this is a great way to express my love of quilts and the love that goes in to each one. Please enjoy D's Star!" (Editor's note: you will want to cross the highway and drive through Cotter and across the iconic Cotter bridge for an additional photo opportunity!)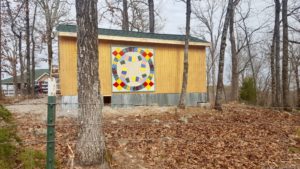 #5-10 "Double Wedding Ring" is located at the home of Pam Wise, also known as Wise Acres, at 113 Ivanhoe Trail, Mountain Home AR. This beautiful 6×6 block was designed and constructed by Pam's son, Jonathan, by cutting out 72 different tiles of 8 different shapes. The size and shape of the tiles were generated on a computer program after entering the data from the quilt block. They were individually cut out of 1/4" Lauan and painted according to layout. Then the "fabric" patterns were cut from vinyl and applied to the tiles, which were then arranged on the 6×6 board and attached with construction adhesive giving the illusion of depth and dimension. Jonathan said, "The idea came to me as I was first approached as a potential participant in the Arkansas Quilt Trail project. My mom and I were proud to hear that our block was accepted into the original 12 needed to proceed in Baxter County." Pam shared this about her chosen block: "My mama quilted when she was a very young wife and mother, living on a farm in Eastern Arkansas. Her favorite pattern was the double wedding ring. I prefer the hills to the flatlands, but I have always loved this block and my sisters feel the same way. It's always been "the" quilt for our family."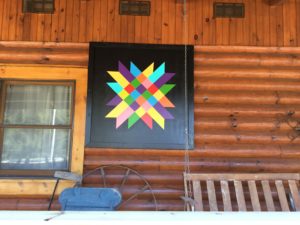 #5-11, Delectable Stars is found at 14625 Highway 62 East, Henderson AR, which is about 14 miles east of the Walmart in Mountain Home. Baxter County Quilt Trail Coordinator Virginia Cornett shared, "When Christi Todd first heard that we were developing a quilt trail in Baxter County, she immediately selected her quilt block "Delectable Stars". She was excited to be part of the quilt trail since she had been very active in the quilting community, both as an avid quilter and a skilled instructor at several of the local quilt shops. Even though Christi had recently been diagnosed with cancer, she continued to work on the painted quilt block. Sadly, Christi passed away in February before the block was completed. Her husband, Greg Todd, has finished the block in her memory and as Christi intended, this beautiful 4×4 quilt block is now a very special addition to the Baxter County Quilt Trail!"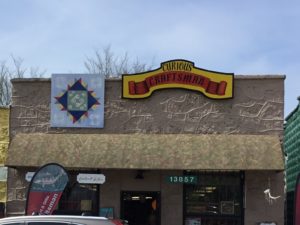 #5-12, "Spirits in the Mountains" was designed and painted by artist Linda Havner. This 4×4 block represents the hands of native Americans on the Trail of Tears who lived here and those who were driven through Arkansas. The white hands and spirals represent their spirits which live on in the green beauty of Arkansas. Linda Havner, previously the owner of Remember Me Quilt Shop in Mountain Home, is the owner of The Curious Craftsman, a unique gift shop in Norfork which showcases Linda's creations as well as local artists and craftsman. The shop also offers numerous classes, such as rug making, etc. The building in Norfork where the shop is located was built in 1918 and was originally a doctor's office. You can find the Curious Craftsman on Facebook at
https://www.facebook.com/Curious-Craftsman-Norfork-150893562125434/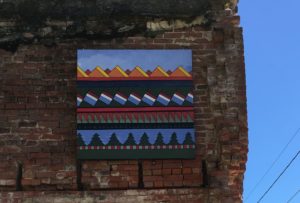 #5-13, Seminole Patchwork, is a 4×4 quilt block painted by artist Linda Havner and is found hanging on Norfork Adventure Supply which is owned by Jake Anderson in historic downtown Norfork. The building housing the business was built in the early 1900's and at one time was a grocery store with living quarters upstairs. Jake is a trail advocate and steward promoting a healthy, active lifestyle. He has an exercise physiology background and specializes in helping individuals connect with nature via rivers, lakes, nature trails, hiking, biking, and paddling. Jake says the Seminole Patchwork block represents the rivers, trees, and trails of Arkansas.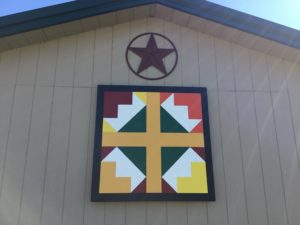 #5-15, "The House That Bluthe Built" is at 1357 Hwy 62 SW, Mountain Home AR and was painted by Linda Havner. Joan Gilbert, owner of Gilbert Realty, shared, "We started our business in 1969 on Hwy 5 North, here in Mountain Home. Later in the 70's, we were wanting to relocate and bought a 30 x 30 charming stone building at this current location. It had an unfinished basement and an attic area with the traditional cedar planking on its walls and ceiling. We then began to remodel the residential home into our office when we were visited by a neighbor, Mr. Nelson, for whom Nelson Street is named. He had lived in the area for many years and told us that our great uncle, Bluthe Gilbert, had actually built the home back in the 1940's! It was a very pleasant surprise, and encouraged us to try to keep the same gable and stone theme on our addition.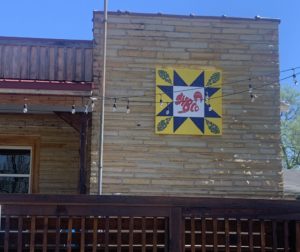 #5-16, Paw Paw Star is at 13980 Hwy 5 South in Norfork, AR. Jason Aamodt, owner of The Norfork Brewing Co., said they moved here because of the good water and clean atmosphere. The blue star on the quilt block stands for the water and mountains, the squirrel for nature, the PawPaw leaves for their new trademark beer flavor, and the yellow for sunshine. This unique quilt block hangs on the newly remodeled old Benbrook's grocery and post office. The 4×4 block, a traditional Star with appliqué motifs was painted by local artist Linda Havner. If you are in the area on a Friday evening, a Saturday or Sunday afternoon/evening, Jason invites you to stop by for a beer, tasty food from a food truck, and wonderful live music from local musicians, a great time to relax and enjoy the beauty of the area.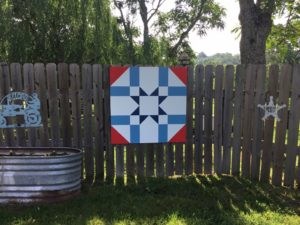 #5-17 for the Baxter County Quilt Trail is located at the home of Richard and Betsy Albertson at 893 Hwy 126 North, Gassville AR. (Less than 1/4 mile before The Ole Mighty Cross quilt block). The 4' x 4' block, painted by the Albertson's, is called "The Army Star". Betsy shared, "We chose the Army Star quilt block for many reasons. First and foremost, Richard is an Army Veteran, having served during the '60's, so we thought this to be quite fitting. We have a son serving his 24th year in the US Air Force, so are a very patriotic family, true to the Red, White and Blue. We enjoy life on our hobby farm, which we call "Chicken Scratch Ranch". We have a donkey, goats, chickens, geese, but the one who runs the show is Strutter, the pet turkey."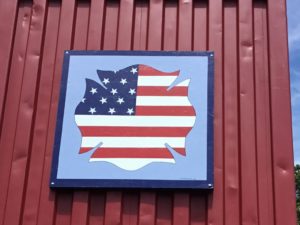 The Firefighter's Block, #18 on the Baxter County Quilt Trail is located at the Buford Volunteer Fire Department Station #4 at 232 CR 614, Mountain Home AR (just off Hwy 201 South). This beautiful 4×4 block was painted by Linda Havner, artist and owner of The Curious Craftsman gift shop at Norfork AR. This makes the 5th block on our quilt trail painted by Linda!
The Buford Volunteer Fire Department (BVFD) began in 1983 in the old Buford School House located at 4439 Buford Road. The School House later became the Buford Community Center and has since been transferred to the Baxter County Historical Society. The BVFD started with one fire station and one truck. Today they have four fire stations and 19 pieces of rolling stock, plus a river boat and a sleeper pump. The BVFD serves an area of approximately 48 square miles and currently has 22 active firefighters who are trained in firefighting, medical rescue, rope rescue, swift water rescue as well as other specialty training. Chief Will Syfrett stated: "The BVFD could not function without the generous donations and support from our community. Our auxiliary works hard to help bring in donations with annual events such as the Turkey Dinner, Ice Cream Social, Garage Sale, Craft Show and other events."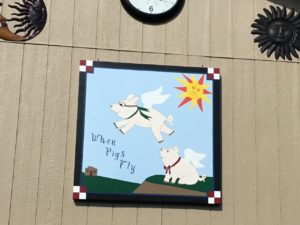 "When Pigs Fly" was designed and painted by Mark and JoLynn Farruggia. It can be seen at 78 County Road 904 Midway AR. JoLynn shared: "It is our take from several whimsical quilt block patterns. We used colors that had a combination of fun, whimsical and special meaning to us. The saying "When Pigs Fly" also has a special and humorous meaning. It started when I asked Mark one time when he thought he might finish the project he was working on and he replied he was going to get right on it. My reply was jokingly "When Pigs Fly!"