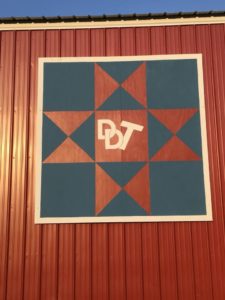 #4-01 Quilt block owner Debbie Park said "This was my first barn quilt. It is an 8×8' "Ohio Star", and it has faded a bit. I've repainted it and put our ranch logo (DDT..Double D Lazy T) in the middle block. I used two 4×8' sheets of 3/4" plywood for this quilt, and it presented quite a challenge for my husband to hang…he had to hire a helper and utilize our tractor to hang it on the new hay barn!"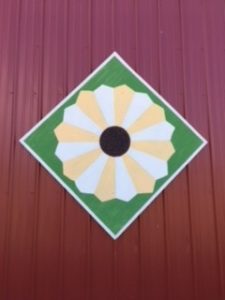 Quilt block owner Debbie Park reflected, "As I began this "Sunflower/Dresden Plate" barn quilt adventure, I was drawn to an old pattern already in my family quilt collection, the Dresden Plate. However, as soon as these 4×4' designs were hung, all I could see were three bright sunflowers bringing sunshine and beauty to this "sow's ear-turned silk purse" barn. It was formerly my Dad's hay barn, built by him, from cutting the poles to milling the lumber used. I couldn't stand the idea of tearing it down when we built our house in 2012, so we made a 'silk purse from a sow's ear', a phrase I've heard my Dad use my whole life! The former unsightly hay barn was transformed into an equipment shed with a new metal roof and siding!"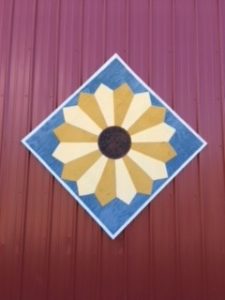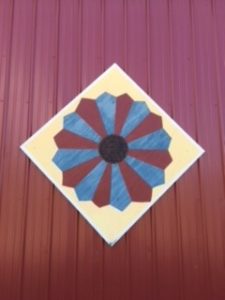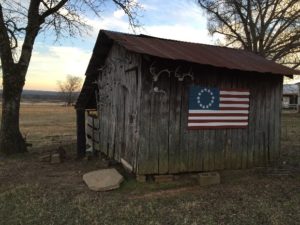 Quilt block owner Debbie Park shares, "This is one of my favorites, for two reasons: I love the 'Betsy Ross Flag' pattern, and it is hanging on the oldest remaining 'barn' on my childhood home place, where we now live. Daddy always called it the 'tack barn/tool shed'…the old tack barn is what the barn quilt is attached to. The other side of the structure is a 'lean-to' tool shed. I think Dad would love this little barn's new face lift!"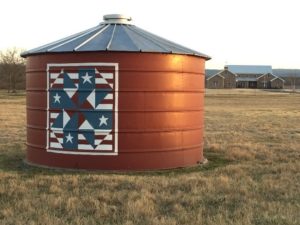 This barn quilt is what owner Debbie Park calls a Patriotic Pinwheel pattern. It is painted directly onto an old farm building, a silo, which has been on the farm I grew up on for as long as I can remember. I tried, unsuccessfully, to give away the former eyesore when we built our house. When there were no takers, I decided to make it into a thing of beauty and put it to work at the same time! The former ugly, empty silo now has a new face greeting passersby on Highway 60 West just outside of Perryville, and it also serves as storage for farm life! The size of the design is approximately 7'Hx5'W. In choosing the design, I Googled barn quilts and looked until I found one that met my criteria: a patriotic design that would look good on the barn red color of the newly painted silo. Since the background was barn red, I only had to actually use two colors, blue and white, to achieve the design. After rough sketching the design onto paper, I determined the size I wanted the actual design to be and started chalking an outline. Then the painting began…it was probably the most difficult of the seven quilts I've painted because of the curved surface, but it's also my favorite. I love having a structure that had been used for years by my Dad brought back to life and usable again!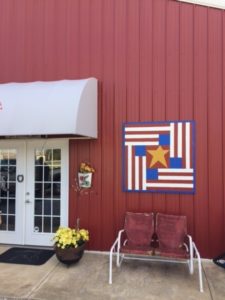 This 4'x4' "Flags and a Star" barn quilt greets guests to our Bed & Breakfast located in the barn it's attached to says Debbie Park. We are a patriotic family, and I'm drawn to all things flag related, so this design naturally caught my eye! Learn more about the Double D Lazy T Ranch Bed, Breakfast, and Barn at www.doubledlazytranch.com/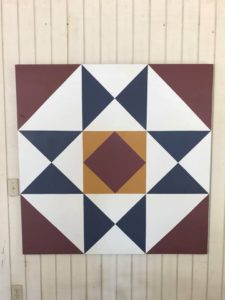 This Lone Star Quilt Block, four feet by four feet, is located at 22 Raspberry Lane, right outside of Perryville. The home is owned by Joe & Sandra Carter. Joe cut the wood for the block, and the block was painted by their daughter, Kelly Tolley. The block was a birthday gift for Sandra in 2018. "My mom and I have always admired barn quilts, so I decided to make one for her birthday. I knew she would like the simple, classic design of the Lone Star Quilt Block."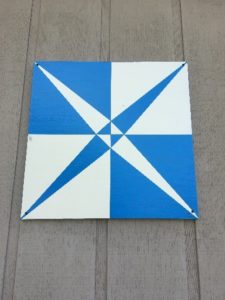 The Crossed Canoes pattern was selected because of the lakes in Perry County including Harris Brake, Nimrod Lake and Lake Sylvia. The artists at The Hidden Gallery wanted to add this quilt block in honor of the many people that use the lakes for entertainment. The block was painted by Peggy Blazer.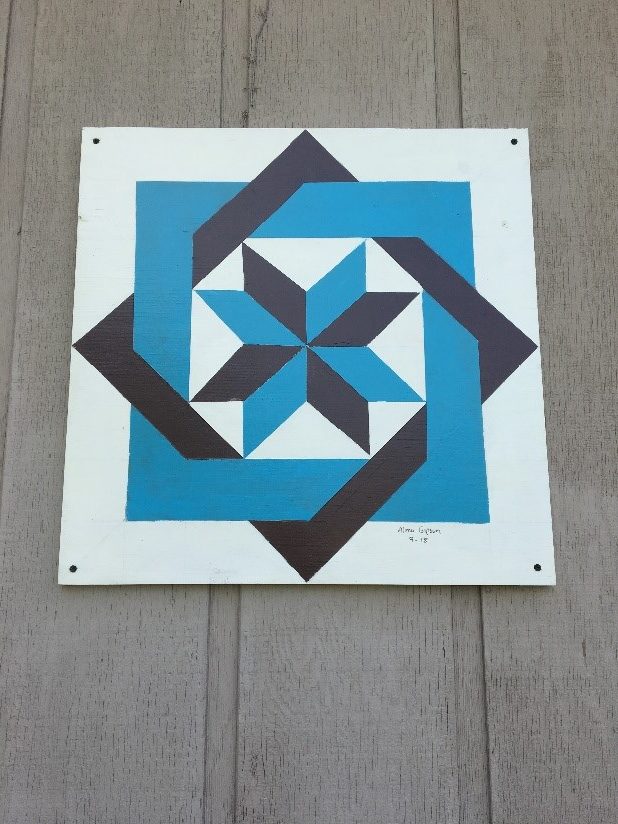 Almost all Quilt Blocks begin with the simple square. This Entwined Squares block done at the Hidden Gallery according to Alma Gipson is added to her collection to honor all the quilters in Perry County, past and present, who continue the tradition of quilting.
---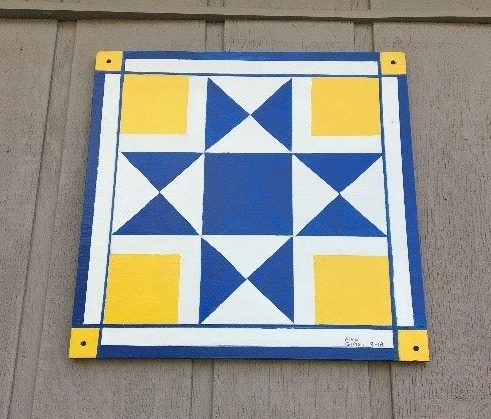 The Eight Point Star was painted at the Hidden Gallery. Owner Alma Gipson notes that stars are simple and complex at the same time. Life in a rural setting is often simple and complex at the same time. In rural Perry County the stars are very visible in the night sky. It seems only fitting to add this pattern to Perry County's selections.
---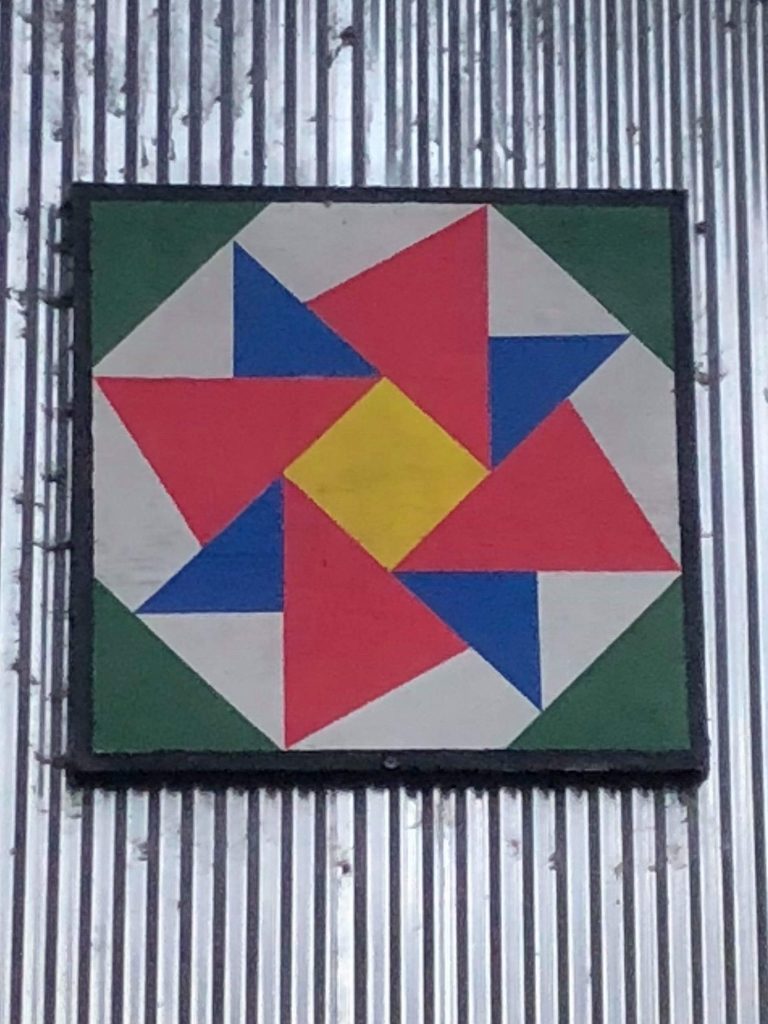 Jacob Sheatsley shares, "Our Block started its life off Highway 9 somewhere between Black Mountain and Chimney Rock in the Blue Ridge Mountains of North Carolina. The block was purchased during a stop to pick up some sourwood honey at a roadside shop. At the time these blocks were popping up all over the Blue Ridge Mountains of West Virginia, Virginia and North Carolina. I chose this pattern as it looked very similar to a family pattern that my Grandmother Armstrong has quilted for years which is a modified Flying V. Our barn tin solar powered home is not complete without this block as it identifies both my roots from West Virginia and my wife, Jama's from the farmlands of northwest Indiana. The block sits on our home a mile from Heifer Ranch where we met and I continue to work today.
---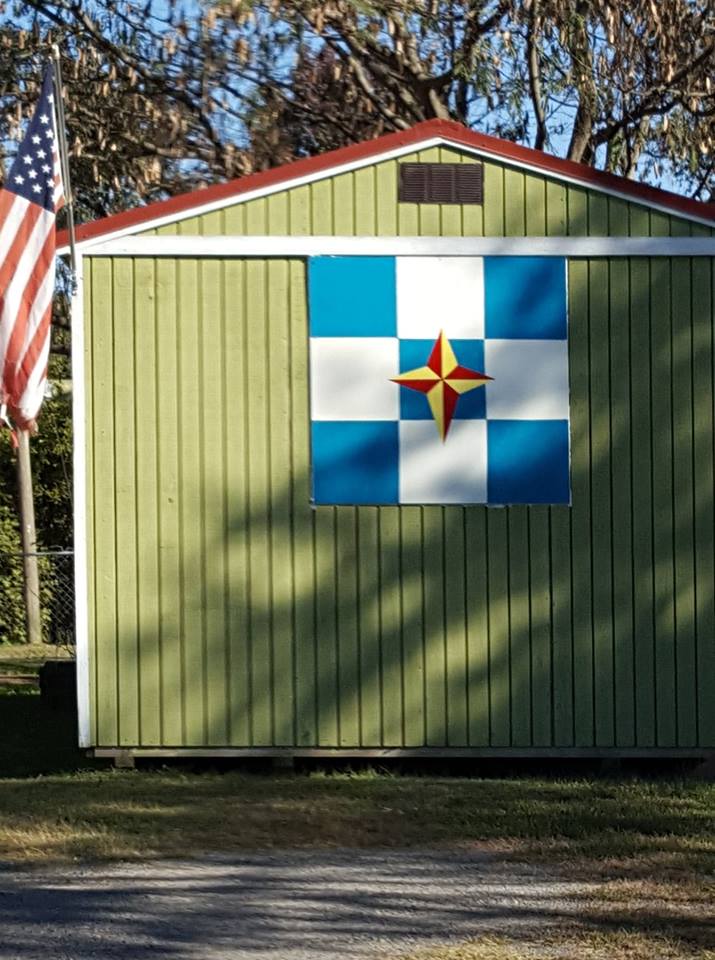 The Star Of Bethlehem is located at 5 Marvin Drive, Houston, Arkansas on Hwy 216 between Houston and Perryville in west central Arkansas. Painted by Angel Leadingham, the 4×4 foot quilt block is on a "she shed" owned by Angel and Woody Leadingham. The location is on an old Christmas tree farm that no longer exists near the Antioch Baptist Church in the Antioch community in the Ouachita mountains. Just six blocks to the north lies Harris Brake Lake and to the west is Heifer Project International. To the east is the Fourche La Fave river and south is the Ouachita National Forest. The Star of Bethlehem is backed by a simple nine patch pattern of blue-green and white which symbolizes our National Forest and the old Christmas tree farm. The center being the Star of Bethlehem representing our following Jesus Christ. The Simple nine patch pattern was designed by women traveling west in covered wagons in the early 1800's because these blocks could be put together with old clothes, feed, sugar and flour sacks. They could be stored in a small place and later made into a full size quilt when they reached their destination. The Star's origin could be found in the night sky over Bethlehem guiding shepherds and wise men to the Christ child some 2000 years ago.
---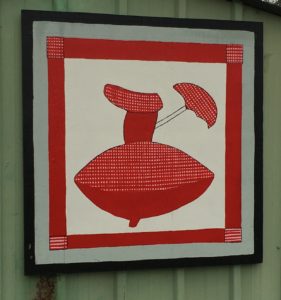 #4-14, TEMPORARILY UNAVAILABLE FOR REPAIRS. Sunbonnet Sue is at 3055 Highway 60 West, Perryville. Owner Pat Hatfield shares, "I belong to the Busy Bees Quilters in Perryville and we create, sew and hand-stitch quilts weekly. What better way to show my love for quilting than to join the Quilt Trail? My entry is known as Sunbonnet Sue, and is painted on a 4' x 4' piece of 3/4" plywood. This particular pattern is special to me because it is a replica of a quilt block made by my mother, Mildred Cox Williams, when she was a young wife and mother in the 1940's. Her framed Sunbonnet Sue quilt block hangs in my house."
---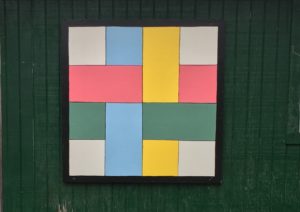 #4-15, TEMPORARILY UNAVAILABLE FOR REPAIRS. Dreamer's Weave is at 3055 Highway 60 West, Perryville AR. Quilt block owner, Pat Hatfield said, "My second painted quilt block is called Dreamer's Weave. I love the simplicity of the pattern, but it's also special because this is the first quilt pattern I made for myself. It is painted as a 4' x 4'" Be sure to see both blocks at this location.
---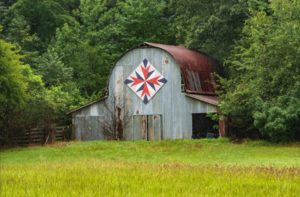 #4-16, Welcome Home block is at 89 Calfneck Road, Perryville, Owner of the barn and block Eleanor Jester shares, "We bought the house and barn in July 1987. I have always loved the barn and was so pleased to receive the 8 x 8 foot quilt square from my daughter and son-in-law as a Christmas gift. We do not know when the barn was built. According to our research, we believe it is a Gothic or rainbow arch barn. The rafters are curved so that no framing obstructs the loft. The barn is a two story with a full second floor designed to store hay. The second floor can be accessed directly from the back of the barn or from the stairs inside the barn." It's easy to see that the sight of the barn and quilt block is a like a "welcome home" greeting every time the owners return home.
---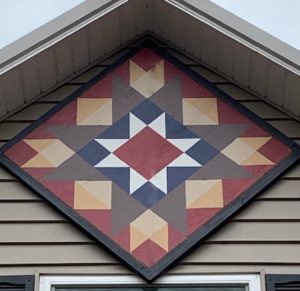 #4-17, Homestead Star was placed at the peak of our garage, the highest point on our property. Located at 17 Sunshine Farms Road, home of Jerry and Janice Tucker. It was made with pressure treated wood, 4'x4' square. The star block is one of our favorites and you will find it replicated on three separate blocks on the garage. This is one of three blocks at this location near Bigelow.
---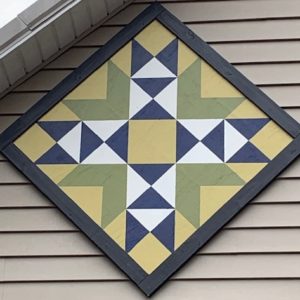 #4-18, Wyoming Valley Star is on the lower left front of the Tucker garage. Located at 17 Sunshine Farms Rd, the home of Jerry and Janice Tucker. We saw this star block on a fence while on vacation out west a few years ago and filed it away as a "One of these days, project." It's a 4'x4' square. You can see three quilt blocks at this location near Bigelow. Be sure and see all the Tucker creations.
---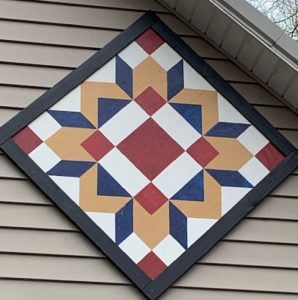 #4-19, The Swoon block is located on the lower right front of the Tucker garage. It is located at 17 Sunshine Farms Rd, the home of Jerry and Janice Tucker. This star block is a relatively new block that has became popular in the last few years. It is a 4'x4' block. This is one of three blocks at this location.
---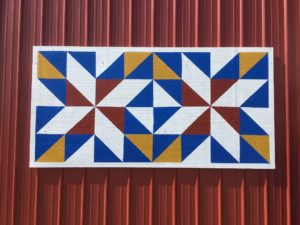 #4-20, Star Spangled barn quilt is hanging on the barn that is the Double D Lazy T Bed, Breakfast, & Barn at 3109 Hwy. 60 West in Perryville, AR. This design was chosen because the patriotic pattern complimented another quilt already hanging on the B & B. This quilt is 4' x 8', and hints of cozy quilts you might snuggle into while staying at the B & B! This is Barn Quilt #8 for owner and resident barn quilt painter, Debbie Park. Worth a drive just to see all the blocks at this location! And you can stay overnight at the Double D Lazy T Bed, Breakfast, & Barn. Thank you, Debbie, for being such a spark for the Perry County Quilt Trail!
---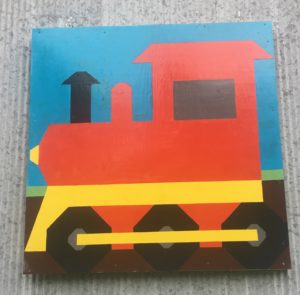 #4-21, Rock Island barn quilt pattern at 722 Bryant St., Bigelow, AR is a train engine. Located in the Fourche community, it was painted in memory of L.W. Egger and in honor of brothers Larry and Rick who all worked for the railroad. It is also in memory of all the uncles, cousins, and men from Bigelow, Arkansas who worked for the railroad. Here's to all those, past and present, who've made the rail industry what it is today in Arkansas and to points beyond. We still rely on the railroad for our modern day economy. From the Encyclopedia of Arkansas, "The construction of railroads had a significant impact on the state, creating towns where none had existed while all but eliminating others due to their lack of ready rail access. Many of the cities and towns in the state were named after prominent railroad executives who influenced, and in some cases were essential to, these communities' development. While very little passenger service still exists, many of the same routes are used to transport a wide variety of goods throughout the state and beyond. "
---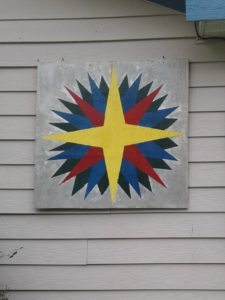 #4-22, Hibbard Mariner's Compass is at 25 Forest Cove, Perryville. Patricia Hibbard shares about her block. "Compasses are used not only by mariners but also by aviators. The Mariner's Compass was chosen as a fond reminder of many years my husband spent as a USAF Navigator in the C-130 airplane. This is our retirement home on Harris Brake Lake and as we sit on our deck we frequently can see these planes flying over. It was a comforting thought that no matter where in the world my husband flew, he could always use a compass to find his way home night or day, rain or shine. The block was completed with help from our granddaughter." What a terrific multi-generational project that brings families together in a creative way! Perhaps we should all plan a barn quilt painting at our next family gathering. It would leave us with a visible way to remember the fun times together. After all, quilts have always been about family, those who created the quilts and those who enjoyed their warmth and comfort.
---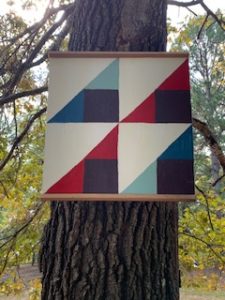 #4-23, Mixed Colors, is at 73 Shady Lane, Perryville, AR. Quilt block owner Shirley Boyette shares, "Quilting and painting have long been a part of my life. I have enjoyed them both for 25 plus years. For the past several years, I have quilted with the Busy Bee Quilters at the Diane Wilson Senior Center and money received for our quilting projects is donated back to the center. I chose this pattern because of its simplicity and bold colors. My love for quilting and also for my community guided me choose to create a block for the Perry County Quilt Trail."
---