Welcome to the Saline County Quilt Trail. The volunteer coordinator for this trail is Debbie Susky. She and her husband Lee and daughter Jennifer built five of the quilt blocks on display in the county. Debbie would like to thank all the other quilt block builders and owners for taking part in this community project. Saline County is located in the central portion of the state. Benton is the county seat and in 2021 was voted by Money Magazine as one of the "Best Places to Live" in the U.S. Other towns/communities include Alexander, Avilla, Bauxite, Bryant, East End, Haskell, Sardis, Shannon Hills and Traskwood. As noted by the Arkansas Encyclopedia: Saline County is one of the state's oldest counties, having been formed in 1835 when Arkansas was still a territory. Named for the salt works that were established in the area during the county's early years, it was a key county in the mid-twentieth century and served as a center of activity for workers from the Aluminum Company of America (Alcoa) and Reynolds mining operations. At one time, the mines produced more than ninety percent of all aluminum ore produced in the United States. Saline County contains a diverse geography, ranging from the mountainous areas of the northwest to the flatter plain areas of the southeast. The Saline River runs roughly north to south; its tributaries are in the hills.
---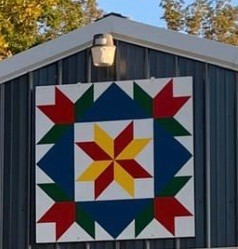 #17-1, Pinwheel, is at 5401 Lake Norrell, Alexander, AR. The quilt block is owned by Sheila Watts. About 15 years ago I traveled through Kentucky and saw black tobacco barns with brightly colored barn quilts. When we built our home in Avilla I wanted to put a barn quilt on our shop. My husband cut the wood and I drew the design and painted. I wanted to use bright colors and make it large. Our quilt is 4 foot x 4 foot. We got to hang it last summer.
---
---
---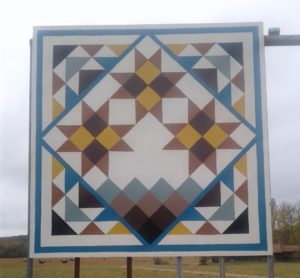 #17-2, Star Valley Farm, is at 9057 Brazil Road, Benton AR. Owner Carrie McWilliams shares the story. Our farm, located in rural Saline County, has been in the family for over 50 years. My husband has said when he was a boy, the night sky was impressive – "a valley full of stars". It is that way still, and is the farm's name – Star Valley Farms. The quilt block depicts both the valley made by the local hills, and the nighttime stars. The farm's family remaining patriarchs are the three brothers, represented by the three stars. I chose a pattern that illustrates all of this, and will be easily reproduced on my next quilt project.
---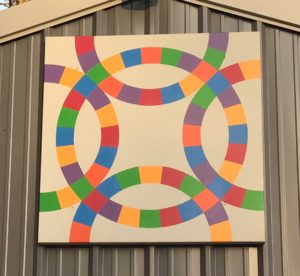 #17-3, Double Wedding Ring, is at 5172 Salt Creek Rd., Benton, AR. Owner Lesa Elrod shares: The double wedding ring pattern dates back in the U.S. to the 1800's. Mothers and grandmothers would gather to make double wedding ring quilts for wedding gifts since its known that a marriage begun with a double wedding ring quilt on the bed was certainly blessed. I come from a long line of quilters. Even in recent years, my mother and her sisters would gather once a week to quilt. I had to watch out–sometimes I learned more than just quilting. Those memories are priceless. After discovering barn quilts, I knew I had to have one. The double wedding ring quilt pattern has always been a favorite of mine. I actually have a double wedding ring quilt passed down to me that my grandmother made. After 40 years of marriage, I can say that I've truly been blessed.
---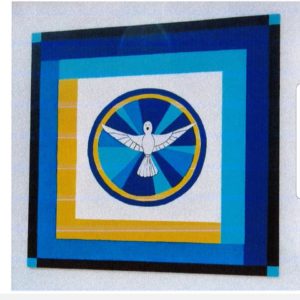 #17-4, Salem Camp Meeting quilt block is at 1647 Salem Road, Benton, AR. Visit the century-old arbor and historic site Salem Camp Meeting. A historical marker along Salem Road says in the early days of Saline County's history, the settlers would gather here after the crops had been "laid by" for rest, relaxation, and to give thanks to the Lord. The early camp meetings were held under brush arbors lighted by pine knots and included daily preaching and singing services. The Salem Camp Meetings were first organized soon after 1830. Annual meetings have been held on this hallowed spot since 1867, with the exception of the COVID crisis in 2020. During its history, many ministers of Methodism have inspired those attending with their great preaching. Historical records indicate three different arbors and four different church structures have been built on these grounds. The first arbor was brush and the first permanent structure was made of logs. The second arbor was also brush and the second church was a frame structure. Sometime about 1909 or 1910 a fire started in the church and spread to the arbor which stood against the church. Both were quickly destroyed. In about 1913 the present arbor, where the quilt block is affixed, was built to replace the one that burned. Lloyd Ulmer stated that his Uncle Levi Ulmer and Noah Couch built it. In 1955 the arbor was moved from alongside the church to its present location. In the early years, camp meetings occurred in the fall after the crops had been harvested. People would travel to the revival from long distances and camp around the arbor. Many of them brought chickens and other animals, and would stay two weeks or so. They slept in tents, in and under wagons, and eventually some built cabins that were called tents. The campers (tenters) held services several times a day. Since many of them lived on farms with few neighbors, camp time was a time to make and renew friendships. Undoubtedly many courtships began at camp meeting. In the early 1900's, people came via horseback or horse-drawn wagon and some who lived a mile or two away walked to camp meeting. Attendance was reported as being 500-1000 in those days. By the 1950's about fifty cabins had been built surrounding the campgrounds, with only a couple of these structures remaining. The tradition of the camp meeting under the arbor continues today. Typically, it is held on several consecutive evenings in the summer with guest ministers and live music. Learn more on our website or Facebook by searching Salem Camp Meeting, Benton, Arkansas.
---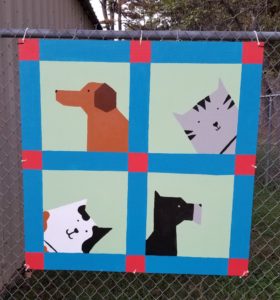 #17-5, We Help Animals, is located at 7600 Bauxite Highway, Bauxite, AR. The Humane Society of Saline County was founded on June 19, 1975, and received it's charter from the state of Arkansas in August of that year. Since that time, we have received thousands of pets and help get them placed into loving forever homes. We host hundreds of low cost spay/neuter and shot clinics for the public each year to help keep the animals healthy and stop unwanted pets from being born. We chose this quilt block because it represents both cats and dogs, which are the two main animals we take in each year. This quilt block was built by the Salem Superstars 4-H group, was sponsored by the Saline County Quilt Guild, and was designed by Jennifer Susky.
---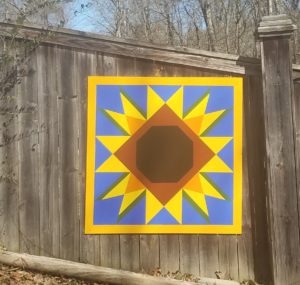 #17-6, Sunflower, is at 1117 Shadow Lane, Benton, AR. This quilt block is owned by Lee and Debbie Susky. The block was built to honor the memory of Debbie's father who was born and raised in Kansas, the Sunflower State. Her father loved working with wood and could always be found working on some project in his shop. He built birdhouses, yard displays and even built a cradle for his grandchildren to sleep in. Debbie loves to quilt and has made many quilts for family and friends. This quilt block was built by Lee, Debbie and Jennifer Susky.
---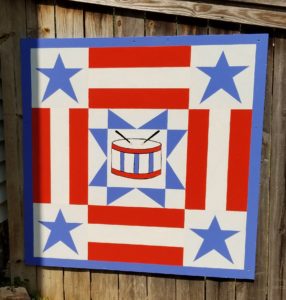 #17-7, Drums Across America, is at 1117 Shadow Lane, Benton. This quilt block is owned by Lee and Debbie Susky and was built to honor Lee's 20 years of service in the United States Air Force. During six of those years, Lee was a percussionist in the 502nd Air Force Band of the Gulf Coast. The U.S. Air Force Band was born out of a nation about to enter the Second World War, The USAF Band started off as just one of 59 "Air Force Bands" activated on October 1, 1941. Between 1941 and 1945, over 1,500 musicians were auditioned and recruited from 32 major symphony orchestras and 38 famous dance bands. The Band's unsurpassed professionalism, versatility, and location at the Headquarters for the Army Air Forces on Bolling Field in Washington, D.C., quickly earned it the designation as, "The Official Band of the Army Air Forces." https://www.music.af.mil/Bands/The-United-States-Air-Force-Band/About-Us/History/. The quilt block was built by Lee, Debbie and Jennifer Susky.
---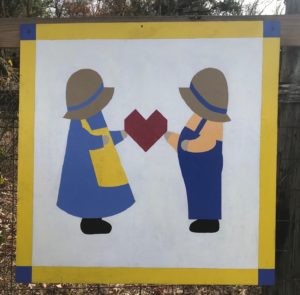 #17-8, Sue loves Sam, is at 11879 Highway 70, Benton, AR. This quilt block is owned by Catherine Collier. Catherine chose this design because her mother taught her how to applique and her favorite applique design is Sun Bonnet Sue. Catherine has made many quilts for her family over the years and at one time owned her own quilting business. This block was built by Lee, Debbie and Jennifer Susky.
---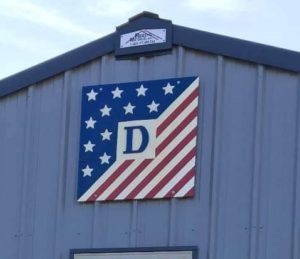 #17-9, Stars and Stripes, is at 7177 Rolling Meadow Loop, Benton, AR. Owner Glenna Duggar shares: My quilt blocks was a gift from my daughter and her husband. They said it was a gift to me from Daddy. They finished what he couldn't finish. The patriotic colors are in honor of his service to our country and my service to Quilts of Valor. The twelve stars represent our twelve grandchildren and the D stands for the Duggar family name.
---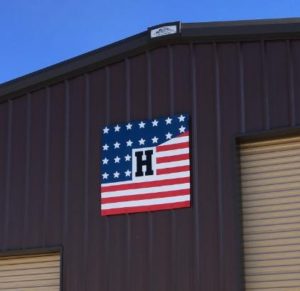 #17-10, My Allegiance, is at 7121 Rolling Meadow Loop, Benton, AR. Owner Hardy H. Hester shares the story. "My inspiration comes from my patriotism. I served my country in the U.S. Navy, honoring my God, my country, and protecting our nation. My flag represents freedom and continue prosperity to me. I love my flag."
---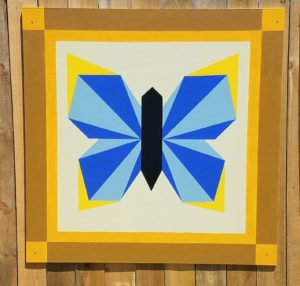 #17-11, Beauty in Spring, is at 201 Hunter's Run Drive, Benton, AR. Owner Heather Truan shares her butterfly quilt story: I received my first homemade quilt from my sister when I was 8 years old. She also made one for my mom, and we still have them today. Mom and I love butterflies, spring, and shades of blue. I'm honoring my sister and my mother with this block. Quilt Block created by Lee, Debbie and Jennifer Susky
---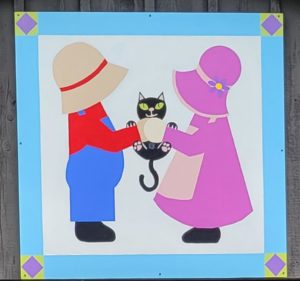 #17-12, Dennis, Shirley, & Mickey, is at 1632 Matt Lane, Hensley AR. Shirley Miller shares the story. I've always loved the Sunbonnet Sue and Overall Sam characters and thought this would be a wonderful theme for my quilt block. Dennis and I also have a black cat with green eyes and wanted him to be in the picture too. We have been married for a long time and have had other farm animals live with us all these years. It will be a joy to both Dennis and I to have this special block hanging on our barn. The block was created by Lee, Debbie, and Jennifer Susky.
---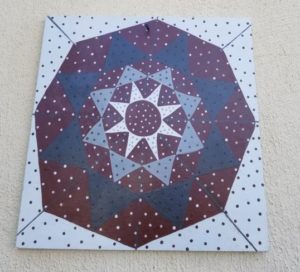 #17-13, Flying Home, is at Johnston's Home Center at 1421 Military Road in Benton, AR. The Flying Home quilt block was built by Ms. Jenna White's Benton High School Art Club students. We chose this pattern to be a symbol, or a beacon, for always returning home to Benton. We altered the colors to represent the Benton School District colors. We love our city and really enjoyed creating this quilt block to symbolize that. Johnston's Home Center is a family owned business that has served our community and surrounding communities since 1979. Joe and Kristin Johnston started their business in a tiny building in downtown Benton. They had 3 Singer sewing machines and a couple of cabinets. God has allowed their business to grow and grow. Over the last 43 years they have added many aspects to their business. They carry Brother, Baby Lock and Juki machines. They added a fabulous display of quality fabrics and anything you could possibly want for all sewing, embroidery and quilting needs. Johnston's class calendar offers lots of class options each month.
---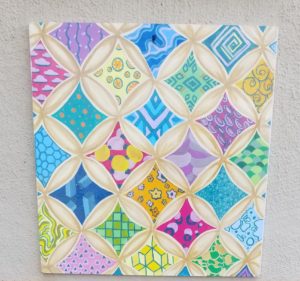 #17-14, Cathedral Window, is at 1421 Military Road at Johnston's Home Center. The block was painted by members of the Benton High School Art Club and their teacher, Jenna White. This pattern became popular in the mid-1900's. When deciding on a pattern, we knew we wanted to choose a challenging pattern. There are many steps that go into making a cathedral quilt, and it has a lot of layers, which allowed us to use shading to show depth. We felt like this pattern was very unique and different from the others we saw, but beautiful in its own right. Along with block #17-13, this block is at Johnston's Home Center. In addition to sewing machines, fabrics, and classes, they carry home appliances, lawn care products, vacuums and bedding. It's a unique business that has everything you could possibly need in your home. We love our community and are thankful for our customers.
---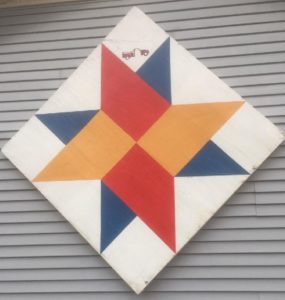 #17-15, Making Memories, is at 7553 Congo Road, Benton, AR. The block is owned by Ola Bramlett. Ola and a group of her friends attended a class in Rison, AR learning how to paint barn quilt blocks. She said she enjoyed sharing this experience with her friends and this block always brings good memories of that time. Ola has been a member of the Saline County Quilter's Guild since 2012 and is a long-arm quilter.
---