Washington County quilt blocks #6-01 to #6-08 are located at Son's Chapel. The chapel has an intriguing history. Located at 5480 East Mission Boulevard (Route 45), Fayetteville, AR 72701, Son's Chapel is 2 ½ miles east of the intersection of Mission Blvd and North Crossover Road (Route 265). The Son's Chapel display of 8 barn quilts was erected in 2018. They were positioned alongside the road at the edge of the Chapel's parking lot so that they could be easily seen from the road and also would invite passers-by to stop in the parking lot to view them more closely. The display was created from free-standing, two-sided boards. Designed and painted by the Son's Chapel Quilters as an example of more than 40 years of quilt-making, they reflect the history of Son's Chapel Rural Builders. In 1842 the land where Son's Chapel is located was part of a 160-acre parcel issued by the Treaty of Dancing Rabbit Creek to Ah-To-Chubee, a Choctaw man. Upon his death a few years later, the ownership of that land was deposited in the general land office in Fayetteville. Subsequently, in 1848 Michael and Nancy Son, after migrating to the area from Kentucky and Missouri, were issued a patent for 40 acres of that original 160-acre tract. After building their home there in 1851, they saw a need for a community gathering place and conveyed 2 acres and 117 poles of land for the sum of $2.00 on March 9, 1852, to the Methodist Protestant Church for a cemetery and church building. Located at the edge of Son's Cemetery, the original "Son's Chapel" (named in honor of the family who sold the land) was a log structure. By the late 1880s the community had grown to the extent that the log chapel no longer served its needs.
---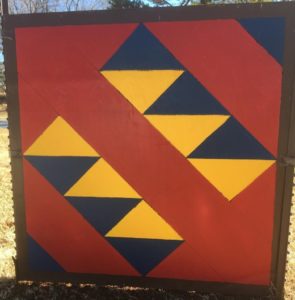 #6-01,My Cabin represents the original "log cabin" that the community named "Son's Chapel" in honor of the family upon whose land the structure was erected. Built on the north edge of the cemetery, this first incarnation of "Son's Chapel" was used as a community school, church, and gathering place. When the community outgrew the log structure, a second "Son's Chapel" was built across the street from the cemetery in 1890. The new frame one-room structure housed a one-room school that also served as a Sunday School and community building. To continue the story of Son's Chapel…In 1890 a second building was constructed across the street from the Cemetery and just east of the present location of Son's Chapel. This second building housed a one-room school for grades 1-8, a Sunday School, and a community building for local activities and meetings. In 1949 the school consolidated with Fayetteville Schools, so this building was sold and moved to become a private home which is still owned by a current member of the Rural Builders.
---
---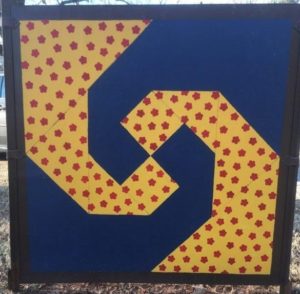 #6-02, Snail's Trail represents the path of the initial twenty women who met in 1922 with the goal of building a newer, larger Son's Chapel. Realizing the one-room school house/community center/chapel was no longer adequate for the community, these women worked diligently for almost 20 years in order to see their vision become reality. Through their fund-raising efforts and the volunteer hours of their husbands, their perseverance resulted in the current "Son's Chapel" which provided more space to gather and share their religious faith and community spirit.
These determined ladies adopted as their motto, "With the Lord's help, and our husbands, we can and will do it!" This motto is engraved on the cornerstone of the current chapel. In order to see their goal come to fruition, they immediately began fund-raising projects. Beginning with selling boxed lunches at the local cattle sales where they earned $200.00, they organized many other projects which increased their funds to $1,500.00.
---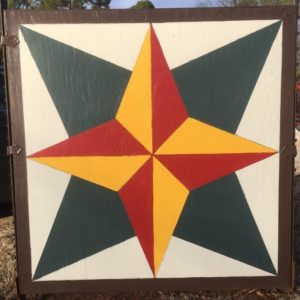 #6-03, Two White Uniforms quilt block honors those buried in the cemetery across the street from Son's Chapel, including all military who served during the Civil War, WWI, WWII and all other wars/conflicts since, as well as the early pioneers who became part of the community surrounding Son's Chapel. The patriotic star is the symbol of the American, the Confederate and the Union flags. The color white is for purity and innocence while the color red represents the valor, blood, and sacrifice of the patriots who have fought and continue to fight to protect our country. Finally, the blue stands for vigilance, perseverance and justice for all.
Nancy Son, the wife of Michael Son who transferred the land for the sum of $2.00 for the building of the chapel and the cemetery, is the only Son ancestor buried in the cemetery. Son's Cemetery, one of the oldest in Washington County, remains an active cemetery.
---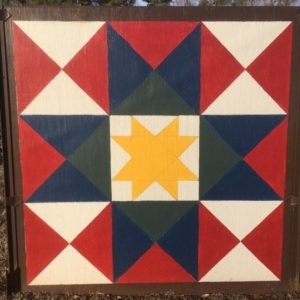 #6-04, The Big Plane represents the vision, ideas, and fund-raising events throughout the years that resulted in the three incarnations of Son's Chapel, as well as the continued perpetuation of piecing quilt squares to create a dimensional plane. For over 40 years funds for the Chapel's expenses have come from making and selling quilts. Based on past minutes and historical data found in the archives, from 1979-2019 the Son's Chapel Quilters have made and sold 1,400 baby quilts and 100 BIG quilts, earning $80,000 for the Chapel. Initially the quilts were made by members at their own homes and donated for sale at yearly bazaars. For twelve years, they also made and donated quilts for the Goshen Fire Department as raffle/fund raisers. In 1994 at the request of the City of Fayetteville, they made a quilt for the 50th anniversary of the end of WWII to be hung in the Fayetteville Air Museum. Currently, most of the quilting is done on Tuesdays in the community gathering room under the sanctuary at Son's Chapel.
---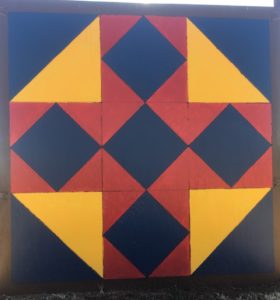 #6-05, All the Way to California represents the change from the original intent of the Son's Chapel community building. As the building was originally erected to serve the members of the local community, members were required to live within a three-mile radius of the Chapel. Mobility became an issue quite early as the second president of Rural Builders moved to California during her first term. Added to that, the community grew in numbers as well as area, partially as a result of the paving of Route 45 between the cemetery and the current Chapel. In June, 1995, the members amended Article 5 of the Son's Chapel Constitution, changing the three-mile residency requirement to open membership.
To continue the story of Son's Chapel….by 1933 they decided the new church would be a 36' x 50' building constructed of native stone. The community men joined the efforts of their wives. Using their horses and mules, they began excavation. With the exception of one stone mason and one carpenter that they hired, the men all volunteered their time and worked diligently, completing the building in 1939. The current location of Son's Chapel was dedicated on May 26, 1940, as a Community Protestant Church with the upstairs designated as the Chapel and sanctuary for religious events and the downstairs area reserved for social and community activities.
---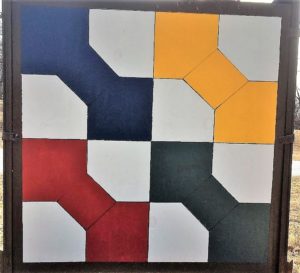 #6-06, Mini Bow Tie echoes the hymn "Blest Be the Tie That Binds," which represents the tie between those original Rural Builders who united for fund raisers and labored to build Son's Chapel and the current members who work diligently to maintain the facility. Today's members, all volunteers who are the daughters of generations of quilters, have the same determination as those original members who accepted the challenge in 1922 of building, protecting, and preserving the community facility. At their weekly gatherings, they relate stories of family quilting, of the many quilts made with love and often given as treasured mementos for special occasions. In creating the quilts to be sold, their intent is to tie their determination to those of future generations to ensure there will always be a Son's Chapel for community gatherings as well as to continue the tradition of giving hand-stitched quilts that become truly priceless family heirlooms.
---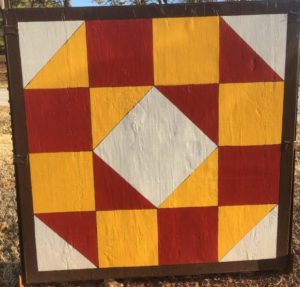 #6-07, Memory Book of Yesterday represents the initial planning, the fund-raising, and the building of Son's Chapel, with each momentous step having been laboriously recorded and initially hand-written in a treasure-trove of books and historical documentation. Not only does the Chapel have these archives, but the original school house bell is currently a viable part of the Chapel bell tower. From the original log cabin by the cemetery to the one-room school/community center to the current building, Son's Chapel has provided the community with a place to gather to worship, celebrate events of life and even bury family members. Both the Chapel and the Cemetery are notable landmarks and a living monument of the community. In 2015 Son's Chapel obtained 501 (c) (3) status. Of the original 20 founders, two family members who attended the Chapel's one-room school are still active in the preservation of the Chapel. The current members of Son's Chapel Rural Builders continue as caretakers to protect and preserve Son's Chapel as a living monument to the courageous and ambitious women and their supportive community whose determination enabled its creation. Through memorial gifts, wedding rental fees, donations given during monthly soup lunches, and their making and selling hand-quilted baby quilts along with other crafts sold during open house events, today's Rural Builders earn the funds for all expenses, repairs, and maintenance of the Chapel and its grounds. The 8 barn quilt blocks tell the story of Son's Chapel from its beginning as a log chapel to its current native stone building
---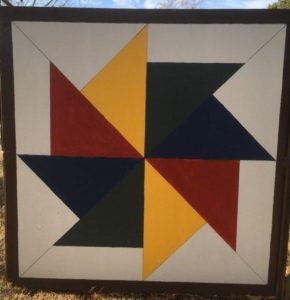 #6-08, Pinwheel, represents the circle of events and projects that keep spinning to support Son's Chapel. From home-made lunches sold at rural livestock auctions as the first fund-raiser to church dinners and box suppers sold to other organizations such as the Home Demonstration State Convention to pies and other baked goods sold, food sales were an important part of fund-raising for the Rural Builders. Along with food sales, the members made craft items and quilts sold at silent auctions and bazaars that included knitted doll clothes, Cabbage Patch doll clothes, embroidered plaques, wall-hangings, birdhouses, Kleenex box covers, ceramics, pressed flowers, stationery, wooden cut-out figures as well as other hand-made items. Their efforts to make certain the Chapel could be maintained included white elephant sales, a recipe book project, yard sales, and performances of plays with freewill offerings that paid for the Chapel benches/pews. Currently, members earn funds through craft-sales at an Annual Open House, donations at the monthly soup lunch open to the public, wedding venue fees, and sales of hand-made BABY QUILTS to carry on the circle of traditions at Son's Chapel. In 2003, Son's Chapel earned recognition by being listed on the National Register of Historic Places with a bronze plaque placed outside the front doors declaring its status.
---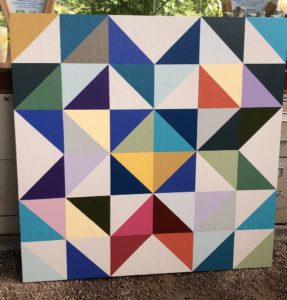 #6-09, Wild Flower, is a quilt block located at 5635 E. Huntsville Rd. Fayetteville, Arkansas. It hangs on a greenhouse at White River Nursery. The quilt block was painted by nursery owner Sarah McCue. White River Nursery is a family owned plant nursery and garden center in east Fayetteville. The nursery carries a huge variety of annuals, perennials, trees, shrubs and specializes in native plants. The nursery offers customers a unique shopping experience, combining a warm, friendly atmosphere with high quality merchandise and expert advice. Stroll through the nursery to view several other quilt blocks during business hours. Sarah is happy to share her knowledge with visitors. She may even conduct a barn quilt workshop if there is enough interest! The nursery phone is (479) 442-2061. Hours are generally 8am-4pm, Monday-Saturday, but can be impacted by weather. Check the Facebook page for updates.
Learn more about White River Nursery at https://www.whiterivernursery.com/
---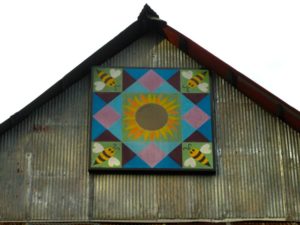 #6-10, Protect Our Pollinators is at 594 McKnight Ave. west Fork AR. The barn is on a lane separate from the house so don't miss it! The quilt block is located on an over 100 year old double crib barn on Baker's Acres in West Fork. Patty Baker shares the following story. Crib barns are found throughout the South and Southeast, and are especially numerous in the Appalachian and Ozark Mountain states of North Carolina, Virginia, Kentucky, Tennessee and Arkansas. Crib barns are composed of one to six cribs that served as storage for fodder or pens for cattle or pigs. The barns may or may not have a hayloft above. Crib barns were typically constructed with un-chinked logs, and sometimes covered with vertical wood siding. I especially love the hand hewn logs in our barn that form the cribs. We have repaired the foundation and the roof of the barn and have replaced all the support timbers in hopes that this beautiful barn will remain standing for many years to come. Preserving our past is well worth the effort. We have been bee keepers and are organic gardeners and are very conscious of the environment and our footprint upon it. We want people to be aware that pesticides do not just kill the "bad" bugs and that our bee population is delicate and in danger. We strive to live gently on the earth and hope that our beautiful barn quilt will remind others to do so as well. Our friend Jeffi O'Kane, a local stained glass artist, helped design and paint the quilt.
---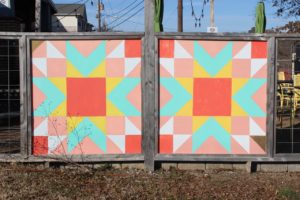 #6-11, Farmer's Table Cafe double quilt block is located at the cafe of the same name at 1079 S. School Avenue in Fayetteville. Owners Rob & Adrienne Shaunfield opened the Farmer's Table Cafe in 2014 with the goal of improving the local food system. They firmly believe that by supporting our local food producers, we can help to increase community food security. The Shaunfields love exploring the tastes of the Ozarks and strive to create meals that make you feel good in an environment that feels like home. They believe small is beautiful and intentionally keep things small…selecting ingredients from small family farms and food artisans in our state. They believe that food just tastes better and is better for you when it's done in small batches. The cafe home is tiny, bringing guests into an intimate space that celebrates food and connects us to one another. The Shaunfields welcome you to join them at The Table!
---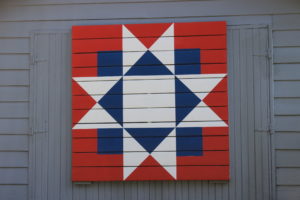 #6-12, Four Corners is located at 847 N. Park Ave. in Fayetteville. It is on the home of Tom and Tammy Smith. Tammy shares the story of how it came to be. "In 1986 I spent my summer vacation, after a first year of veterinary school, in New Mexico – living with my grandparents and working at a primate center. In the evenings my grandmother taught me how to piece quilts. Since then I have made many a fabric quilt for friends and family. A few years ago I was invited to a lecture on barn quilts, and thinking I would learn a new fabric pattern I attended. How fun to learn about these wooden painted quilt tops that adorned buildings throughout America. One weekend our family decided to build one. "Four corners" is a nod to my childhood home in New Mexico, my birth state of Texas, and my mom's birth state of Oklahoma, and our honeymoon in Colorado-many precious parts of my life."
---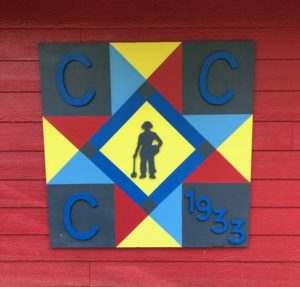 #6-13, Bright Hope Star is at 12188 Bunyard Rd., Winslow AR. Call ahead to 479-220-9035 as the gate is otherwise closed. Owner BelvaLee Jurkovich shares the story behind her pattern. The Civilian Conservation Corps or CCC was inaugurated in 1933 by  President  Roosevelt. The president had two purposes in mind for this new program. One was to provide employment for the young men in our nation and the other was to develop the countries natural resources. These young men were from age 17 to 25 and could not be married. From their monthly allotment of $30, $25 was sent back home to support their families and they got to keep the other five. They worked five days a week,  eight hours a day and in their free time they could enjoy the resources around them. Company 797,  made up of men from North Dakota, made the trip to Arkansas via the rail in 1933. This group constructed a gravel road from West Fork to Devil's Den before constructing a massive Stone dam on Lees Creek and built native stone and log cabins in Devil's Den. This Arkansas State Park consists of over 2500 acres in Winslow Arkansas and Winslow is where the Jurkovich's red barn proudly displays the quilt block that BelvaLee chose to honor the CCC and their awesome legacy. "Those exemplary young men brought HOPE to their families every month by their tenacity and faithfulness, so I choose to honor them with my Bright Hope Star block."
---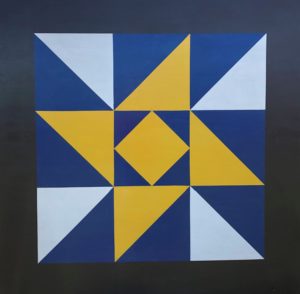 #6-14, Wild, Wonderful West Virginia and #6-15 are located at the farm of Retha Griffith, 16537 S. Hwy 71, 8 miles south of West Fork at Brentwood. We three sisters decided to surprise our mother with a barn quilt (or two!) to celebrate her 91st birthday and to add to the Washington County Quilt Trail. Mom and the three of us are all seamstresses, crafters, and quilters. We thought it most appropriate to honor her with two quilt squares representing our heritage and her favorite hobby. "Wild, Wonderful West Virginia" displays the blue and gold from the West Virginia flag and represents our heritage that began in West Virginia. We have lived in Northwest Arkansas since 1973 but our roots are in West Virginia, where Dad and Mom were both born and raised and where they were married in 1951. Seven of our 8 siblings share West Virginia as our birthplace. Mom has been taking girl trips with us all over the United States, but any trip east of the Mississippi includes stops in West Virginia to visit friends and relatives and the old home place of Mom's which was built in the 1820s and remains in the family. Please enjoy our quilt block and your travels to wherever the road takes you.
---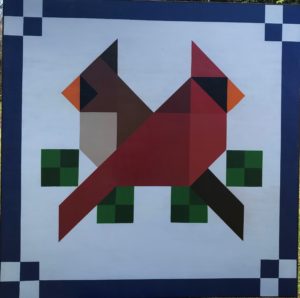 #6-15, View from Our Loveseat is a pair of cardinals, the state bird of West Virginia. Mom is an avid bird watcher and we don't miss a chance to start the morning by sitting with her in the loveseat looking out the picture window drinking coffee and watching birds while enjoying each other's company. We knew we wanted to include birds on our square and after looking at several choices, we chose the pair of cardinals (they often mate for life) which also represents our parents and their 54 year marriage. Although Dad has lived in heaven now since 2005, Mom still lives on her 40+ acre farm and takes remarkable care of it. We are so proud of her and all of our family. We are very happy to add to the Washington County Quilt Trail and we are excited to be able to share these quilt squares and the stories behind them with those who are traveling Highway 71 at Brentwood.
---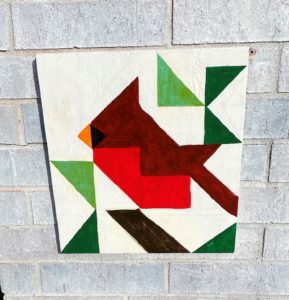 #6-16, Happy Cardinal, at 114 N. Double Springs Rd., is located just inside the Farmington city limits. Happy Cardinal, a 1'x1′ small quilt square, was painted by Karee Dowty to make her children smile. Since becoming Farmington Cardinals the Dowty Boys are always on the hunt for cardinals. Each time they see one, they are so excited. In addition to being our school mascot, our yard is home to many beautiful cardinals we enjoy watching each day. Each time we pull in our driveway and see our Happy Cardinal we smile, and we hope anyone who visits the Washington County Quilt Trail will smile when they see him too.